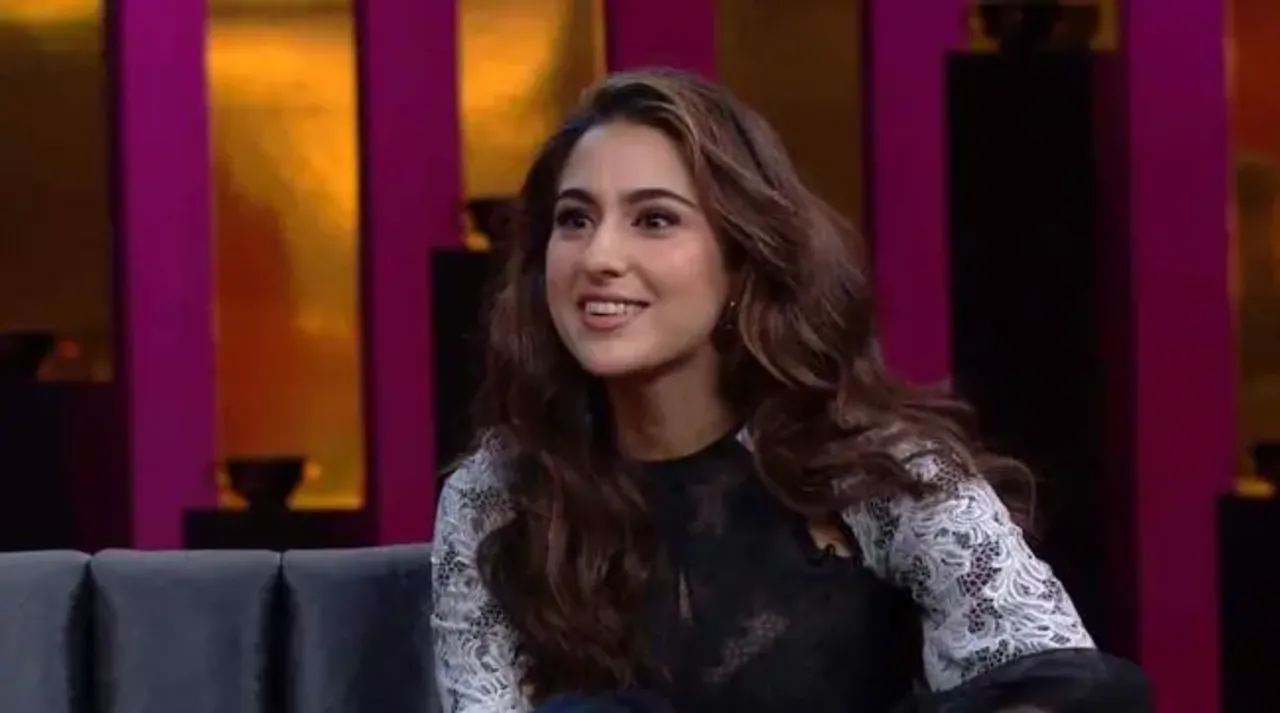 In her "Koffee" debut on Karan Johar's talk show, Sara Ali Khan's candidness won the hearts of many.
Frankly telling your crush's name on national television, without a doubt, is something with requires guts and courage. The very fact that she could speak so openly about several delicate issues on the show was remarkable. From talking about her parents divorce, to the equation she shares with Kareena Kapoor Khan, she spoke her mind without thinking twice.
Such openness, honesty and courage is what Bollywood, and on a larger scale India needs in the 21st century.
In her debut movie itself, audiences could gauge that she has the makings of a star. However, despite the hubbub created around her, she has managed to stay rooted.
Her two films, Kedarnath and Simmba have done quiet well on the box office, a little credit for that must definitely go to Sara Ali Khan, as her natural aura and frankness is what draws attention to her.
In many interviews, we have seen her share her views without hindrance. Be it on feminism or on politics, she has always spoken her mind. A quality, which is rare to find. This star kid very naturally called herself a normal Juhu chic in one of the interviews. Such down-to-earth attitude is what makes her stand out.
She was not afraid to accept that nepotism was what got her Simmba, even before Kedarnath released.
Films have happened because of who we are. But here's the thing and here's something that really matters. We don't choose parents! - Sara Ali Khan
In fact, she very openly accepted that nepotism exists, and she can not change it. You can not change who your parents are. She was very comfortable giving her parents - Saif Ali Khan and Amrita Singh credit for making it easy for her to enter Bollywood. This frankness and awareness that her career did get a jump start which regular aspirants trying to make it big in Bollywood can only dream of, tells us that Khan values it. She knows that she had it easy and she is indeed grateful for that.
She is also one of the very few Bollywood celebrities who completed their education, and prioritised studies, before being launched into movies. She is a graduate from the prestigious Columbia University.
She openly spoke about dealing with PCOD
Talking about periods is still a taboo in certain parts of the world, especially in our country. Despite knowing that, Khan showed no inhibition in revealing that she has PCOS (Polycystic Ovary Syndrome). PCOS causes weight gain, irregular periods and hair growth and despite so much progress, it is still a struggle for girls and women dealing with it to talk about it freely.
Due to several workout sessions, a change in diet and lots of dedication she was able to change her body, now having lost 30 kilos. This is an incredible story, which can inspire a lot young women dealing with weight and health issues. Talking about having this hormonal imbalance on national television wouldn't have been easy for Khan. But her initiative successfully generated a conversation around PCOD, and it was about time!
PC: Fit Quint
Read Also: When Celebs Speak On Health Issues Like PCOD, It Helps End The Stigma
Kavya Shah is an intern at SheThePeople.Tv