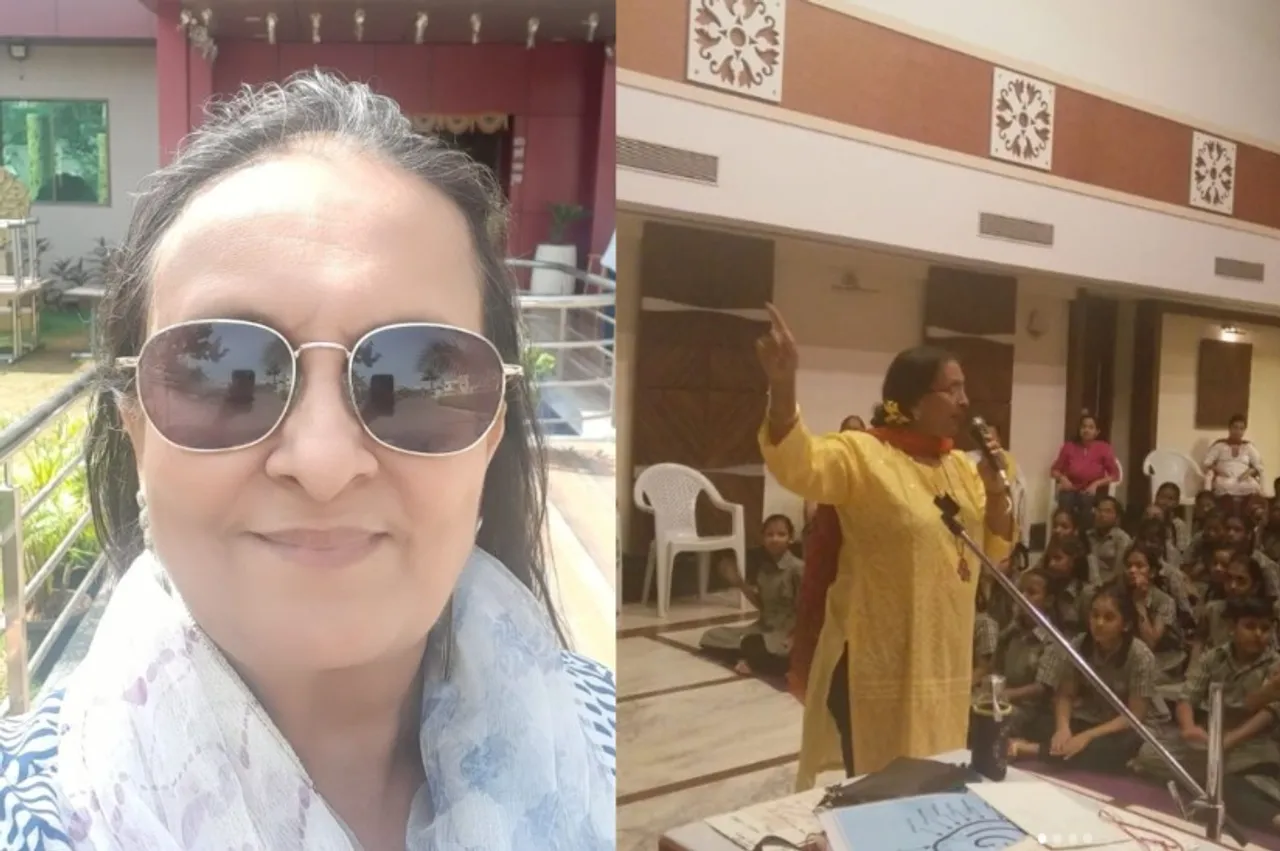 With her venture, Brain Gym, Jyoti Gandhi is creating a storm in the mental health space. Jyoti conducts mental health and brain stimulation sessions at Brain Gym for ages 9 to 99. The function of the brain is to keep the body and mind in order and happy. In her workshops, she recommends practising movement-based techniques to stimulate brain function that helps in improving focus, learning and mental organisation. It was her father's death that moved her so much that she started this venture. Here's her story.
The passing away of her father due to Alzheimer's motivated Jyoti start her venture. No one in her family was aware of this condition. "Why and how did it happen?" she kept wondering. Jyoti says she researched the disease and did many courses to learn more about it. 
She learnt that diseases like Dementia, Alzheimer's and Parkinson's make a person a living piece of flesh with no awareness of the mind. The person is unaware of what is happening and has no sense of pain or pleasure. They have no memory of money, jewellery, property and most importantly relationships. Any materialistic possession that one has painstakingly built over the years also vanishes from the brain. According to research, approximately 44 million people are suffering from these diseases, and the number will go up exponentially by 2050. 
Hard work, persistence and perseverance always pay. Even though there will be hurdles and obstacles, do not give up. You will get there. Keep showing every day. - Jyoti Gandhi
Jyoti then took it upon herself to create awareness around the condition, and that's how Brain Gym was conceived. Since the inception of Brain Gym three years ago, Jyoti has helped over 45,000 people through consultations and webinars. 
Jyoti Gandhi conducting a session at a school
Fighting taboos against Mental Health
"It was a lot of pain and hard work to get people to attend my free workshops. If given a choice between shopping and talking about mental well-being, it would always be the first that people preferred", she tells SheThePeople. Adding that it took her hundreds of free workshops to get people to take her work seriously. Most of the time, she would be asked to cover serious topics with fun elements during her workshops.
However, times are changing post-COVID-19, she says. The isolation people experienced post-COVID-19 started a narrative around mental health and its importance. Jyoti says, "I think if you are a coach, teacher, trainer, social worker or counsellor, who wants to give back to society, this is an ideal time to do this work." Jyoti emphasises that everyone thinks they will be safe from these diseases and it will not affect them, because they don't smoke or drink; they have a healthy lifestyle but this is where mental health is different from physical health, it could hit anyone any time.
She did battle some challenges in the journey. For instance, it became difficult for her to take workshops during the pandemic since corporate offices were closed. But she then moved online and used Google Meet as a platform to connect. Collecting payments was another task. Both she and her clients were worried that they would end up being scammed online as they were first-time users of online payment methods. But she could quickly transition to platforms like Google Pay.
I think if you are a coach, teacher, trainer, social worker or counsellor, who wants to give back to society, this is an ideal time to do this work - Jyoti Gandhi
Building Mental Health Commandos In The Pipeline 
On asking how she plans to take her business to the next level, Jyoti says, "I am currently working on my course 'Teach The Trainers' to create a huge team of people who would raise awareness on mental health topics worldwide. She proudly claims that she has learnt how digital media works and has been working as a blogger, YouTuber and runs a podcast. She wakes up every morning and looks forward to changing lives through her work.
Jyoti has some advice to young women who are starting their own ventures: "Hardwork, persistence and perseverance always pay. Even though there will be hurdles and obstacles, do not give up. You will get there. Keep showing every day. Follow your passion and help people change lives. You will be blessed."
This interview has been published in partnership with Google