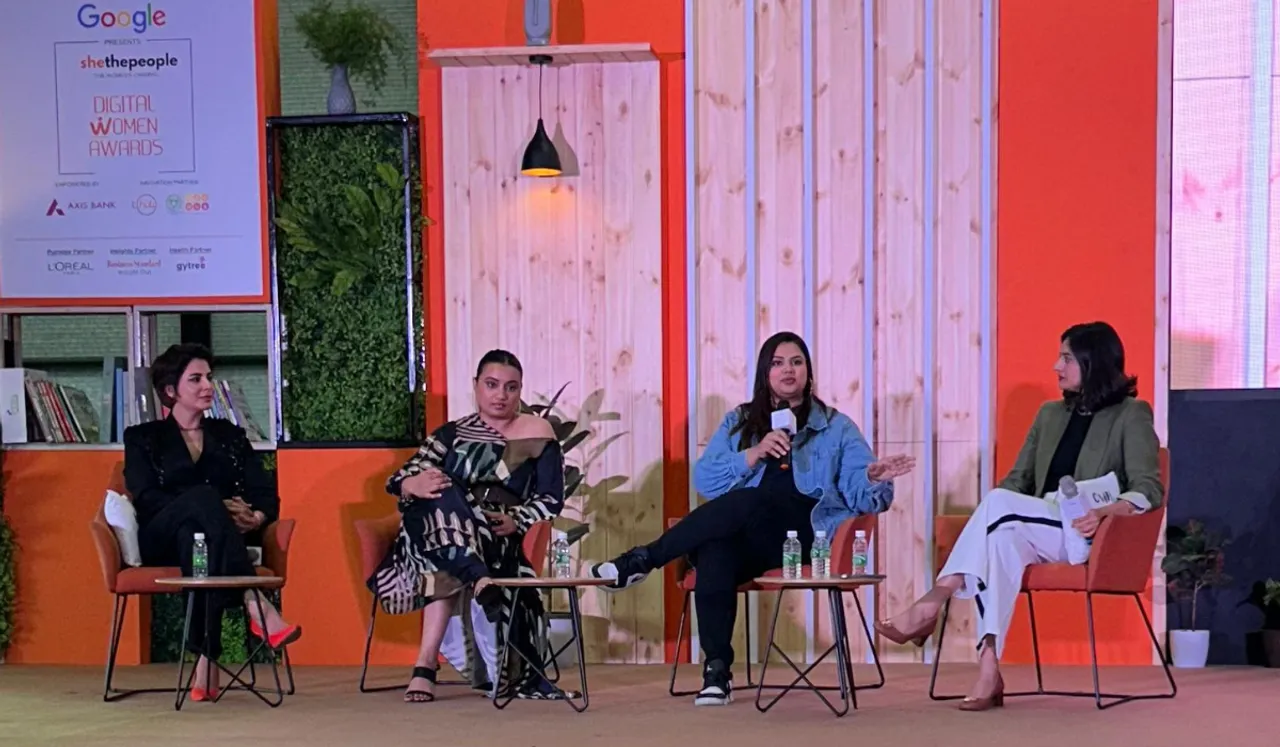 The 2023 Digital Women Awards, now in their ninth edition, stand as a testament to the remarkable influence of women entrepreneurs in shaping India's future. This annual event, which was held on November 18, 2023 in Hyderabad, celebrated the prowess of women to transform not only their own lives but also the landscape of entrepreneurship in India.
Ever since its inception in 2015, DWA has served as a hub for women nationwide, fostering connections, conversations, and empowerment in the entrepreneurial realm. The awards acknowledge trailblazers in small and medium-sized businesses and offer valuable insights from influential women to business owners. A standout segment was Slaying It Like Her, where speakers Pooja Dhingra, Janice Sequeira, and Kirti Kulhari shared their inspiring journeys on stage alongside SheThePeople and Gytree founder, Shaili Chopra.
Brace yourself for insightful talk from trailblazers like Pooja Dhingra, the mastermind behind India's first macaron store and the visionary owner of the Le15 bakery chain. Joining the stage was Janice Sequeira, a powerhouse content creator, anchor, ex-broadcast editor, and media strategist, bringing her wealth of expertise. And that's not all! Dive into the world of cinema and creativity with the phenomenal actor, model, and producer, Kirti Kulhari, renowned for her stellar performances in films.
Here's a glimpse into their conversation.
Why Venture Into Entrepreneurship?
These accomplished women, excelling in their respective careers, might leave you wondering: Why venture into entrepreneurship? When we asked them about transcending personal recognition for a more profound impact, their answers revealed a journey of seeking growth beyond themselves, aiming to contribute to a wider community.
Kulhari said, "After more than a decade in acting, I found my place in the industry, but I began pondering, 'What's next?' While passionate about acting, I realised that the final product wasn't in my hands. I've always loved cinema and learned a lot about filmmaking. Wanting more control, I transitioned to producing. The confidence I gained as an actor, coupled with respect for my work, gave me the push. It's about being in control and at the heart of creating cinema. That's why I took this step."
Dhingra also shared what inspired her, "I embarked on my journey in my early 20s when social media was nascent. My approach has always been transparent—I share the highs and lows. Amidst the pandemic, I faced challenges in my food business but witnessed overwhelming support when I made tough decisions publicly. The outpouring of love reaffirmed the special connection our brand had with people. It inspired me to venture into the FMCG sector, building on the love and trust we'd cultivated. These past years have been about honesty, openness, and embracing the reality of entrepreneurship—something I might not know if it's right, but it's what feels genuine to me."
Sequeira, on the other hand, shared her journey from being a journalist to being a content creator. She said, "In my 30s, I felt a shift in news and saw the rise of social media influencers. I wanted to delve into their stories but realised I couldn't do that within the constraints of corporate news. So, I broke free, launching the show to explore creators' and celebrities' journeys on social media. Six seasons and 25 awards later, here we are."
Struggles, Fame, and the 'Almost Famous'
Additionally, the discussion touched on the peculiar scenario of being recognised but not accurately, exploring the concept of being "almost famous" and its intricacies in the world of public recognition.
The Mission Mangal star, propelled into the limelight by her exceptional performances, expressed how she is not as social media savvy but advocates against shortcuts and instant fame. She said, "I believe the journey's struggles shape who we are. Failures, rejections, disappointments—those moments define us more than overnight success."
She continued by sharing her personal and professional life lessons: "My failures taught me self-love and gratitude. I faced my lowest depression in 2009, despite having success, money, and relationships. It made me realise the importance of mental well-being. Amidst life's race, I urge everyone to prioritise self-care, not getting lost in the pursuit of success but nurturing oneself—the most crucial person in our lives."
Dhingra, now a prominent judge on one of the nation's biggest culinary shows, holds the belief that success isn't instant and everything, good or bad, passes. She said, "Stay centred through highs and lows. My journey began with a passion for pastry, not fame. As Le15 grew, identity and success followed naturally from being authentic."
She also imparted her wisdom, emphasising the transient nature of her experiences in her 13–14 years in the industry. Everything passes, you know, so if you're having a really good day or you're having a really bad day, everything will pass, so just remember to always be centred, and don't you know, the highs will be high; don't get affected by the lows; don't get affected by it. Just acknowledge it and move on. So that's my way of dealing with everything that happens.
She mentioned how initially, 'world domination' was a joke, but now she is redefining what scale means for her. She said, "I've actually started paring down what that means for me—whether that means reaching more homes, for our products will be available everywhere, whether it's somebody else doing the scaling for us—those are questions that I'm going to answer in the next couple of years. But definitely, success is something that you define for yourself. And I feel that even scale, and what scale means to you, when you're starting your business, define that for yourself before you make grand plans."
Embracing Self-Worth and Navigating Burnout In a Demanding World
The discussion progressed to address the perpetual need for individuals to remain consistently visible in their pursuits, recognising the strain it places on their businesses. The focus turned to how they navigated this unrelenting demand without sacrificing their personal well-being.
Sequeira shared, "For those embracing a creative journey, especially in social media, it's essential to preserve your mental health. Balancing content creation with demanding numbers can be taxing. Remember, this is work, not just a number game. Draw boundaries early, and question who you invite into your digital space. Don't define yourself solely by follower counts; quality work matters most. Plan for the long term; think beyond social media fame. Your platform can be a launchpad for diverse skills and ventures. Don't blindly chase numbers; consider the bigger picture and who you truly aim to be in the long run.
Dhingra reflected on the importance of self-worth, "It took me a while to value myself, starting with self-awareness. When the MasterChef opportunity arose, fear and self-doubt consumed me. But my mother said: 'They've chosen you; why reject yourself?' It dawned on me that when an opportunity arises, regardless of its scale, fighting for oneself and showing up are crucial."
Echoing a similar sentiment, Kulhari emphasised the significance of self-advocacy, asserting, 'Why shouldn't women raise their hands and ask for what they want? If you don't advocate for yourself, who will? You are your best advocate, your own support system.'
---
Suggested Reading: 9 Years Of Digital Women Awards: Of Change, Impact And Progress