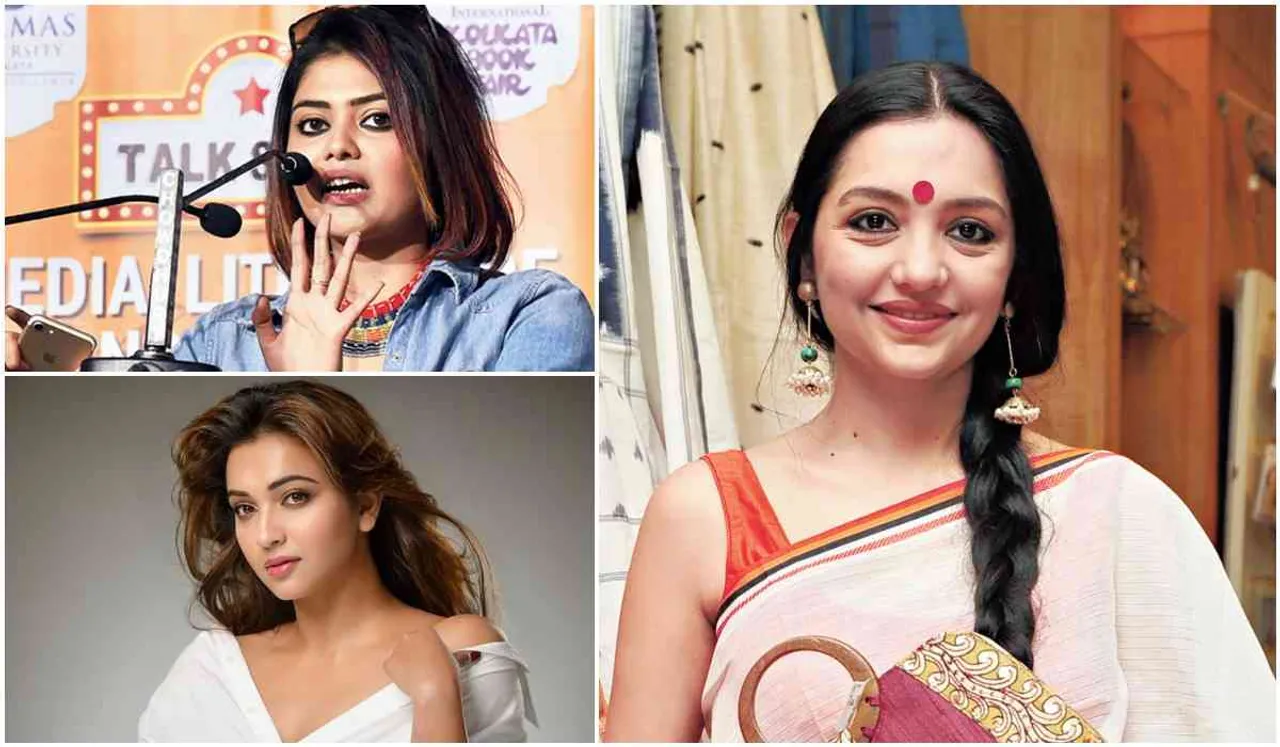 Actresses in TMC: The West Bengal legislative assembly election this year has managed to kick up a dust storm for more reasons than one. The high-octane political battle between the ruling Trinamool Congress (TMC) and opposition Bharatiya Janata Party (BJP) has been amped up manifold with the candidature of several prominent celebrities from Tollywood contesting from both parties.
In the BJP, celebrities like Anjana Basu, Parno Mittra and Locket Chatterjee, among others, have got tickets to contest for important constituencies. More names here. Meanwhile over in the TMC, many others have notably joined the party ahead of the election and are backing Mamata Banerjee as she fights to keep her administration in power in Bengal.
Key Candidates: Actresses In TMC You Should Know About
1. June Malia 
June Malia, a renowned Tollywood actor, joined the party earlier this year, saying she has taken the plunge after much deliberation. "I took my time to get into politics. The jump is a high one but I have waited. I never make whimsical decisions, be it politics or film scripts."
She made her screen debut in 1996 with Lathi, and has since gone on to star in films like Ebar Shabor, Zulfiqar and Hindi romcom Meri Pyaari Bindu.
June Malia is contesting from the Medinipur constituency, Paschim Medinipur district. Her constituency goes into polls during the first phase. She has expressed confidence in TMC winning Bengal a third time.
2. Koushani Mukherjee 
Early this year in January, Koushani Mukherjee joined the TMC. She made headlines for her public rift in ideology with boyfriend Bonny Sengupta who, making his political debut this year, joined the BJP. She remarked that since she prefers keeping her public and private lives separate, she is not responsible for Sengupta's beliefs.
Her best works in Bengali cinema include Parbona Ami Chartey Tokey, Hoichoi Unlimited and Jamai Badal.
Koushani Mukherjee is contesting from the Krishnanagar Uttar constituency, Nadia district.
3. Lovely Maitra 
She is a Bengali television actor most prominently known for starring in show Jol Nupur where she played the main lead. Her work spans Tamil and Telugu entertainment as well. She joined the TMC alongside notables Deepankar De and Bharat Kaul in February 2021.
Lovely Maitra is contesting from the Sonarpur Dakshin constituency, South 24 Parganas district.
4. Saayoni Ghosh
Saayoni Ghosh joined the TMC this February in the presence of party leader Banerjee, later becoming one of the most popular industry names to feature on the party's candidate list. Her career includes anchoring and acting, her most famous works being Rajkahini and Adda. 
Ghosh's joining had been criticised by some of her industry colleagues, to which she responded, "I will always speak out against any wrong. That is irrespective of my political leanings. But I have never been a Left party member. There is no reason I will overlook all the good work done by Mamata Banerjee."
Saayoni Ghosh is contesting from the Asansol Dakshin constituency, Paschim Bardhaman district.
5. Sayantika Banerjee
Sayantika Banerjee joined the TMC in March, saying, "I was with Didi for the past ten years but today I officially joined TMC. I request the people of Bengal to be with us and Didi. We know Bangla wants Bengali."
She is best known for her work in Mone Pore Ajo Sei Din, Awara, Byomkesh Pawrbo and Uma. 
Sayantika Banerjee is contesting from the Bankura constituency.
(Image features June Malia, Saayoni Ghosh and Koushani Mukherjee: actresses in TMC)