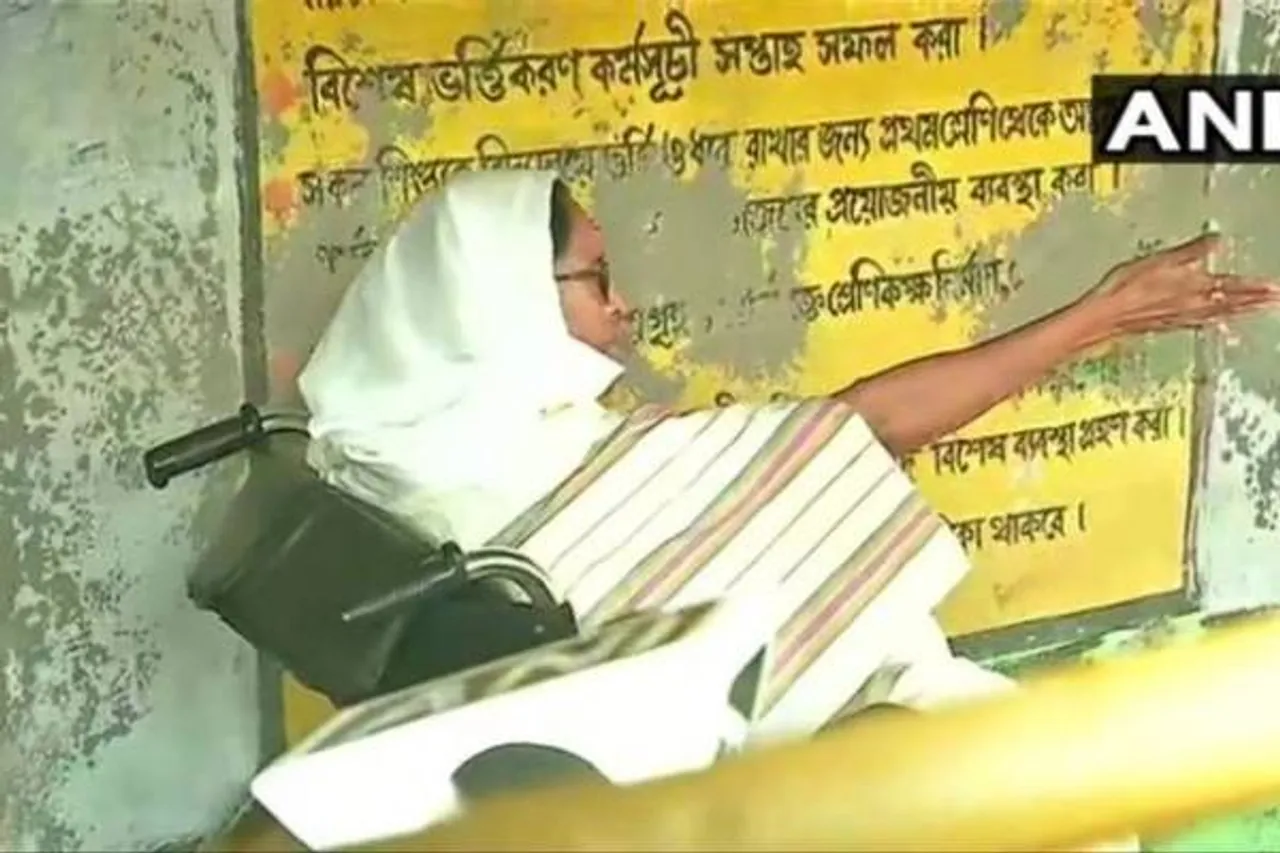 Mamata goons remark: West Bengal Chief Minister Mamata Banerjee has lashed out at the opposition in the aftermath of the violence that erupted Thursday at a polling booth in Nandigram where she visited. Claiming that the disruptors, who were "all goons who had come from outside," were carrying guns and chanting slogans.
Following the violence in the constituency, for whose seat TMC's Banerjee and BJP's Suvendhu Adhikari are locked in a high-octane battle, complaints were filed with the Election Commission (EC) as well. The TMC raised concerns about jamming and faulty Electronic Voting Machines (EVMs), as well as biased action from central security forces deployed in Bengal for the election. Our full report on that here.
Mamata Goons Remark Launches Attack On BJP, Tensions Mount In Nandigram
After reports emerged of a clash between TMC and BJP workers at poll booth 7 in Boyal, Nandigram, Banerjee who was camped nearby visited the area. There, she said chants associated with the BJP were being raised and people were not being allowed to cast votes fairly.
As tensions grew, Banerjee had to be rescued by Central Reserve Police Force (CRPF) from Boyal and relocated, from where she called Bengal governor to bring the clash to his notice. Full story here. 
"None of the people are speaking in the Bengali language. All of them are outsiders. They are goons sent from Bihar and Uttar Pradesh and they are being protected by Central forces," she iterated. The TMC chief has opened attack on what she calls the 'Modi-Shah' syndicate of the BJP, also accusing the CRPF and EC of being 'partisan.'
Do you know why I went to a booth in Nandigram yesterday and sat there? All goons who had come from outside gathered there with guns. They were all speaking in some other language. BJP's people are goons: West Bengal CM Mamata Banerjee in Falakata#WestBengalPolls pic.twitter.com/QhBMKU3kUH

— ANI (@ANI) April 2, 2021
Legal Furore After Mamata Goons Remark
The 'outsider' barb has been at the epicentre this election season in Bengal, with both primary oppositions charging the other with it. Her aide-turned-rival Adhikari and the saffron party have dubbed Banerjee an 'outsider' in Nandigram, contending that he is the 'son of the soil.'
Banerjee meanwhile at her rallies has been flashing her identity as the 'daughter of Bengal,' and raising alarm over "BJP goons" campaigning, entering and causing ruckus in the state.
In late March, Banerjee during a rally in Sona Chura had remarked in reference to the alleged attack against her in Nandigram, "No one from Nandigram attacked me but you (BJP) brought goons from Uttar Pradesh and Bihar. We want a free and fair election. If they come, women should beat them up with utensils."
For her "goons from UP and Bihar" remark, a complaint has reportedly been filed by local advocate Sudhir Kumar Ojha in UP. As per news agency PTI, is seeking a case against the Bengal CM under various sections of the Indian Penal Code, including rioting and deliberate insult.