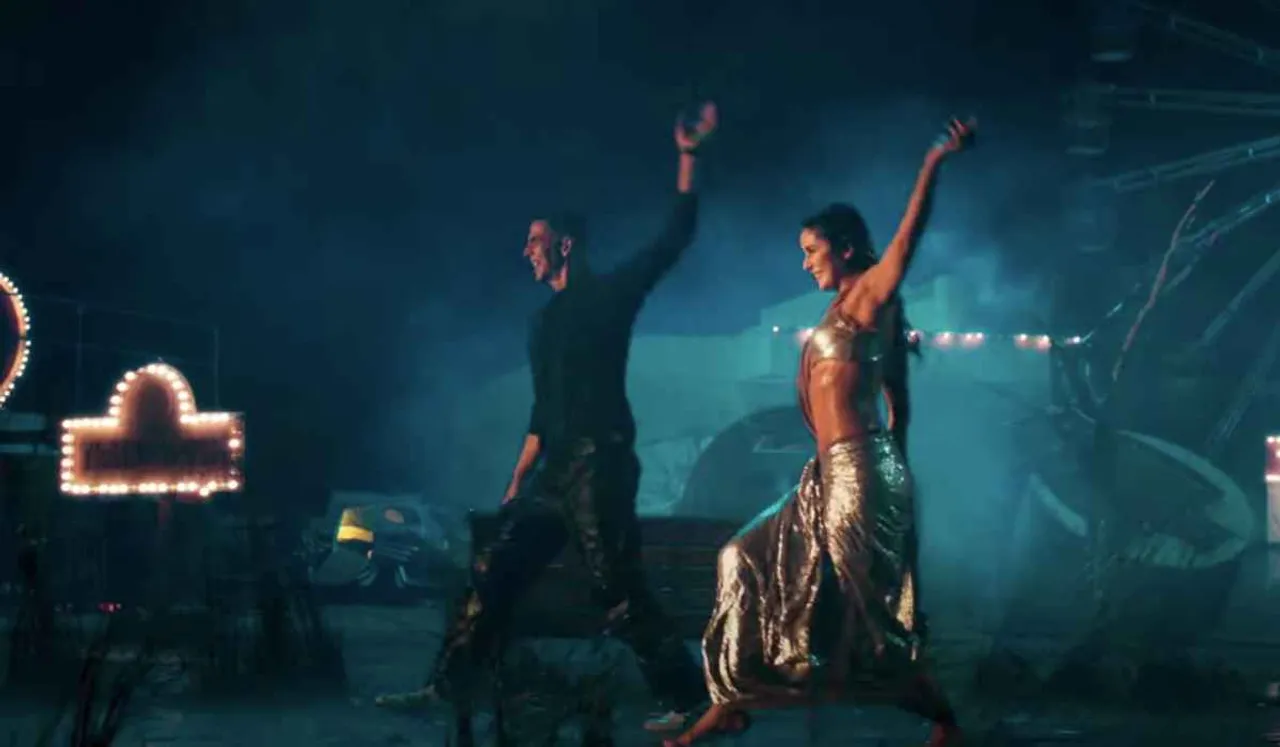 The much-anticipated Sooryavanshi Tip Tip song was released recently to high fanfare with viewers gushing over the chemistry between leads Akshay Kumar and Katrina Kaif. The two, who are counted among Bollywood's most successful screen pairings, have - as many on social media are putting it - "turned up the heat" with their dance under the showers. The rave responses and millions-strong views on the song video would show it is a complete banger. But I have some bones to pick with it.
Kids born after the 90s will not know the pain of seeing an actor take Raveena Tandon being replaced in one of her most iconic songs from the 1994 film Mohra. No amount of dazzle in Kaif's silver saree can outshine the charm of Tandon's plain yellow saree.
Not to mention, there's a strange techno-sound thumping over the song's melody and voices of the original singers Alka Yagnik and Udit Narayan. It seems to be just about the only addition by Tanishk Bagchi, who has "recreated", programmed and arranged the music.
This song is definitely not going on my playlist. Original, for the win.
But watching the new song's video gave me some not-so-new insight into how things function in Bollywood. And how easily we let pass these details, even though they are staring us in the face in all their disconcerting truth. No one is batting an eyelid that Kumar, now 54, has made a grand return to one of his most popular tracks, not paired with his original lead in the song, but with a much younger female actor.
Is that strange? Not really. If an older female actor romancing a younger male star isn't peculiar to me, why will I ever raise an objection to an inverse reality? But that's the whole point! The latter is a reality, the former is almost a myth. When has the Bollywood audience ever been treated to a pairing where the woman is older and the man younger in a way that is natural and not simply part of a plot point?
It is the sheer nonchalance with which Kumar resumes his role from where he left it off in the 90s while a newer, younger woman fills in the shoes of her senior that hints at a wicked design on which the film industry runs.
Though well into their 50s now, the Khans, Kumars and Kapoors - alphas throned at the top of the industry - have retained their on-screen crowns from younger days. Their personas and entertainment quotient remain as young as ever, reflected in the kind of big-budgeted youthful roles they are still handed. (Aamir Khan was 44 when he played a collegegoer in 3 Idiots!)
Sooryavanshi's Tip Tip song is a classic example of Bollywood's tendency to replace women past a certain age, while trying to resuscitate the glory of actors in their 40s and 50s year after year.
Personally, that doesn't niggle my mind. An actor is defined by the versatility of their craft. And if an older Aamir Khan is better than a younger Varun Dhawan at playing a collegegoer (Student of the Year is standing proof), I would have no trouble picking who I'd like to see in the role. Funnily enough, where skilled older men are apparently swallowing up the parts young men are looking at, skilled older women aren't even getting a chance to play characters of their own ages!
Neena Gupta, actor extraordinaire, raised the matter in 2019 on the casting of Bhumi Pednekar and Taapsee Pannu as elderly sharpshooters in Saand Ki Aankh, remarking, "Hamari umar ke role toe kamsekam humse kara lo bhai."
Sooryavanshi Tip Tip Song: Biases Behind The 'Ideal' Older Man, Younger Woman Couple
The issue is all kinds of complex with an underlay of social behaviours. At the same time that one appreciates the work of male actors, there is a glaring awareness that female actors neither possess the kind of privilege nor fate their counterparts have. A woman's "shelf life" in the film industry is short-lived.
This phenomenon draws directly from society's gendered obsession with the "ideal" age gap, with older men and younger women touted to be perfect matches for partners of the opposite gender. Patriarchy prefers this in &t=1125s">marriage, in love, in friendship and in cinemas. An older woman opposite a youthful fellow is a scandal. Remember the criticism for Tabu and Ishaan Khatter's relationship in A Suitable Boy last year?
As their age advances, roles of glamour are taken from women and, like an ageist ritual, handed down to younger newcomers. Any remnants of woman actors' old glory are reserved only for the purpose of nostalgia. Like when Tandon and Suniel Shetty reunited for a spot on the 2019 remake of their 1996 song Shehar Ki Ladki.
So while today, Tandon at 47 has now shifted to more mature, somber, meaningful characters - such as in the upcoming series Aranyak where she plays a cop, an enactment to look forward to - Kaif has temporarily stepped into her Tip Tip shoes until such time that a younger actor succeeds her. Don't be surprised if Kumar is still around for the third remix of the song.
Views expressed are the author's own. 
---
Trending now: