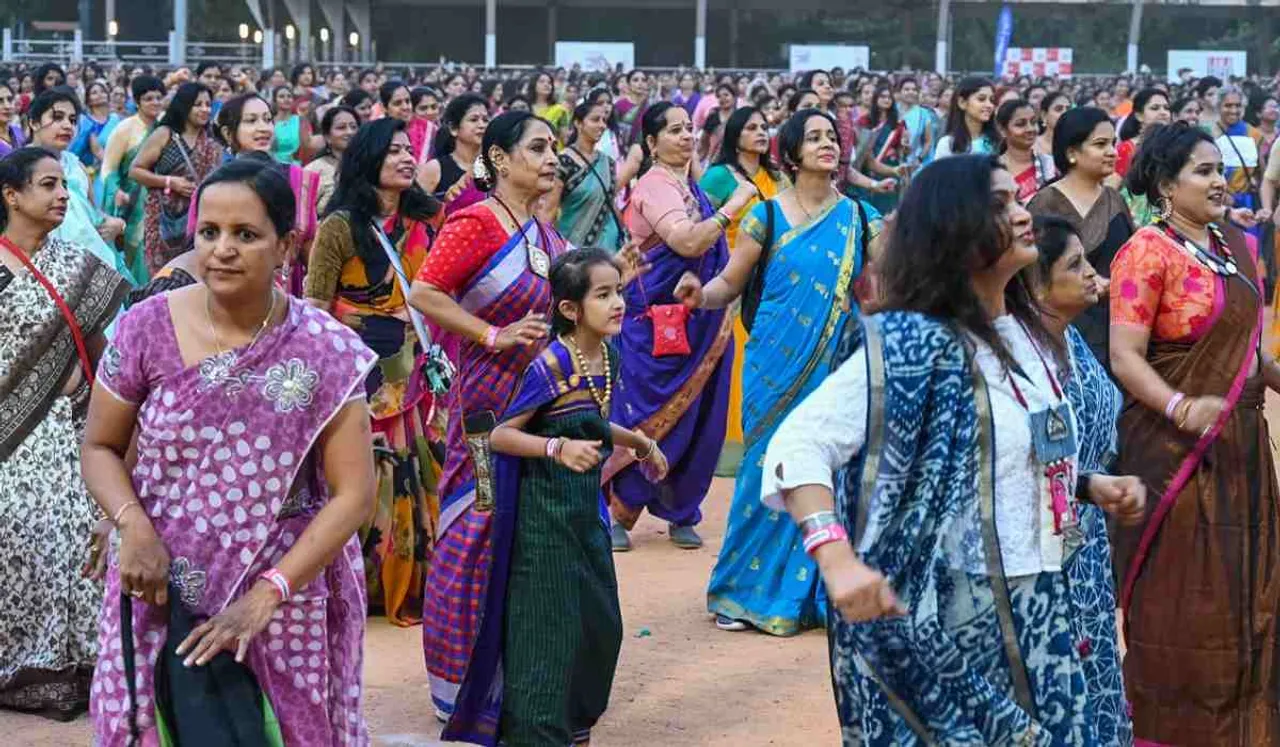 Bengaluru streets on Sunday had empowering spirits as women of all ages came to the streets draped in sarees for the event Saree Run, breaking stereotypes and celebrating womanism in colourful ways.
The streets of Bengaluru were coloured on Sunday morning with hundreds of women coming to the streets and painting the streets in celebration of womanhood. The 3km run is open to all women, regardless of their age and fitness level, to empower women and celebrate women's beauty.
The annual Saree Run is organised by JJ Active a fitness centre in Bengaluru. The event was held on the BGD Ground in Vijaynagar on the occasion of International Fitness Day. 
Women Breaking Stereotypes With Saree Run In B'luru:
The participation in the event was regardless of age, and fitness level of women where women had to drape saree and run for 3 km promoting fitness. Over 1000 women participated in the event with a participant as young as one year old. 
The event was held to promote fitness and celebrate women and beauty, as organisers believe this is an opportunity for women to challenge and break stereotypes about what they can do in sarees and that age is just a number.
The event began at 6 a.m. on a Sunday from BGS Ground, where thousands of women commenced their run draped in beautiful sarees, painting the streets of Chord Road in colours rejoicing the run. The organisers provided safety pins and other accessories to participants to keep their sarees intact and in place while running. The organisers also placed counters that served drinks and provided a good halt for elderly women.
The first batch of runners arrived back at the ending point on BGD Ground at 7 a.m., where they were welcomed with cheers and applause. The participants were also treated to female performers and small speeches, with an open stage for women participants to perform as per their willingness as well.
The event was a small gesture to celebrate women and promote the much-neglected topic of women's healthcare while empowering them all together. The event stood as an example of women's celebration and unity, as women of all ages participated in the event, from as young as one year old to 86 years old.
The mother of the youngest participant, Ashwitha A. Joshi (1), told The Deccan Herald that carrying her and finishing the 3-kilometre long run was not as tolling as waking her up in the morning.
While 86-year-old Lalitha Kini from Mangluru remarked that since she walks regularly, she has participated in similar runs in the US, where her daughter resides, and could easily pull through such events without much sweat.
A total of 7,500 women registered for the saree run held in the city, and over 5,000 showed up for the event.
---
Suggested Reading: Women's Equality Day: Workplace Inclusion Demands Collective Focus