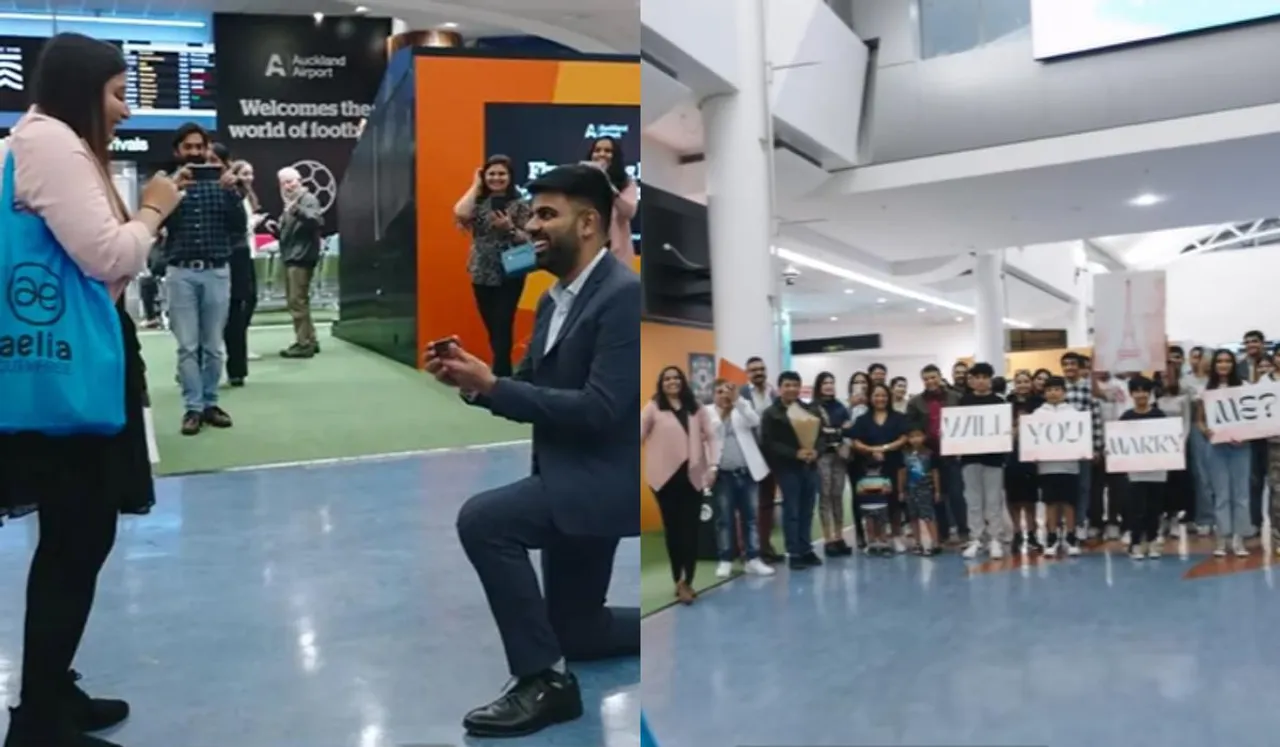 Viral proposals on the internet are too common these days and none of them fails to warm our hearts with the wholesomeness of love and the romantic gesture for the one. 
One such similar heartwarming stunt was thrown by an Indian-origin man Yashraj Chhabra for his long-time girlfriend Riiya Shukla with the help of Auckland Airport which won the hearts of the Internet. 
Straight Out Of A Bollywood Movie
In the heartwarming romantic spectacle of love, an Indian-origin man, Yashraj Chhabra, a simple banking specialist orchestrated a full-blown Bollywood-inspired proposal for her long-time girlfriend Riiya Shukla at Auckland Airport. 
On August 18, Chabbra went down on his knee in a well-planned surprise proposal for his bae in the presence of family and friends while the airport staff helped him to pull off the act. 
He took over the Passenger Announcement System to draw Shukla's attention and later proceeded to ask her for a lifetime companionship as their family and friends put on a show as they displayed the board with the words, Will you marry me?
Behind The Scenes
Yashraj described Riiya to be a woman very hard to surprise so he wanted to catch her off-guard when the idea of proposing to her popped up in his mind. He wasn't sure if he would be even allowed to do what he had in mind as it involved many procedures. 
He described cold-calling and sending LinkedIn messages to many Auckland Airport staff and finally connected to the communication manager of the airport, Laura Platts. She helped him with logistics, cakes, flowers, and with families and friends at the airport.  
He was never sure if the plan would work but he was very delighted when Auckland Airport agreed to make his dream proposal come true. 
While the whole filmy proposal took a month to plan, he asked the airport staff to let him make an announcement over the Public Announcement System which he wished to play on the D-day. 
When Riiya arrived at the airport she later described how she almost missed her flight in Melbourne as it was rescheduled and on landing she discovered they did not bring one of her luggage. She decided to complain about the matter to the service desk but her family called her where she was received by her sister. 
Riiya was walked down by her sister as the announcement started calling her name and she seemed to instantly recognise her beau's voice. Yash then got down to his knees with a ring as the pre-recorded question played in the announcement "Will you marry me?" While their family and friends cheered holding placards in their hands. 
Shukla later expressed her shock as well as her delight at the unexpected stunt her boyfriend pulled. She said, 'As romantic as it sounds, I tend to fall deep in Yash's eyes and for a while, I felt there were just the two of us unless everyone came and hugged me.' She described it to be "magical" and something she could never expect. 
The whole proposal was recorded by professionals and was also posted by Auckland Airport on their social media handle. 
While Yashraj Chhabra is a simple banking specialist, Riiya Shukla works as a project manager in Auckland and the two of them have been together for 8 years. The couple now plans to get married in India. 
---
Suggested Reading: Watch: Elderly Couple Recreate Old Photo In Impromptu Photoshoot