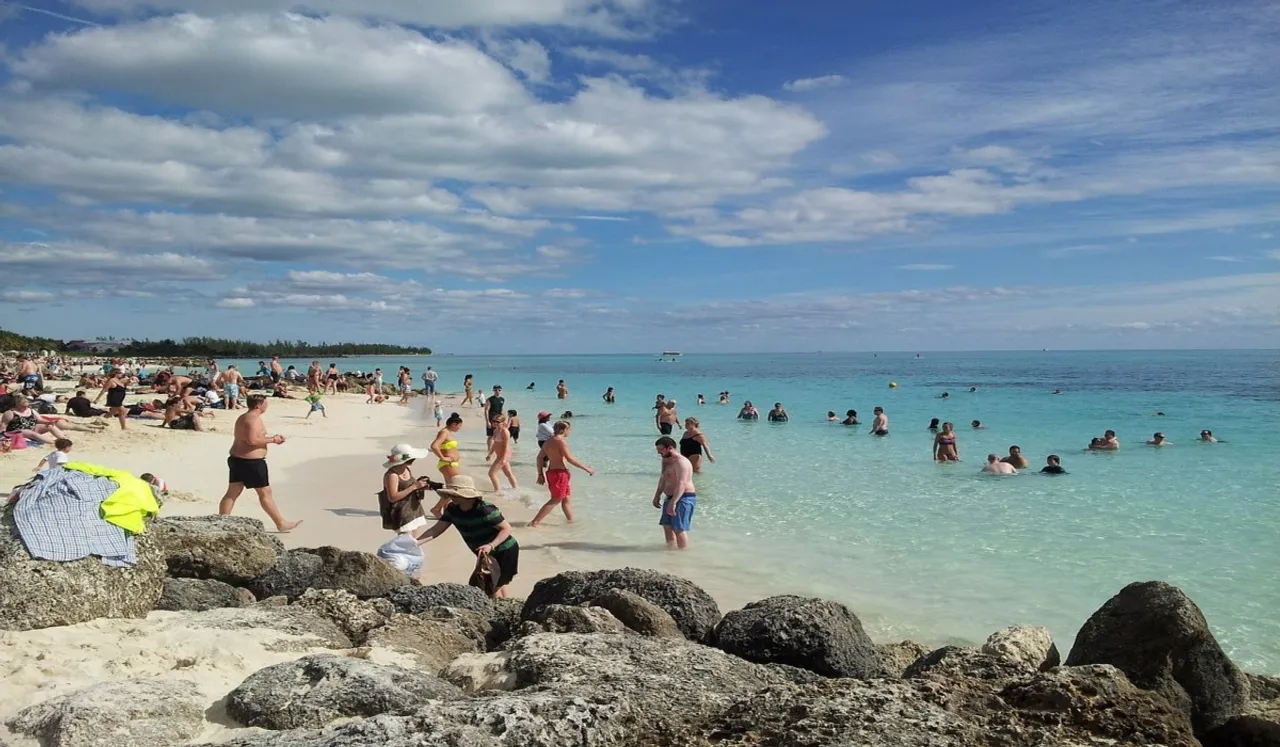 Under the tranquil surface of the ocean's waters lie mysteries yet undiscovered. Amidst the breathtaking marine life, there exists a perilous world of deadly bacteria and algae, poised to unleash life-threatening havoc with even the briefest of contacts.
Recent events have brought these hidden dangers to the forefront, as a woman's vacation on a picturesque Bahamas beach turned into a nightmarish fight for her life.
Woman Loses Leg To Flesh Eating Bacteria
A Near-Fatal Encounter
Jennifer Barlow, a resident of Atlanta, embarked on what was meant to be a relaxing getaway to the Bahamas. Little did she know that a seemingly innocuous incident would lead to a life-altering ordeal.
During her time in the crystal-clear waters, Barlow exposed a minor cut on her right leg to the seawater, unknowingly setting off a chain of events that would change her life forever. As days passed, the injury on her leg worsened, swelling to alarming proportions.
"It was so swollen, at least three times the size of my left knee," Barlow recalled during an interview with Today. Alarmed by the excruciating pain and the deteriorating condition of her leg, Barlow sought medical attention, hoping for a simple resolution.
From Vacation to the Hospital Bed
However, her hopes were dashed when her condition took a sudden turn for the worse. Days later, Barlow collapsed in her kitchen, prompting her younger brother to rush her to a nearby hospital. There, the true extent of the danger she was in became evident. Diagnosed with septic shock, Barlow's life hung in the balance. She slipped into a coma that lasted two harrowing weeks, sustained only by life support machinery as her body fought to survive.
Dr. Jonathan Pollock of the Joseph Maxwell Cleland Atlanta Veterans Affairs Medical Centre, who was part of Barlow's medical team, recounted the gravity of the situation today. "Her life was in grave danger," he emphasised, highlighting the critical juncture she faced. Throughout her ordeal, Barlow underwent an astonishing 12 surgeries in just 10 days, as medical professionals worked tirelessly to remove the necrotic tissue from her right thigh. Ultimately, although her life was saved, the price was high—her leg had to be amputated.
Unveiling the Culprit: Necrotizing Fasciitis
The cause of Jennifer Barlow's traumatic experience was identified as necrotizing fasciitis, commonly referred to as the "flesh-eating disease." This rare bacterial infection, often triggered by group A streptococcus bacteria, has been linked to the consumption of seafood contaminated with the bacteria. Shockingly, recent data shared by Connecticut health officials indicates that at least three individuals in the United States have succumbed to this flesh-eating bacteria. As Barlow continues her journey of recovery and adjustment to life with her amputated leg, her story serves as a chilling reminder of the hidden perils that lurk beneath the waves.
---
Suggested Reading: What Is Necrotising Fasciitis? UK Woman Nearly Killed By Flesh Eating Bacteria After Childbirth
---