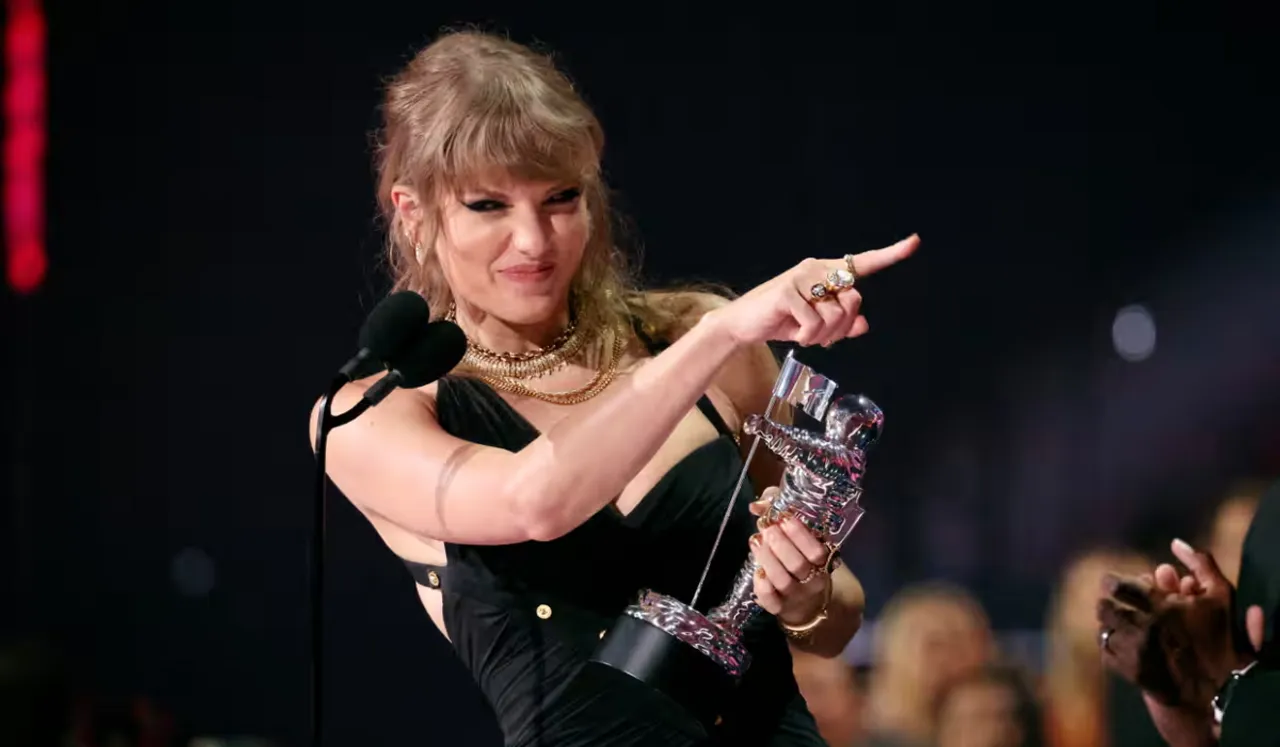 In a spectacular display of her musical prowess, Taylor Swift once again emerged triumphant at the 40th annual MTV Video Music Awards (VMAs), sweeping the top prizes in every televised category for which she was nominated.
The star-studded night featured vibrant celebrations of Latin music and commemorated 50 years of hip-hop, complete with riveting performances by Shakira and a nostalgic 'NSync reunion.
Taylor Swift, currently on her record-breaking billion-dollar stadium tour, secured the coveted Video of the Year award for her chart-topping track Anti-Hero from her latest album Midnights. The pop sensation's stellar night continued as she clinched additional awards for Best Direction, Best Pop Video, and Song of the Year.
In her gracious acceptance speech, the 33-year-old artist dedicated her wins to the craft of songwriting and expressed gratitude towards her collaborators, including 'NSync, who reunited for the first time in a decade, as well as her video editor Chancler Hanes and cinematographer Rina Yang.
Nicki Minaj takes centre stage as host and winner
Nicki Minaj took the reins as the host of the VMAs, following in the footsteps of last year's co-emcees, LL Cool J and Jack Harlow. Notably, Minaj also secured an award for Best Hip-Hop for her track Super Freaky Girl and delivered a heartfelt speech expressing her deep appreciation. The VMAs, spanning nearly four hours, dedicated a substantial portion of the show to celebrating 50 years of hip-hop, featuring electrifying performances by Lil Wayne and Metro Boomin and a grand finale medley with various hip-hop legends.
Diddy Receives Global Icon Award and Showcases Legendary Hits
Diddy, the multifaceted artist also known as Puff Daddy and Love, received the prestigious Global Icon Award, presented by the legendary Mary J. Blige. Blige lauded Diddy as a true icon in the music industry, and the celebratory moment featured Diddy performing a medley of his greatest hits alongside his son, King Combs. In his heartfelt acceptance speech, Diddy expressed gratitude for the honour and thanked his dedicated fans for their unwavering support throughout his illustrious career.
Latin music dominates the stage
The VMAs also recognised the global influence of Latin music, with notable awards going to artists such as Anitta, Peso Pluma, and Karol G. Karol G, the trailblazing artist who achieved the distinction of being the first female artist with a No. 1 Spanish-language album, secured the Best Collaboration award with Shakira for their hit song TGQ. Shakira, who delivered a captivating medley of her chart-toppers, was honored with the Video Vanguard Award by Wyclef Jean for her substantial contributions to global music.
Leading Ladies Shine Bright
Female artists took centre stage throughout the night, with standout performances by Olivia Rodrigo, Cardi B, Megan Thee Stallion, Doja Cat, and Anitta. SZA walked away with the Best R&B award, while rapper Ice Spice claimed the coveted Best New Artist title. The Strays and Tomorrow x Together made their VMAs debut and received awards for Best K-pop.
Acknowledging Afrobeats and Global Collaborations
Tiffany Haddish presented the inaugural televised award for Best Afrobeats, recognising Rema and Selena Gomez for their collaborative hit Calm Down. The Nigerian singer and rapper, Rema, expressed his delight and aspirations to introduce Afrobeats to a global audience, while Gomez conveyed her honour in participating in the collaboration.
Taylor Swift's Grand Finale
Yet the crowning moment of the evening belonged to Taylor Swift, who closed the show with another Video of the Year award, marking the announcement of her 10th studio album from the previous year. Swift graciously thanked her dedicated fanbase for their unwavering support and expressed her profound appreciation for being recognised through fan votes.
The 40th annual VMAs showcased an array of talented artists and celebrated the diversity and success of the music industry. It was a night to remember for both the winners and the audience.
---
Suggested Reading: Sex Education S4 Trailer: Will Otis And Maeve Finally Be Together?