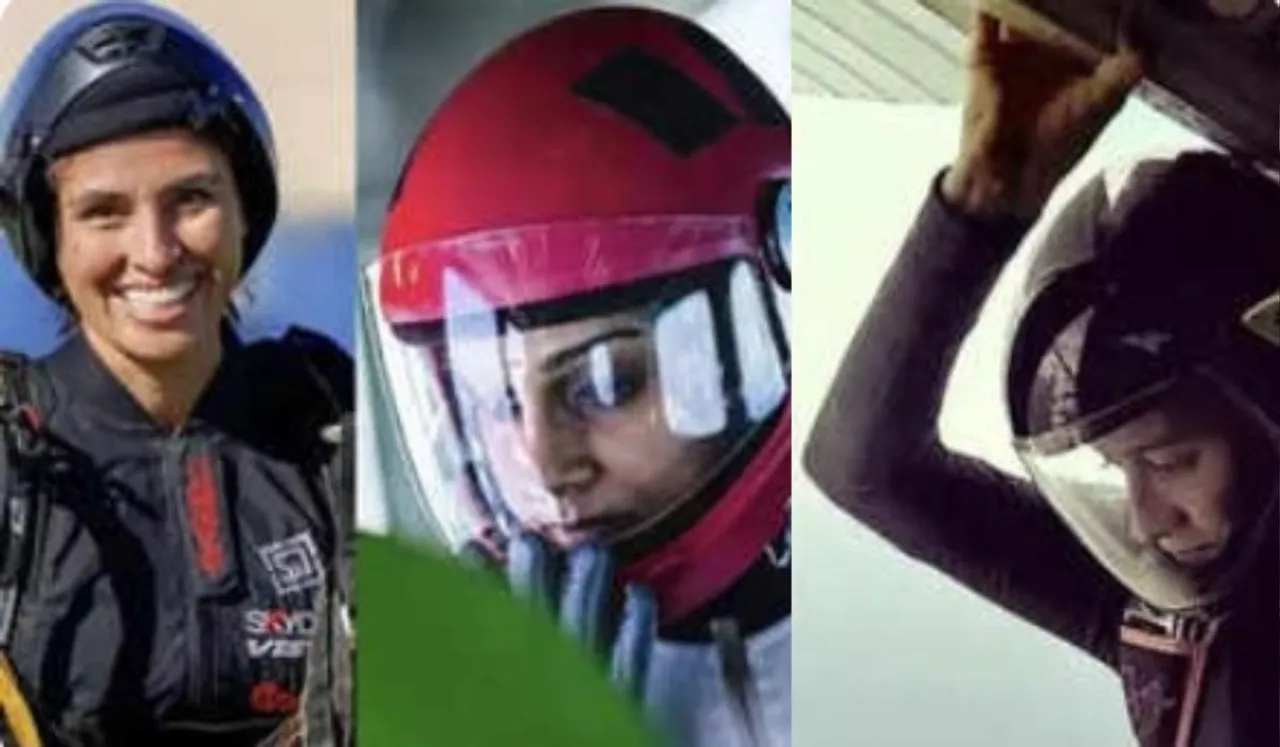 Swati Varshney, an Indian-American computer scientist, could most likely become the first woman to jump from the Earth's stratosphere. Varshney is one of the explorers in the Hera Rising project, a project that aims to send women high into the stratosphere for the first time.
The Hera Rising initiative has begun to propel a female adventurer to elevated attitudes within the Earth's atmosphere. This daring individual will execute a leap from a balloon gondola positioned in the stratosphere, aiming to surpass existing records and also etch her name in history.
Indian-American Woman To Jump From Stratosphere
This venture is arranged by Rising United, a non-profit organization. It comprises a trio of skydiving experts: Eliana Rodriguez, whose ancestral roots go back to Columbia; Diana Valerin Jimenez, whose lineage traces back to Costa Rica; and Swati Varshney, whose ancestry has connections to India.
One of the three women will undertake the inspiring plunge, while the other two will remain on the ground, firmly providing vital support to the mission.
The stratosphere is the second layer of the earth's atmosphere. It is located above the troposphere and below the mesosphere. The stratosphere extends from 12 to 50 kilometres (7 to 31 miles) above the earth's surface.
The temperature decreases with altitude, reaching a minimum of about -80 degrees Celsius (-112 degrees Fahrenheit) in the stratosphere.
Who Is Swati Varshney?
In an exclusive interview with Spavce.com, Varshney, who has 1,200 career jumps and is the proud owner of a PhD in computer science from MIT, stated, "Skydiving is a lot more similar to my scientific training than I ever thought it would have been in the first place. It was just another avenue for me to pursue this goal of lifelong learning."
The Indian-American is passionate about inspiring young girls and women to pursue a career in STEM and skydiving. If she is selected after 18 months of training, she will become the first woman to jump from the stratosphere.
The final jump is scheduled to take place in 2025, but the location hasn't been disclosed yet. The explorer will wear a specially designed suit that will protect them from low pressure, temperature, high speed, and radiation from the stratosphere's environment. The suit will also be equipped with sensors, camera communication devices, oxygen tanks, parachutes, and emergency systems.
The explorer will ascend the stratosphere in a helium balloon that will carry a pressurised capsule. They will then exit the capsule and free fall for about five minutes, reaching a speed of over 800 miles per hour (1,287 km/h). They will then deploy the parachute and land safely on the ground. A team of experts will be monitoring and assisting the explorer throughout the mission.
---
Suggested Reading: Watch: Indian Army's Lance Naik Manju Becomes First Woman Soldier Skydiver