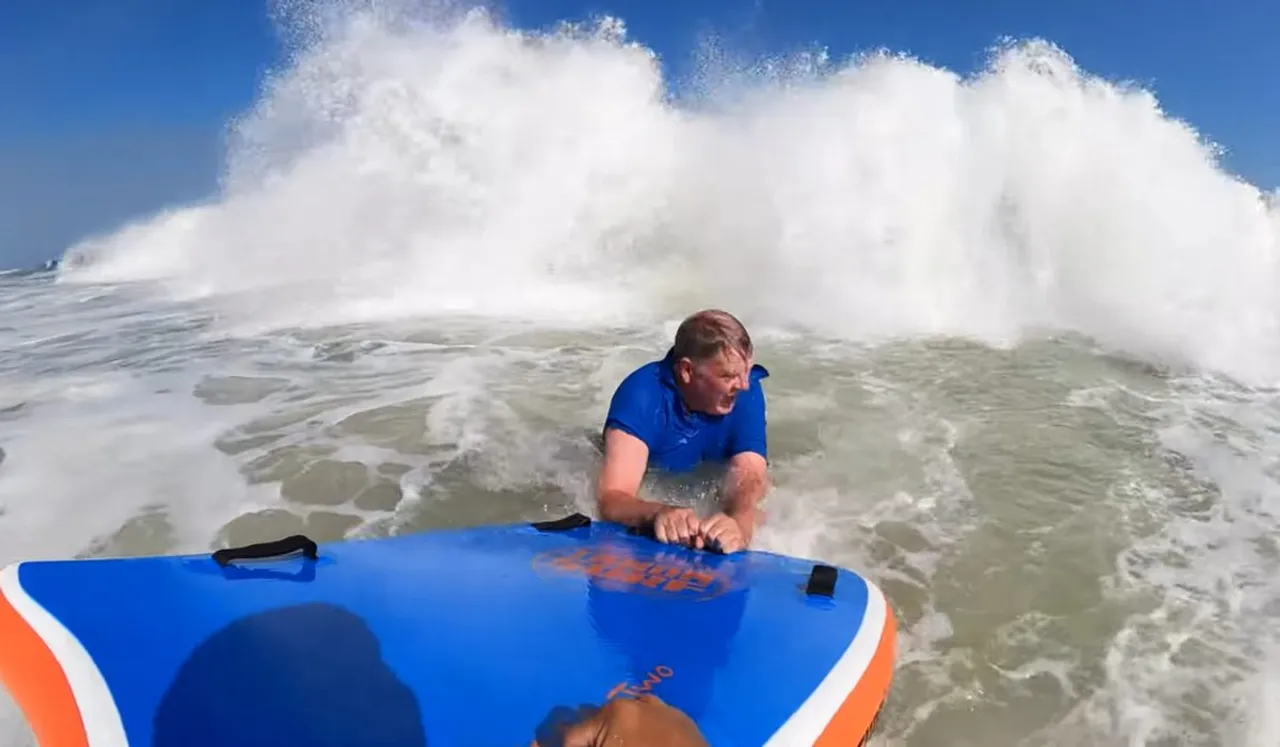 Sometimes, even the most experienced swimmers cannot escape the ocean and its aggressive waves. A recent incident reminded us of this when a swimmer was caught in the high rip tides of the Atlantic ocean, and was saved in by a marine. Unfortunately, two others lost their lives during the incident. 
US Marine veteran Steve Houser saved the life of a swimmer Gabe McCabe who was caught in the rip tides of the Atlantic Ocean on the shores of Long Beach Island in New Jersey. 
US Marine Veteran Saves Swimmer 
The heroic act of rescue by Houser was caught on camera as he was recording himself while surfing. Houser was enjoying the waves with his family when he noticed McCabe in distress amidst the treacherous ocean waves. In no time, Houser transformed his surfboard into a lifeboat and made a makeshift towards McCabe who was struggling in the wild shifts. 
While other swimmers can be seen swimming away from the tides, Houser bravely paddles with his surfboard towards McCabe who can be heard screaming for help while another swimmer can be seen keeping McCabe afloat. Houser reached out to McCabe and rescued him from the rip currents of the ocean. 
McCabe can be seen holding the surfing board and catching his breath as he said "It f***ing whipped me out" while Houser kept saying "You're alright" and "Hold on" when the waves were high. 
The two swam several waves back to the shore after which other swimmers helped McCabe to catch his breath and stand up. 
Watch The Video Here
The marine vet told the ABC News outlet that he had to rescue many swimmers stuck in the rip tides in past and he respects water and understands that the first instinct is panic. He further said he was just "in the right place at the right time" and that anyone who would be at his place would have done the same. 
McCabe told the outlet that he had never experienced something like that before and that the ocean currents "zapped the energy out of you" and expressed it could have been deadly but "I knew I have him (Houser)." 
The news outlet also reported the two have formed the friendship of a lifetime which holds special significance.
While McCabe was fortunately rescued two other individuals lost their lives in the rip currents of the oceans. 
---
Suggested Reading: US Woman Deputy Holds Exhausted Manatee's Head For 2 Hours