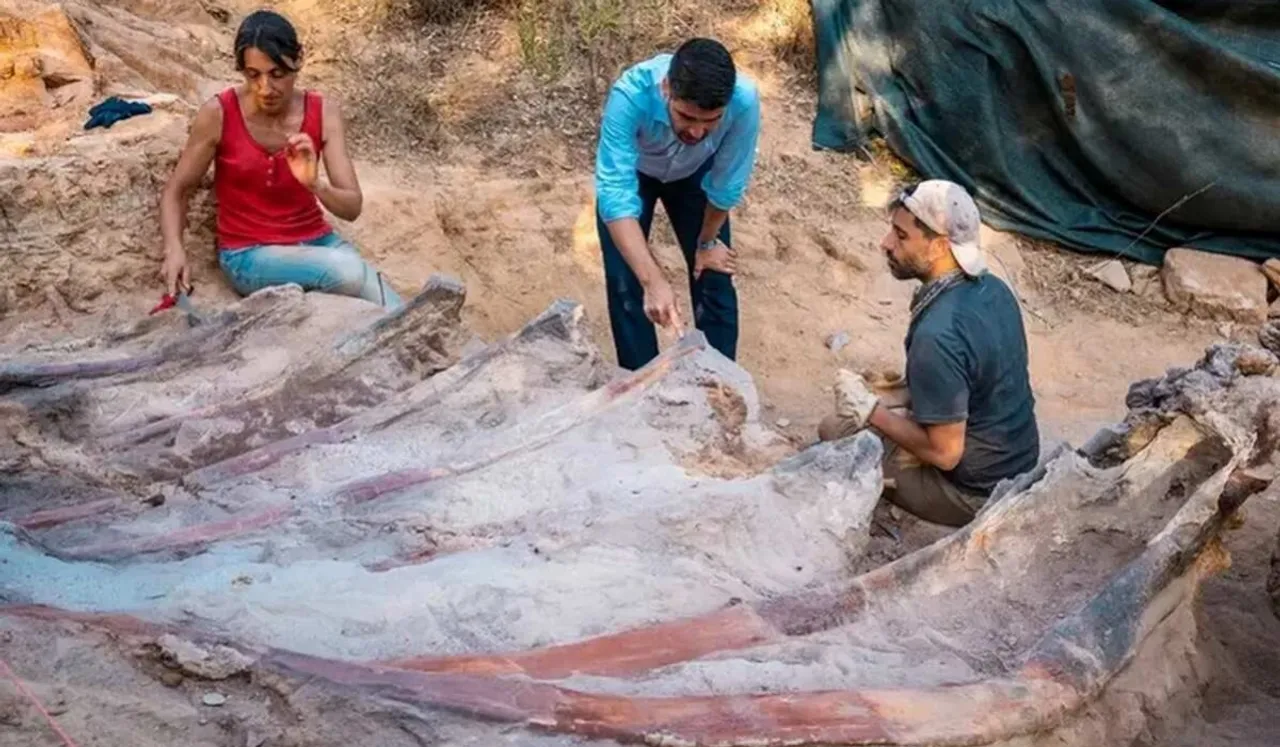 In Pombal, Portugal, a homeowner stumbled upon a significant discovery when fragments of fossilised dinosaur bones were found in his backyard during construction work in 2017. After notifying a research team, an initial excavation campaign was launched in the same year.
In recent developments, palaeontologists from Spain and Portugal conducted extensive excavations at the site for over a week. Their findings suggest that they have uncovered the remains of what could be Europe's largest sauropod dinosaur ever found. 
Man Accidentally Finds 82-Foot-Long Dinosaur
Sauropods are known for their herbivorous diet, four-legged stance, and distinctive long necks and tails. This particular dinosaur measured approximately 39 feet tall and stretched an impressive 82 feet in length.
Dr Elisabete Malafaia, a postdoctoral researcher at the University of Lisbon, expressed the rarity of this discovery, emphasising that the preservation of all the ribs in their original anatomical position is unusual in the fossil record of dinosaurs, especially sauropods from the Portuguese Upper Jurassic.
Malafaia noted that the ribs, measuring nearly 10 feet in length, are among the largest known for a sauropod in Europe and worldwide. Due to the exceptional preservation conditions of the dinosaur, researchers anticipate the discovery of additional parts of its skeleton in the vicinity. Plans are in place for a return expedition next year.
Meanwhile, a decision has been made by the research team to transport the recently discovered fossilized bones to a laboratory. There, they will undergo a meticulous process that involves sediment removal, thorough documentation, and preparation for future research and potential museum display, as shared with Newsweek by Dr Elisabete Malafaia.
Renowned palaeontologist Steve Brusatte, based at the University of Edinburgh in Scotland, who was not directly involved in this project, expressed his astonishment at the find. He described it as "gobsmacking," highlighting the remarkable sight of a dinosaur rib cage emerging from someone's backyard. Brusatte emphasised that such discoveries can occur anywhere with rock formations of the appropriate age and type for preserving Jurassic-era bones, be it in remote badlands or within the confines of private gardens.
The region of Pombal has proven to be fertile ground for fossil sites, indicative of an abundant fossil record of dinosaurs and other vertebrates. This discovery contributes valuable data to enhance our understanding of the prehistoric fauna that inhabited the Iberian Peninsula during the Late Jurassic period.
---
Suggested Reading: Over 600 People Killed By Earthquake In Morocco: Details Here