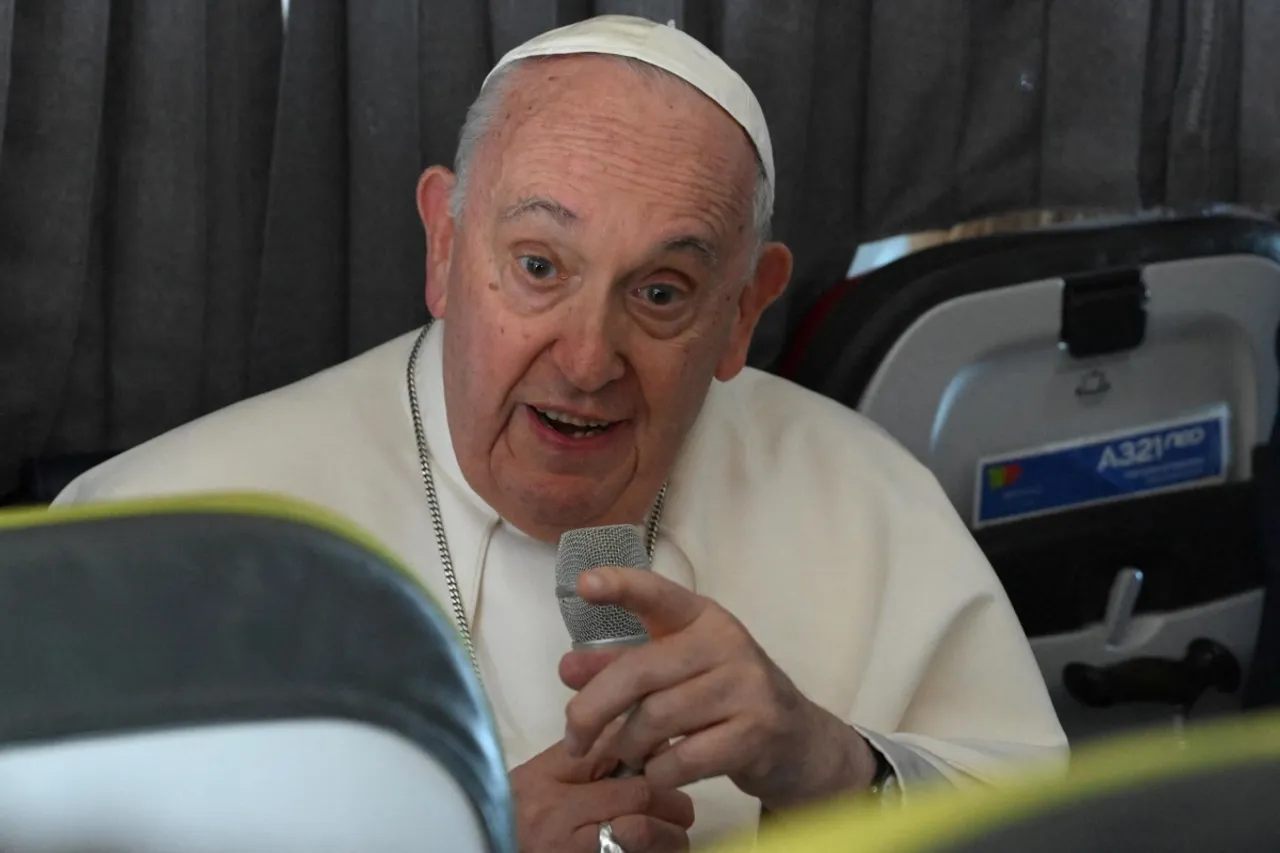 In a significant address to reporters aboard his return flight from Portugal, Pope Francis reinforced the Catholic Church's commitment to inclusivity, extending an embrace to the gay community and reiterating the Church's responsibility to guide individuals on their personal spiritual journeys while upholding its established principles.
Amid the serene skies above Portugal, the 86-year-old pontiff engaged in a candid conversation with journalists, exuding a vibrant energy following his recent abdominal hernia surgery.
With stitches removed, Pope Francis shared his journey to recovery, revealing that he would continue to wear an abdominal band for the next few months to strengthen his muscles.
The Pope, who was returning from the inspiring World Youth Day Catholic festival in Portugal, engaged in a lively interaction with reporters, responding to their questions for nearly half an hour. 
Seated at the forefront of the plane's reporter section, he discussed matters of doctrine and inclusion with a keen sense of openness.
Are 'Outliers' Actually Welcome?
As reported by Reuters, one journalist raised a thought-provoking query, recalling Pope Francis' affirmation that the church was open to "everyone, everyone, everyone." 
The journalist questioned the seeming inconsistency in granting certain rights and sacraments to certain individuals, such as women and gay people.
With a thoughtful disposition, Pope Francis acknowledged the apparent tension and emphasised that while the Church indeed extends its arms to all, there exist governing laws that shape the ecclesiastical community. 
He articulated, "The church is open to everyone but there are laws that regulate life inside the church." 
He reiterated that the institution's legislation limits participation in certain sacraments but does not imply exclusion. According to him, each individual's unique connection with God is nurtured within the Church's embrace.
Guided by a sense of compassion, Pope Francis highlighted the imperative for ministers to accompany all individuals, irrespective of their adherence to the established norms.
Addressing the issue of women's ordination, he pointed out that the Church's stance is rooted in the historical context of Jesus choosing men as his apostles.
Pope Francis extended his support for civil legislation that upholds the rights of same-sex couples in practical domains such as pensions, health insurance, and inheritance. While same-sex attraction is not deemed sinful, the Church maintains its teaching against same-sex acts.
Throughout his papacy, Pope Francis has persistently advocated for a more welcoming and less condemnatory Church atmosphere, particularly for members of the LGBTQIA+ community. 
He continues to navigate the delicate balance between catering to more liberal believers while upholding the values of conservatives.
Rejuvenated by the vibrant scenes he witnessed at the World Youth Day Catholic festival, Pope Francis found inspiration in the orderly congregations and their sheer numbers. 
Around 1.5 million devout individuals congregated at a riverside park in the heart of Lisbon for his closing Mass, braving sweltering heat to participate in an event brimming with fervour.
In a resonating proclamation during his visit to Portugal, Pope Francis assured the crowd that the Church's doors are open to everyone, "including those who make mistakes, who fall or struggle." 
---
Suggested Reading: Here's How Matty Healy Called Out Malaysia's Anti-LGBT+ Laws Onstage
---