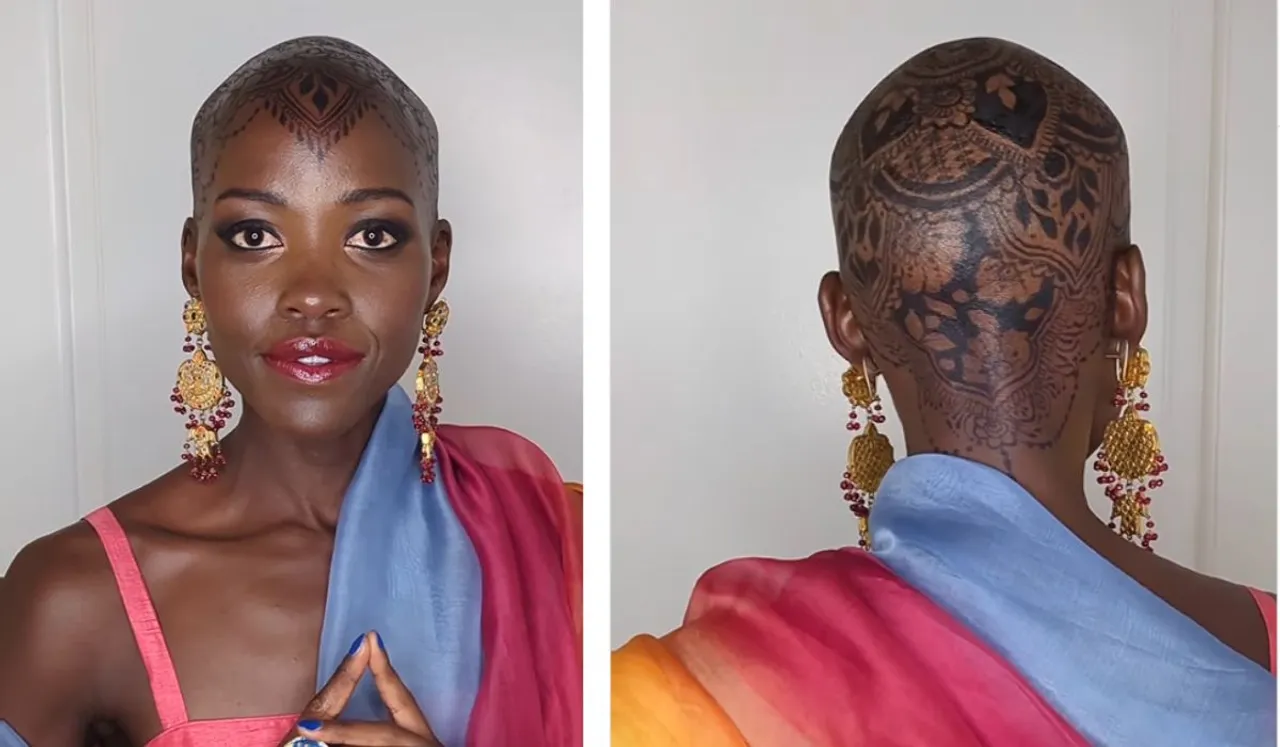 Regardless of where they are from, everyone is fascinated by and admires Indian clothing and ensembles. Lupita Nyong'o, an Academy Award-winning actor, decided to honour Indian culture by stepping out with a sari, gold jewellery, and a detailed henna tattoo on her bald head.
The actor was present for the premiere of Monsoon Wedding, directed by veteran filmmaker Mira Nair, at St. Ann's Warehouse in New York City last week. She also wished Mira Nair success with the premiere of her musical adaptation. She also posted a video of herself looking stunning in an Indian outfit.
Lupita Nyongo Indian Look With Mehendi On Her Bald Head
In the caption, the actor described the henna she applied on her head as Jagua, a natural skin dye from South America. She also added "cultural appreciation" as a hashtag. Aaj Mera Jee Karda from Monsoon Wedding was inserted by Lupita Nyong'o as background music. After the performance, Lupita Nyong'o took pictures with actor Shruti Vyas and fellow cast member Namit Das. Namit reposted a picture that Shruti had posted with the caption, "So this happened."
For the uninitiated, Lupita Nyong'o and Mira Nair collaborated on the movie Queen of Katwe. During The Namesake, Lupita Nyong'o also worked as a summer intern for Mira Nair.
Mira Nair described collaborating with Lupita Nyong'o as working with a daughter, saying that it was similar to directing a daughter. She continued by saying Lupita is a family friend who she has known since she was a very little child. The director also revealed that Lupita interned on Nair's movie The Namesake and spent roughly a year and a half working for her production company. Nair continued by saying that Lupita was the mother in Queen of Katwe because Lupita rose to fame so quickly and because, more significantly, she was the right fit for the role.
Lupita Nyong'o is well-known for her roles in films including Us, Black Panther, 12 Years a Slave, and Black Panther: Wakanda Forever. For her work in 12 Years A Slave, she received the Oscar for Best Supporting Actor.
---
Suggested Reading: New Britney Spears Documentary Claims Singer Lives In "Virtual Isolation" Since Conservatorship Ended