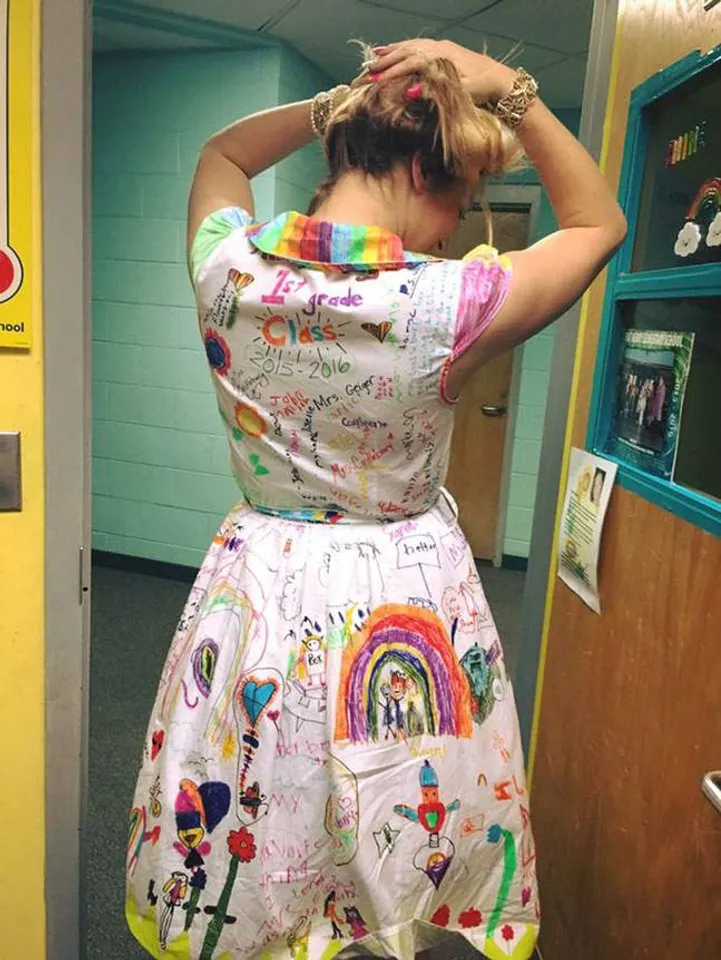 Chris-ShaRee Castlebury, a teacher at Pat Henry Elementary in Lawton, Oklahoma, is a new generous teacher on the block. On the last day of class, she did something special for her students as well as for herself. Castlebury made the decision to combine fun and creativity to wrap up the year and her time working with the children.
She purchased a white frock and instructed her first-graders to write, draw, sign, and doodle all over it with fabric markers and coloured pencils. On the last day of school, she put on the dress. 
Netizens' Joy Knew No Bounds Over Hilarious And Splendid Act 
The images were posted by ShaRee with the remark, "My first idea that is original!! This is all artwork courtesy of MY first-grade class! What am I wearing? ROOM 219! Happy last day of school with my precious Picasso!"
Even the hem, sleeves, and collar of her clothing were painted by the children with flowers, hearts, rainbows, butterflies, and ladybirds. She explained in an interview with India Today that it is a memory outfit and as they grow up and separate from her, she doesn't want to lose the beauty of the children and wants to embrace the time spent with them.
Additionally, the kids wrote ShaRee some sweet notes as well. According to ShaRee, she will also carry on this practice with her new students.
Read These Heart-Melting Incidents Between Teacher And Student In India
A shows a little child trying to comfort his instructor in a classroom. In the video, the young student can be seen profusely apologising to the teacher and promising to grow from his mistakes. He is even seen kissing her cheeks repeatedly in an effort to win her affection back.
This year, a different video that went viral created a lot of buzz on social media. It featured a teacher at a Delhi school instructing a dance lesson with students on the last day of camp. The students could be heard singing the well-known song Kajra Mohabbat Wala from the film Kismat in the classroom-shot video.
---
Suggested Reading: Viral Video: Little Boy's Apology To Angry Teacher Wins Hearts