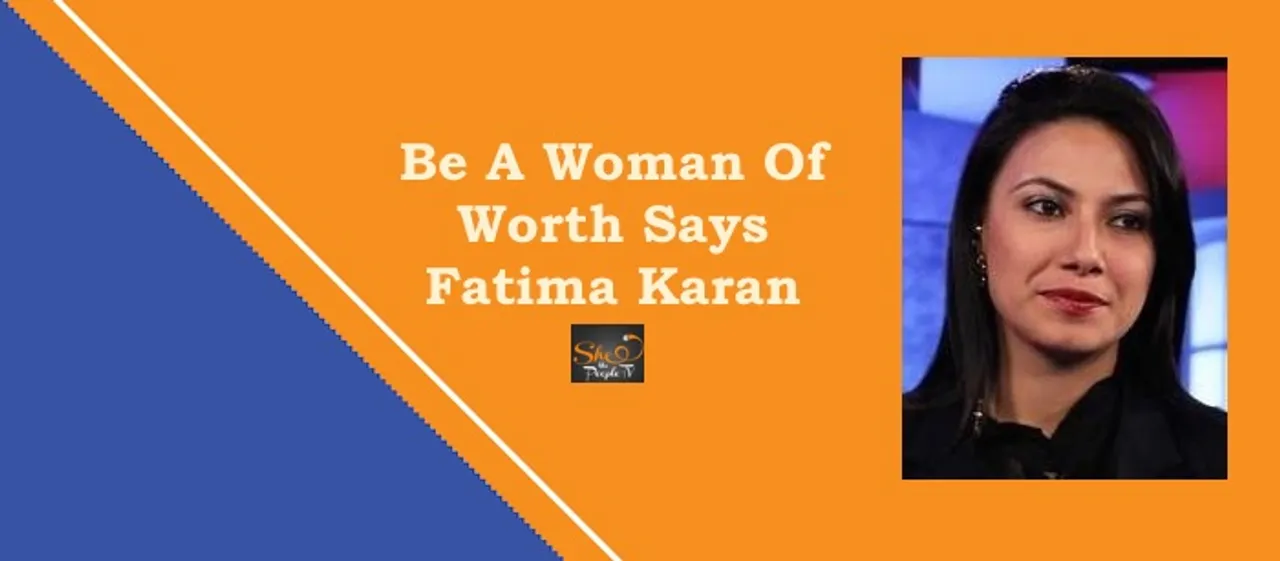 She leads from the front. Meet television anchor Fatima Karan who gave up a career in banking to become a financial journalist. She took up every opportunity for change, travelled around the world learning about work, life and cultures with her family and later returned to India to settle in Delhi and build her broadcast career. As the Consulting-Editor Bloomberg India TV, Fatima says she learns something new every day. Her recent program Bloomberg-Women Mean Business is trying to fill an important gap - that of a discourse around women in business. She wears her confidence on her sleeve and asserts that people should get used to the fact that very pretty women have brains as well.
1. You have lived in many countries when you were growing up and still you call Delhi your hometown and home. Tell us about that.
Well, I think that growing up in many countries made me a global citizen. But, what's very important is that my life is where my family is. My parents are here, my husband is based here, my children go to school here, and I mean home for me is where the family is. Also, the other part of my life which actually dominates my life is my job and this is very much where the action is.

2. How did changing so many countries and places affect your childhood? And how has it helped in building up your personality?
My childhood was that of a kid who went from place to place and didn't think twice before jumping into the next situation. I used to think in Italian because I was born in Italy and that was my first language. After that, we spent time in Nepal and you can imagine the cultural difference. But, as a 10-year-old when you're moving from country to country, the sad part is leaving your friends and I always used to have amazing friends. And then there was Yemen which was a completely different experience altogether. I believe what it made me develop as a person was the ability to adapt in any situation. I don't find it difficult to be thrown in any new culture.

3. You study economics from Boston University and you started off as a banker. How did the shift into journalism take place?
You know, it wasn't meant to happen. I was working in London for five years. Then I had to move to India so the natural trajectory for me was to get into banking. But, the level of banking in India wasn't on par with that of London, Geneva, Singapore that I was exposed to. So compared to what I was doing there, I would say, here it was fairly less developed, but may be that is just my limited exposure. So one day I was watching CNBC as I have always been a big business news buff and I thought let me just research about broadcast media. That's when it got into my mind. Luckily, Rajdeep (Sardesai) was recruiting for his new channel and I started out as business anchor with him, then one thing led to another and I was pushed into general news and now I am back in business news. So yeah life just takes you to places.

4. What made you to choose this field of career when you were already working at a prestigious company at a good position?
Because only journalism came into my mind. It was all about wanting to do research for talking about business. And what attracted me towards journalism was the fact that you are constantly learning. You cannot, even for a second, as a news anchor think that this is about putting on make-up, looking pretty and reading out of a teleprompter. Every second is an opportunity to make an asset of you.
5. What role has your family played in supporting your career decisions?
Massive! First of all, I wouldn't have been where I am without my parents. My father really encouraged me to study abroad.
"Every opportunity that I got, my father just said- go for it."
My mother was always there to nurture and support my emotionally. When I told them about my decision of changing careers, they thought I was nuts. But, my father said that if you want to go for it then do your research and be really good at what you do.

6. How has the experience been working as a female senior anchor in one of the biggest media houses in the country? 
Media is dominated by women. It is only at the most executive level, like in the boards, that there are fewer women. But if you look around in journalism, especially in the newsroom the majority is women. So, you don't really think about being a woman in that sense, but there is very much competition among women. I think everyone wants to have a feminist male boss. Working with women can be quite challenging, but
if you are working with confident and incredible women, it's absolutely fine.
That's how my current environment is. So being a woman was only an issue when I was dealing with other women.
7. Do you think people have this notion that good-looking women are taken in business news more for their looks and less for their brains?
I think that notion is becoming outdated now. This is what, I think; people should get used to the fact that very pretty women have brains as well. It does work for you in television that you are good-looking, but frankly if you don't have credibility then it doesn't really go far. Having said that, people are much more judgemental about good-looking female anchors, they listen very carefully to what is being said.
8. Now in Bloomberg, you do a section in a show- Women Mean Business. What is the show about?
I anchor a show called Final Word. It's a one hour show about the business updates of the day. Apart from this, I have started an initiative for a weekend show which is Bloomberg- Women Mean Business.
It's basically about women talking shop! They can also talk about the issue they face in their professional space, their business insights and ideas.
Also, in a way inspire other women who watch the show.

9. Do you think managing your personal life with your professional life is more difficult for a woman?
It's hard when you have kids. Not because of any other reason, but how hard you judge yourself. Apart from that, I have got a great support structure; my mother takes care of my children. However, it bothers me if I don't see my kids. So I make sure I carve out two hours in a day to be with them because then I won't be able to see them until the next day.

8. Do you think that there is a difference in the treatment of men and women in media houses? 
Like I said, media houses are filled with women. But, I'll tell you one thing that happens and it doesn't happen in business news as much as in general news. Women are given comparatively softer beats than men. I think more and more women need to come into technical teams whether it is editing, cutting packages or production or may be a beat like defence. Women are being watched really carefully, but we need to overcome that and strive to be good at whatever we do.
10. How important is it for a woman to be able to stand on her own?
Very important. I mean it's not even a question. I don't think a girl should even think about it.
This whole notion of my man is going to take care of me and he will always think that I am a princess. It is complete nonsense!
You need to earn your own money whether you spend it or not. You need to be someone who is on their own.
11. When you are not on television...
Besides hanging out with my kids, I love listening to music. I thank the invention of soundcloud and I love that these help you listen to the music from around the world. I listen to jazz, EDM and sometimes I am into classical. Also, when I am on a flight and only one way of the flight, I love to read trashy magazines because my whole life is so surrounded by serious, factual business news. It's good to take a break sometimes.