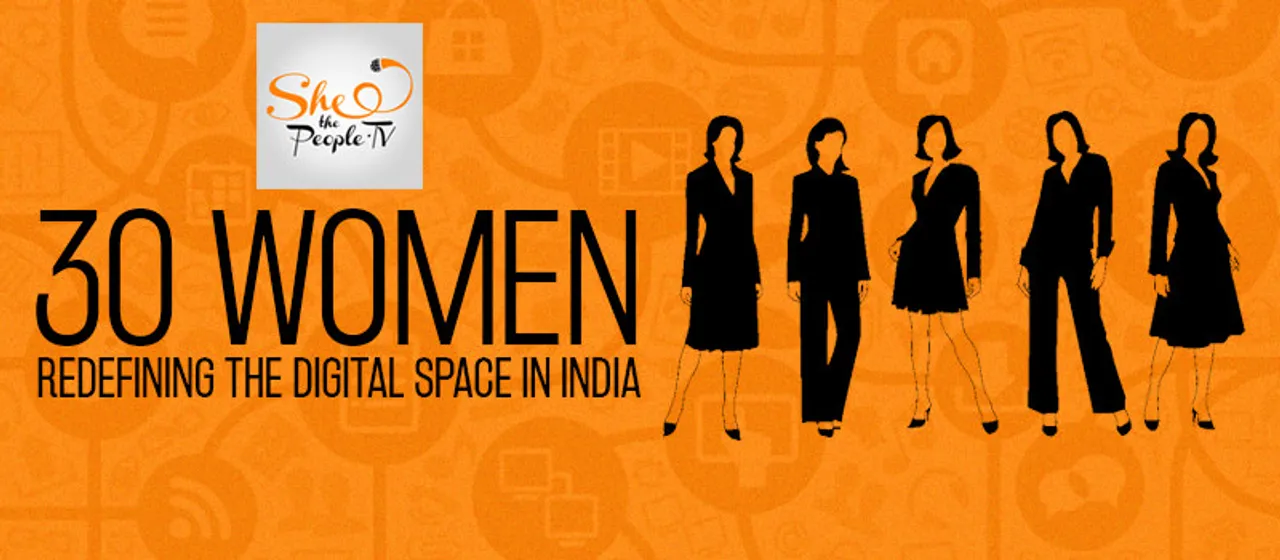 The digital space in India owes women for its tremendous outreach over the past few years. Women entrepreneurs in various sectors are embracing new tech, building businesses, turning new and irregular opportunities into new ideas, giving wings to brilliant ideas, boosting economy -- all of this is transforming the work scenario for women.
SheThePeople.TV picks thirty resilient women redefining the digital space in India.
Malini Agarwal: Unless you have been living under a rock, you would immediately recognise the Bollywood blogger Malini Agarwal. She converted a film blog into a full fledged content spinning industry. From the latest gossips, newsbreaks, candid conversations with stars to all the glamorous gupshup. If it's hot, it's on Miss Malini.
Watch Our Interview with Malini Agarwal
Suchita Salwan- The Founder of Little Black Book – an online guide to curated culture and lifestyle needs for Mumbai, Delhi, Bangalore and Gurgaon. She knows what's happening in her and other cities, and you'd know too if follow the trend therapist at LBB.
Ruchita Dar Shah- Founder of First Mom's Club, Ruchita gathers moms across the countries in one platform and let them connect with each other, share their stories. The online and offline community for moms. They say they have over 50,000 members in different countries.
Falguni Nayyar - The founder of Nykaa, investment banker Falguni took the entrepreneurial plunge. She launched Nykaa.com, a beauty and wellness e-commerce, premier platform for women and solved the overdue problem of seeking products in different spaces but to be found in one online shop.
Neeru Sharma - The founder of Infibeam put her experience at Amazon to work as she set up the ecommerce and solution offering site.
Shreya Mishra - She founded an online platform to rent designer apparel. Called Flyrobe, it is now in expansion mode after raising nearly 5 million in 2016. They may open up to eight larger format stores of 1,000-1,500 sq ft across Bangalore, Delhi and Mumbai, expecting them to contribute 20-25% of revenue as per reports.
Pranshu Bhandari- The cofounder of CultureAlley, is the developer of Hello English -- a mobile-based application that allows you to learn various languages through interactive videos. Been listed among the Forbes India 30 (under 30 list) in 2015, Pranshu's company has taught over 500,000 people learn languages like Spanish or Portuguese.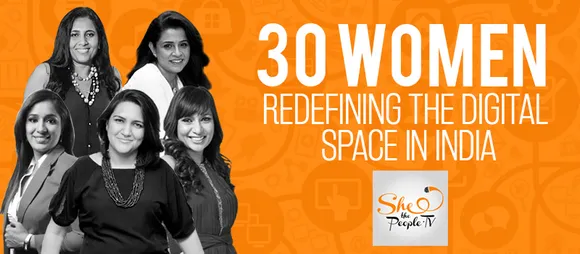 India's Top Women In Digital
Shantala Bhat – The founder of Gamatics is a perfect combination of tech savvy and a sports junkie who has created a platform for giving access to equipment in the sports industry.  The sports website also has an analytics platform, which keeps a tab on coaches and athletes' performances.
Kanika Tekriwal - The founder of JetSetGo -- India's first marketplace for hiring private jets and helicopters. Kanika is a pioneer in aviation industry in India. Yet in her 20s, Kanika is a recipient of many awards and counts Yuvraj Singh among her investors. JetSetGo is aiming to achieve a 50 percent women workforce dream by 2017.
Aditi Avasthi- Avasthi is the founder of Embibe, who has created a platform to help coaching institutes prepare students for entrance exams such as the JEE, BIT SAT, NEET and others.
Saumya Vardhan- The founder of ShubhPuja aims to cater all the religious service needs. Her website is the one-stop platform to 'connect to God in one click'. With the launch of Shubhpuja, Saumya offers best in class pundits online and also allows Hindus from around the world to schedule and participate in rituals customized via Skype, Facetime etc.
Aditi Prasad – The expert in technology is the founder of Robotix. The venture provides users the tools to develop STEM (science, technology, engineering and math) skills. Robotix is the new age revolution that provides robotics education programmes in K-12 schools in the path of problem solving, coding, robotics and computational thinking.
WATCH: Aditi Prasad and Deepti Rao: Sisters inspiring women to take up coding, tech and robotics
Sakshi Talwar – With her brainchild, Rugs and Beyond, Sakshi has introduced the fragmented carpet weaving industry in India. The e-commerce company connects local weavers to customers around the world.
Rubina Mazhar- The founder and CEO of SAFA, Rubina works with the NGO and aims to provide socio economic empowerment to women in urban slums by providing them with skills training.
Richa Singh- The co-founder of YourDost, an online counselling platform. Richa believes was born to create social impact. She has managed to gather over 200 experts at YourDost, and users can now tap them for issues like depression and therapy.
Kalpana Rajesh- With starting-up Pelli Pooja Jada, Kalpana aims to conquer an ever-lasting business of floral hair accessories for women.
Aditi Gupta- Aditi has setup Menstrupedia to educate women about periods. With her website she tries to break the taboo around menstruation by developing friendly and entertaining content including comic books and blogs, in order to help girls to be period positive.
Radhika Aggarwal- The founder of India's first managed online marketplace, Shopclues, Aggarwal set up a strategic ecommerce space. She believing in being focused on tier II cities. She is India's first female founder of a startup that's crossed $1 billion in revenues.
Rashi Menda- The founder of Zapyle, Rashi has created a platform for women, enabling them to buy and sell luxury fashion. The ambition is to make luxury fashion affordable and to help women stay upgraded with every new fashion trend.
Neetu Bhatia- The founder of KyaZoonga, Neetu has launched a company that provides ticketing services for sports and entertainment events and has been functioning in India, the US, UAE and Caribbean.
Nidhi Agarwal- The e-commerce fashion company, Karyaah is a brainchild of Nidhi who has brought out a simple USP to offers 18 sizes of clothing, designed to suit the specific needs of Indian women.
Rashi Sanon- the founder of Heads Up For Tails, through the e-commerce platform Rashi aims to provide a one-stop shop for dog owners to pet their pets with everything they needed. After drawing inspiration from becoming her own personal affair with her Labrador, Sara – this pet parent ventured into something she loves to spend times on. Rashi recently raised funding for her venture.
Sabina Chopra- She is the Co-Founder of the now established travel portal, Yatra.Com. The platform is among the top-listed online ticket booking site for flights, hotels, trains, buses, homestays and many many more comfortable advanture. It has over 7 million monthly users.
Saroja Yeramilli- Founder of Melorra, Saroja has launched an online startup for jewellery that caters to every accessorizing fetish for women. Her jewellery is precious, it's produced by using a 3D printer and as a result they do not have to stock up inventory.
Suchi Mukherjee- The founder and CEO of the online social discovery platform for women LimeRoad, Suchi is passionate woman who aims to building consumer technology products.  She has revolutionized the e-commerce sector with trendy lifestyle products and people of India can't just resist but to sign in to the site to jazz up for the party.
Garima Satija – The young entrepreneur and founder of PoshVine, has created a community marketplace for travellers and adventure seekers to offer, discover and book unique experiences.
Also Read:Meet women entrepreneurs who are cracking the code
Upasana Taku – The founder of MobiKwik, Upasana promotes mobile wallet that enables you to pay for your recharge, bill payments and shopping at various e-commerce websites.
Sairee Chahal - The founder of Sheroes, an online platform for recruitment for women and work from home jobs is a crusader for women online. Her platform has connected several women across the country and given them an opportunity to join the workforce.
Madhu Trehan - The founding partner of Newslaundry, a website dedicated to tracking and reporting on media. She was an early starter in digital media, setting this up. The platform also seeks paid subscriptions by its readers. Few are spared in the reporting on this website.
Ritu Kapur - The cofounder of The Quint is a woman who understands her digital content. Turning news into 'snacky bites' that appeal to millennials is the focus of this digital content platform that she spearheads.
Join Us on https://www.facebook.com/SheThePeoplePage
Follow Us on https://twitter.com/SheThePeopleTV