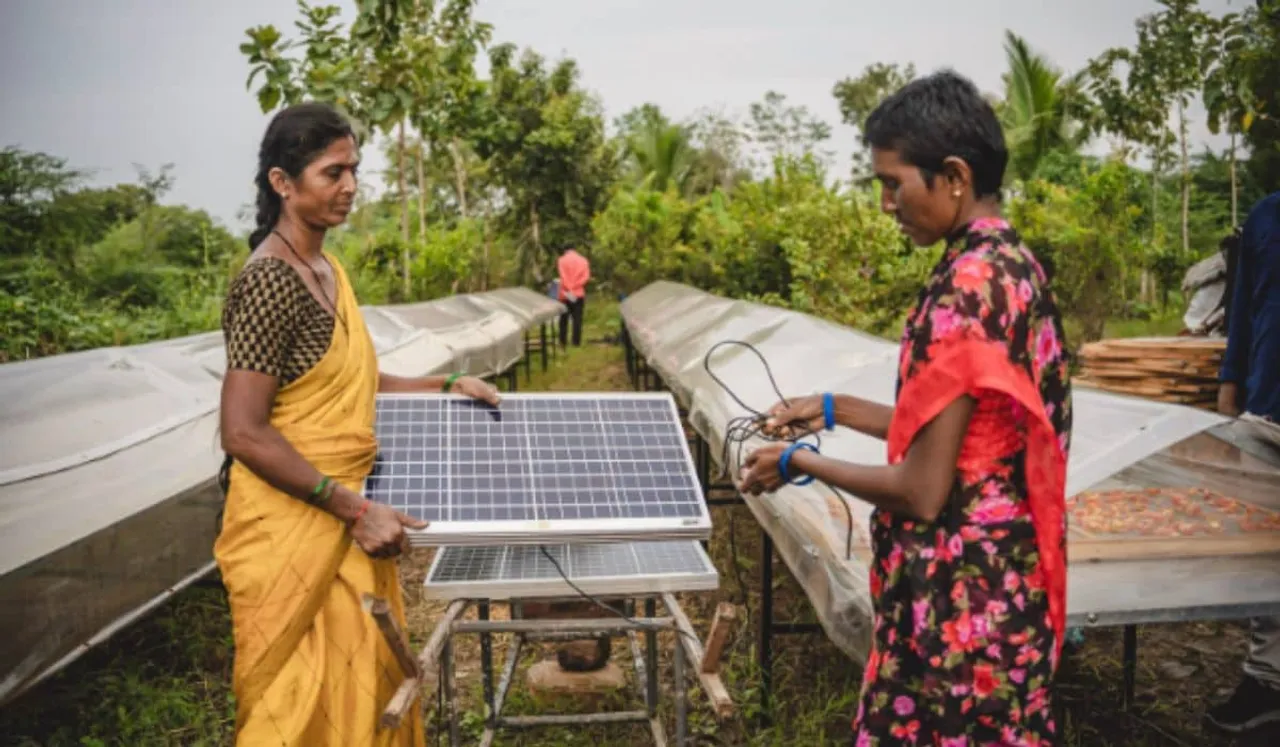 Approximately
1.7 million
micro-small and medium enterprises (MSMEs) registered on the
Udyam portal
in 2022 are women-owned.
Further, studies suggest that an estimated 30 million women-owned MSMEs are expected to flourish in India by 2030. To support these women-led micro-enterprises to flourish and sustain, creating a strong ecosystem to support the production and selling of final products yearlong is a pressing priority.
Creating market-based livelihood opportunities ensures a solution-driven lens to tackle limited market access issues of rural women micro-entrepreneurs. Such opportunities make raw materials available and enable a buy-back guarantee for the finished product. 
Sustaining rural women entrepreneurs 
Realising this need, Powering Livelihoods, an initiative by the Council on Energy, Environment and Water (CEEW) and Villgro Innovations Foundation, is working with Raheja Solar, a solar dryer manufacturing enterprise, to enable forward market linkages for rural women entrepreneurs in Andhra Pradesh. The women faced the challenge of accessing raw materials and lack of market linkages due to limited mobility. This created critical barriers to sustaining their businesses.
Raheja Solar created an end-to-end value chain support for women farmers from Andhra to avoid a situation where women-run businesses cannot manufacture and sell their products around the year. The enterprise gave a buy-back guarantee to six farmer-producer organisations (FPOs) for 36 solar dryers. A buy-back guarantee means that enterprises pledge to buy the dried product from the farmers at a specific rate. The FPOs sold raw bananas, bitter gourd, tomatoes, and brinjals to Raheja Solar.  As a result, 120 women farmers from the FPOs earned a guaranteed income of around INR 3.5 lakh per month collectively.
Additionally, this success gained buy-in from Samunnati, a financing institution to support FPOs in purchasing solar dryers. Realising the income guarantee of women farmers, they increased the loan coverage from 20 per cent to 80 per cent. "With the support of guaranteed buyback of our dried products by Raheja Solar, we no longer worry about our product getting wasted. We sell our products at a fixed rate and get a fair price," says Malleswaramma, president of the Sri Gayathri FPO in Andhra Pradesh.
Enterprises can play the role of market enablers for the end-users with such buy-back guarantee mechanisms. The concept mutually benefits women entrepreneurs, who earn constant monthly income for their technologies. Further, financiers are assured about extending credit support. 
Bridging the market gap will require an active and intentional participation of technology manufacturers and financing institutions. Backing small-scale women entrepreneurs to sustain and scale their businesses can bring transformational change in India's rural economy, improving the lives of millions.  
Views expressed by the author are their own
Prachi Singhal also contributed to the piece. Mousumi Kabiraj is a research analyst and Singhal is a gender specialist consultant at the Council on Energy, Environment and Water (CEEW), an independent, not-for-profit research organisation.
---
Suggested Reading: How Women Entrepreneurship Is The Way Forward For India's Agri-Business Boom