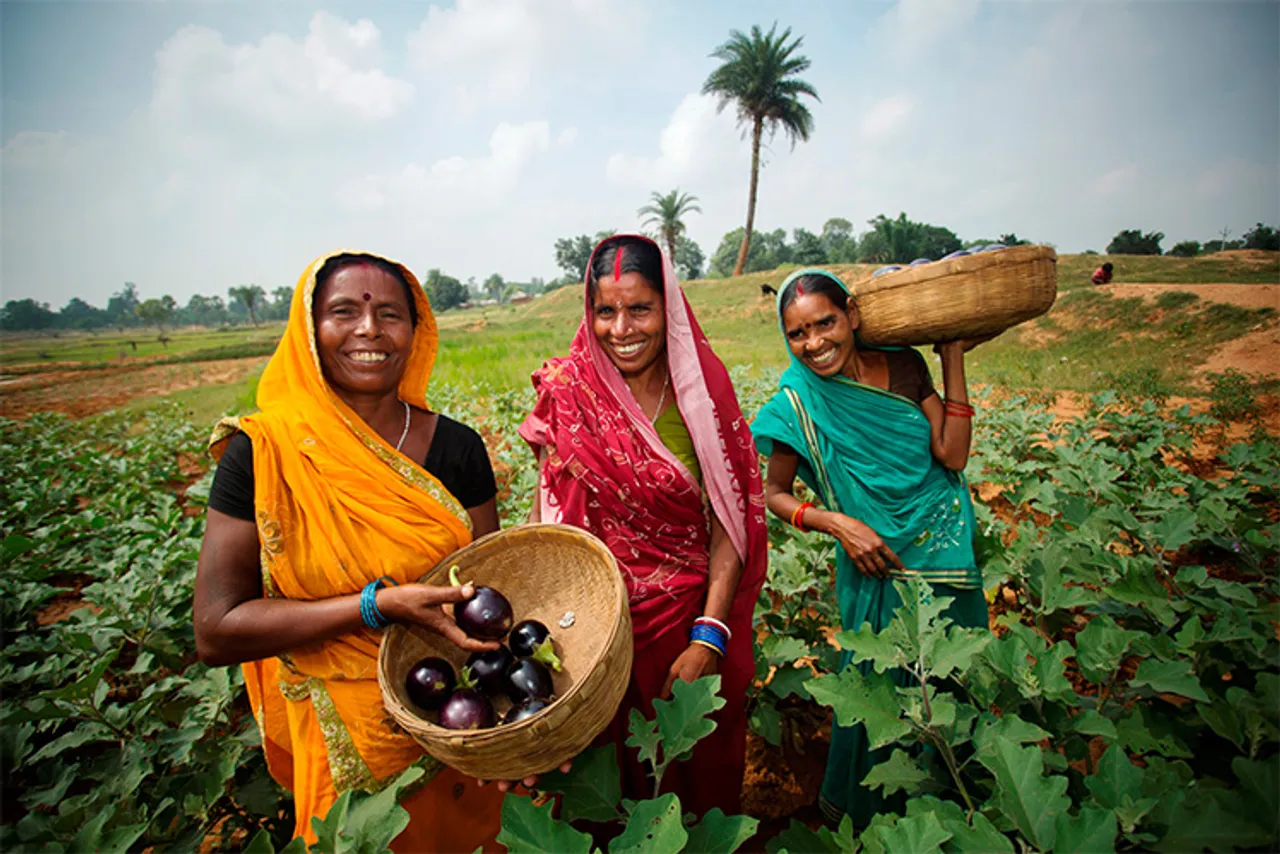 Agriculture and agri-based activities are major means of livelihood for women in India. Close to 84 percent of women in rural areas depend on agriculture. 70 percent of the work in the livestock sector in India – the world's largest – is performed by women.
Similarly, their participation in other agri-based categories such as tea plantations, cotton cultivation, floriculture and horticulture is also increasing.
Termed the feminisation of agriculture, the increase in women's participation in cultivation, agri-businesses, and farm labour stems from the migration of men from rural areas to urban in search of better livelihood prospects. However, decision-making concerning operating farms remains with men, relegating women to secondary roles.
Women In Agri Business
While women stay back to work on the farms, they seldom own the land. The All India Report of Agriculture Census (2015-16) shows that women own approximately 14 percent of agricultural land in the country. The lack of ownership of land and other collateral leaves women without financial access in form of bank loans which they can use to expand their work through agri-inputs and equipment. Further, a significant proportion of women is restricted to low-paying, informal jobs. Lack of operational rights for land and leadership opportunities, unequal wages, and confinement to labour-intensive jobs are some of the challenges which women face. Given the feminisation of the sector, it is essential to empower them to take decision-making roles and build a sustainable foundation for agriculture and agri-based enterprises.
Private sector investments by way of corporate social responsibility (CSR) have the potential to create avenues for income enhancement and encourage agricultural entrepreneurship. Driving investments towards skill development, enterprise forming, and income enhancement can help women engage in more profitable activities and add value to their productivity.
Through their partnership with local non-government and civil society organisations, CSR initiatives can help identify and create market linkages for women farmers. Several CSR and community development programs have been instrumental in identifying and resolving gender disparities in agriculture.
"Encouraging women's entrepreneurship in rural areas, providing them with means to enhance incomes, and investing in knowledge and capacity building of rural women have translated into benefits for the agri-based sector among others."
Self-help groups (SHGs) are a popular way to increase the participation of women in agriculture-allied activities like floriculture, dairy and poultry farming, and food production. The SHGs bring together a pool of talent, they are also an ideal means of providing knowledge about markets and building diverse skills which ensure the sustainability of the enterprise. Often, women are unaware of the financial recourses available to them via government schemes.
Boost for Women in Agri Business
CSR programs can help bridge this gap by organising knowledge-building sessions and initiating linkages with government schemes. Mahila Kisan Sashaktikaran Pariyojana (MKSP), for instance, is a key government scheme which focuses on reaching out to the economically weak sections and diversifying Mahila Kisan's current portfolio of activities. Collectivising the efforts of women through SHGs and providing them with proper market linkages has the potential to generate huge revenues. Market linkages also provide immense opportunities for the inclusion of women in agri-value and supply chains, ensuring the smooth transition of farm produce to end markets.
For instance, one of the CSR initiatives where women have been able to increase their incomes was through the formation of a women's SHG called Krushi Jivala Women Farmer Group, located in Palashi village in Shirwal, Maharashtra, for running a shade-net floriculture enterprise. The land for the shade net was provided by one of the SHG member's husbands. Taking a multi-collaborative route, a local, grassroots NGO was onboarded to facilitate the process of setting up the SHG and supporting them by connecting them with appropriate markets.
The future of agriculture and agri-based businesses lies with women. Despite their immense contribution to agriculture, their efforts are rarely acknowledged. This needs to change. Through the implementation of gender-responsive solutions, women's roles in the agricultural value chains can be boosted.
"Private sector investments, coupled with government schemes can prove catalytic in collectivising and organising women into formidable agri-based enterprises and set them on the path of economic and social empowerment."
---
Suggested reading: Invisibilised Women of Agriculture and how the Farm Bills add to Their Woes