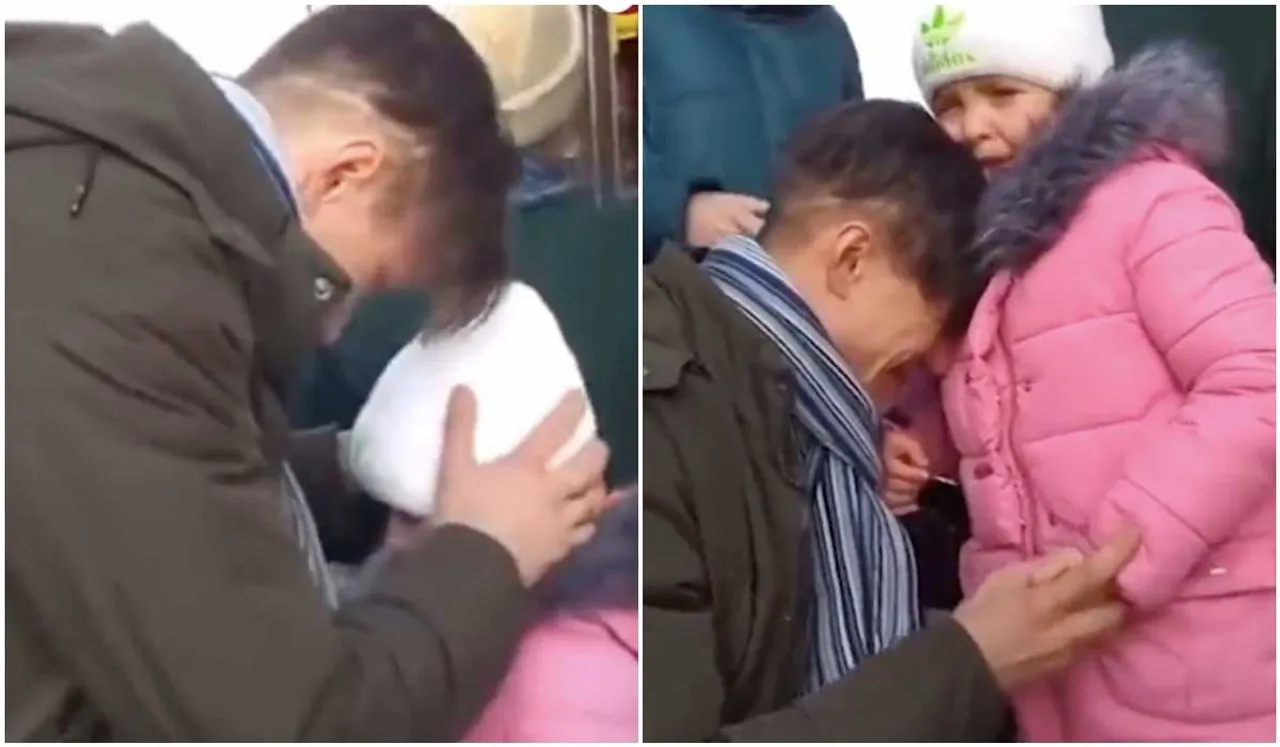 A video purportedly showing a Ukrainian man bidding his daughter a tearful goodbye as Russia wages war in the country is going viral on the internet. The man and girl are caught in a heartbreakingly emotional moment, with him fixing her winter cap, talking to her and sobbing while holding her little hands. The child too is seen crying.
Various reports suggest the video was captured right before the girl was evacuated to safety while her father stayed back to serve the war-torn country. SheThePeople has independently not verified the video.
With or without the video, it is not too difficult to aggregate that the cost of war is always unspeakably heavy. Economies and diplomatic relations can be reconstructed once the war ends. But what about families that are torn apart? What about children who are orphaned or men and women who are widowed? What about the parents who have to bury their children?
The human cost incurred can never be recovered.
---
Suggested Reading: How Media Coverage Has Shifted From The Core Issue In Hijab Row To Sensationalism
---
Ukraine father says goodbye: Who actually bears the cost of war?
On February 24, Russia began invading Ukraine in what marked a crucial escalation in the ongoing tension between the two countries since 2014. Reports from ground-zero in Eastern Europe paint a grim picture of destruction, akin to what many of us have only seen in visuals of war from history. There are also suggestions that this offensive by Russia could usher in World War III.
Clearly, we learn nothing from history. To serve the egos of autocratic men, a million lives are upended.
Who would have thought the generation that lived through WWII would also live to see another impending large-scale war on the horizon? Research estimates 75-80 million war-related human casualties between 1939-1945 during WWII. But do these figures bother world leaders who refuse to scale back attacks on other nations, with actions that will have global consequences?
For the younger generations, the proposition of war is equally surreal, especially with global social media access bringing us steady live updates up close. Living on the edge of war in the age of social media is inducing a sensory overload. But would we rather be in the dark about wartime human experience or be worryingly informed?
---
Suggested Reading: Fall From Glory: Have Women Like Chanda Kochhar, Chitra Ramkrishna Let Women Down?
---
While experts have warned a lot of visuals being circulated are inaccurately marked as on-ground developments of the armed conflict in Ukraine, there are still real people giving the world a real-time glimpse into their very real fears, anguish, apprehensions and panic, making desperate appeals for urgent intervention.
A Ukrainian entrepreneur shared a selfie of herself with her girl, as she slept, writing, "My daughter and I surviving the night in Ukraine. We are real people at war with crazy dictator and we need the world's support right now. #StandWithUkraine."
The little one takes temporary refuge probably in faraway dreamlands of peace, the echoes of missiles crossing overhead outdoors receding into the background, if only for a little while. She stands to lose her childhood. So does the other girl from the viral video. And as do the other thousands of children who will be made to bear the cost of a senseless war they don't deserve.
Views expressed are the author's own.