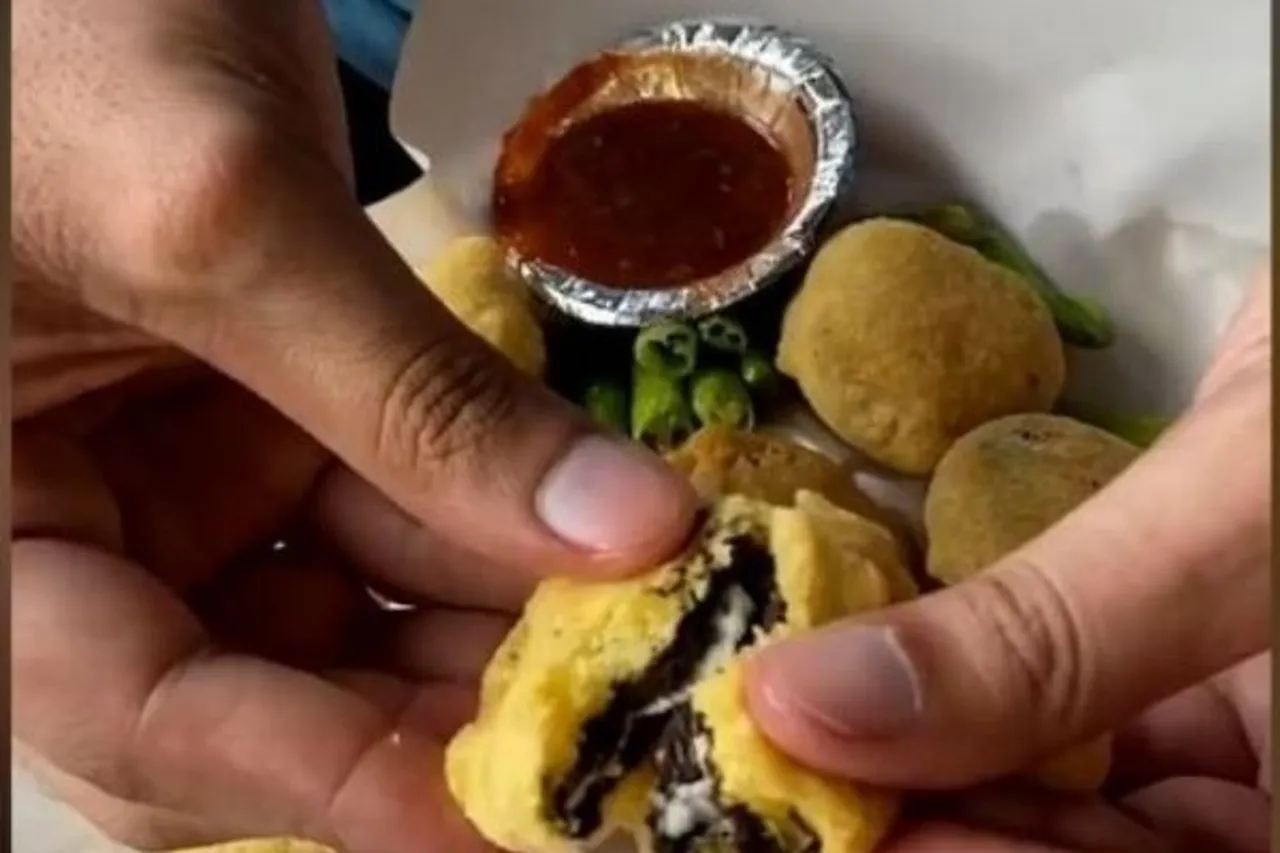 There is innovation, there is experimentation, creativity and then there is an abomination. The trending dish 'Oreo Pakoda' makes one think, should there be a limit to how far you can experiment with food?
The video was originally posted by food vlogger Amar Sihori on his YouTube channel 'Foodie Incarnate'. It showed a street food vendor in the streets of Ahmedabad dipping crushing Oreo biscuits in the salty batter of chickpea flour trying very hard to turn it into something like Indian fritters. The street food market is infamous for topping questionable amounts of cheese on food items that are better consumed without it.
There is also the fixation over fried food. That seems valid and we all love a good samosa or pakodas but who in the world felt the need to upgrade a perfectly fine Oreo biscuit balanced in its sweet quotient to a fried dish? What is even more surprising is the fact that people are willing to try it. The overly-invested folks on social media make it a point to bring attention to mischievous dishes such as chocolate Maggi, chocolate sauce biryani, fried ice cream, idli on ice cream stick among many others who shall not be spoken of.
Netizens made it a point to call out the Oreo pakoda why tweeting out their amusing takes on the strange dish. One user said, "Will file a case against Pakoda wala for ruining the Taste of Pakoda and Oreo Biscuits" while another user shared how the viral video makes them want to throw up. As the dish prompted many to think of even worse scenarios, the users started making predictions about the future which can have dishes like Oreo stew with kulcha, and Oreo dum biryani.
Here are some other reactions to the viral video of Oreo pakoda:
After Oreo Maggi....
Now make way for Oreo Pakoda...!!
Why..
Why...
Just Why can't we leave things as they are supposed to be 😭#FoodForThought pic.twitter.com/7UqWEb7oTT

— Aαԃԋιɾα 🇮🇳 (@Aadhiraspeaks) November 8, 2021
Someone please bomb Amdavad BC Oreo pakoda😭😭 pic.twitter.com/8mWD40eKEE

— invincible_SQui (@Invincible_Squi) November 6, 2021
The only magic ingredient missing is
"grated cheese" on top of the Oreo pakoda 🤪

— MM🇮🇳 (@MM_CtrlAltDel) November 6, 2021
Should Gujarat be nuked for oreo pakoda?

— भारत के ७५ प्रांत (@hodlvolk) November 7, 2021
Oreo Pakoda probably tastes great, just like Rasagulla chat. You all are just haters simply.

— 🦋 (@UrsulaKPenguin) November 6, 2021
i just saw video of oreos pakoda are we indians okay😭😭

— joonia (@osakisakire) November 6, 2021
---
Suggested Reading: 
"Leave Vada Pav Alone!" Dubai's Gold Twist To Street Snack Isn't Sitting Well With Desis
Viral Photo: What's Wrong With Idli On Ice Cream Stick?
5 local Seasonal Foods recommended by celebrity nutritionist Rujuta Diwekar
---
Watch Trending Video Now: