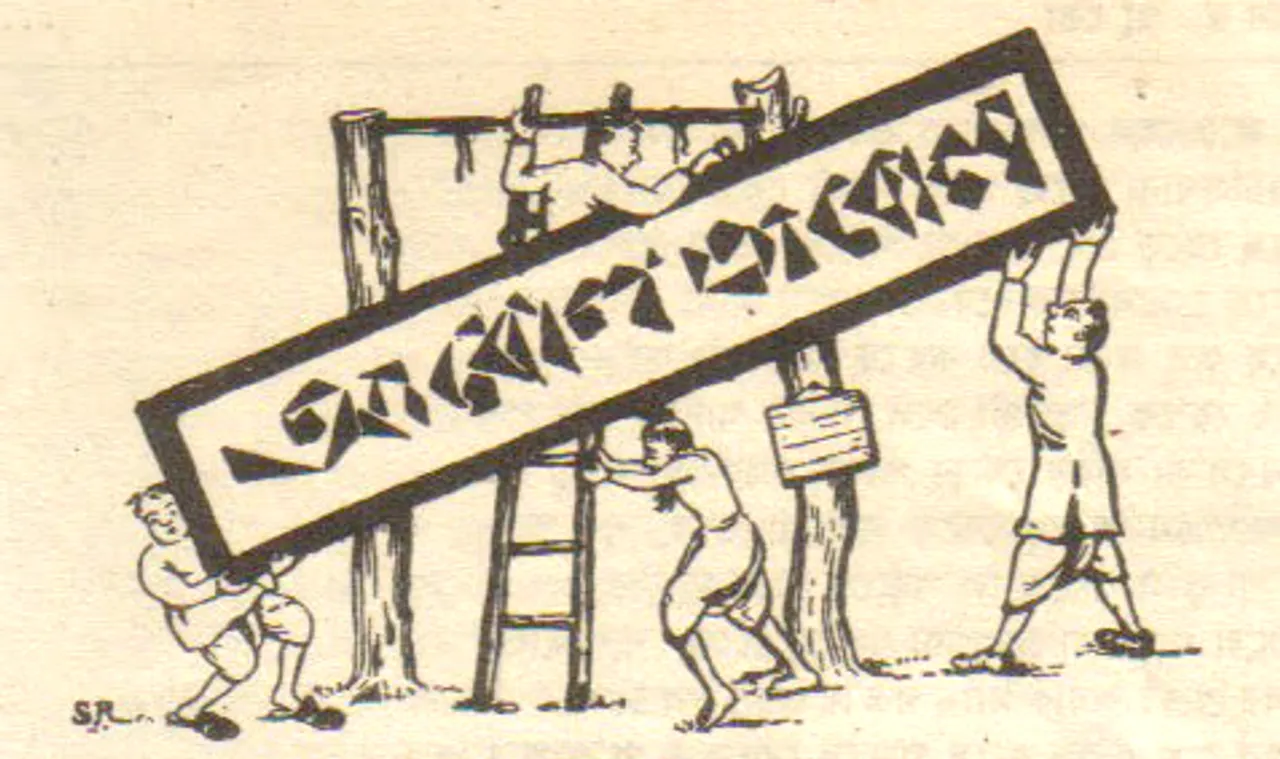 Every Bengali child has heard of if not read Abol Tabol by Sukumar Ray. This collection of rhymes was a delight for Bengali children in their childhoods. Published in the 1900s, Sukumar Ray's Shot Patro is an eye-opening read for adults.
Family functions would have a Bengali mother eager to show off her child's eloquence and wit by asking them to recite a rhyme from Abol Tabol. If one pauses time to travel to the moment in the past one can even picture an uncomfortable child with a runny nose attempting to recite a rhyme from Abol Tabol. 
In the early years, parents reading children's books to their children is a common practice. However, the beautiful illustrations by Sukumar Ray in Abol Tabol make it captivating enough for a child to want to pick up. Kumro Potash, Ram Gorurer Chana, and Huko Muko Hangla are a few illustrated characters that remain etched in an adult's mind to date. Some of the rhymes from Abol Tabol even made it to our Bengali textbooks in our early years of study. Students had to learn some of these rhymes by heart to score well in their exams. 
Sukumar Ray's Abol Tabol translates to a nonsense fantasy world to fascinate young children. However, some of the rhymes go beyond the simple act of entertaining a child. It holds a mirror to society. Shot Patro by Sukumar Ray is a rhyme that falls into that category. 
---
Suggested Reading: 9 Things All Bengali Girls Are Sick And Tired Of Hearing
---
Analysis Of The Patro From Sukumar Ray's Shot Patro 
Published in 1923, Shot Patro tells us what a good candidate for marriage looked like. Although meant for children, growing up one realises that the checklist created in the fictitious world of Abol Tabol indeed applies to marriages in reality. This satirical rhyme by Sukumar Ray reflects the societal standards built around marriage at the time. 
Before one can evaluate the candidate for their ward, an ">inquisitive member of 'good society' stops by to let their mind be known about Gongaram, the said candidate. 
"Mondo noy shey patro bhalo-
Rong jodio bejaye kalo
Tar opore mukher gothon
Onekta thik pechaar moton" 
One of the first things on the checklist of a good candidate that the well-meaning member of society points out is the candidate's skin tone. They convey that even though the candidate has a darker skin tone, he is believed to be good. This statement goes on to show that one's eligibility for being a good candidate remarkedly improved if one had a fairer skin tone, skin tone is the first and primary tell of one's character. The next on the checklist is the candidate's face shape, which has been critiqued for resembling the shape of an owl's face. 
"Bidda buddhi bolchi moshai-
Dhonni cheler odhyaboshai 
Unishti bar matric e shey 
Ghayel hoye thamlo sheshe
Bishoy ashay gorib bejaye-
Koshte srishte din chole jaye" 
As the narrator goes on speaking it becomes clearer that 'patro bhalo'(decent groom) was perhaps a jibe from their end. They convey that Gongaram never took his education seriously and is known for having failed his boards 19 times. The inquisitive member also knows about Gongaram's earnings and conveys that he is poorly off. 
In those days the earnings of a man were the primary source of income for his family that he intends to grow. In the earlier days educating women was not encouraged and that gradually changed as times progressed. Even though times have changed, a man not earning well enough is a discouraging factor when it comes to marrying off a daughter. After more than a decade's worth of investment in their daughter's education parents still seem to worry that their daughter won't be able to look after themselves financially if they are not married to a rich man. This is disrespectful to daughters who worked hard to become that 'rich man'. 
Had the situation in Shot Patro been reversed and if it was a female candidate that was being evaluated by the society, then them failing their exams wouldn't have gotten in the way of them being a deserving candidate as long as their culinary and house-keeping skills were up to the mark. However, men can keep houses too and just as well as women as long as they are brought up in a society that does not genderise such roles. It is agreed that one's education is an important factor when it comes to marriage, but textbooks are not the only bricks that make a man. Men like Rabindranath Tagore, Manoranjan Byapari, and more reinforce those beliefs. If anything, Ki and Kaa taught us that it doesn't always need a working man for a marriage to work. However, the existence of stay-at-home husbands is still denied in today's society. 
"Gongaram toh kebol bhogey 
Peeler jor r pandu rogey
Kintu tara uccho ghor, 
Kongshorajer bongshodhor!
Shyam Lahiri bonogramer 
Ki jeno hoye Gongaramer -
Jaa hok ebar patro pele 
Emon ki r mondo chele?" 
After some discourse on the whereabouts and nature of Gongaram's family members, the society member brings to notice the candidate's ill health. They go on to add that this could easily be ignored as Gongaram comes from a higher caste. This sheds light on the problematic caste system that exists in India. Caste is still an evil that plagues modern-day India and is the cause of much discrimination. 
It is clear from perusing Shot Patro that society places much more importance on what's on the surface than what lies on the inside. What is bothersome is that Gongaram is critiqued for his appearance, school education, earnings, and the doings of his family members. A man can only be held responsible for their actions. It is faulty to lead with the attitude that a criminal's son can only be a criminal. That is the angle that the society takes when they shed light on the wrongdoings of Gongaram's family members and none of his. 
When one thinks of the relevance that Ray's satire has on today's society one comes to the disheartening conclusion that Indian parents have value systems that do not place a lot of faith in their daughters. Although having a well-off partner can be seen as a justified concern, seeking rich husbands on the other hand for capable daughters is insulting to the daughter's capacities. Ted Bundy is said to have been a charming man on the outside but he also turned out to be a serial killer. It's about time we stop judging from the outside while looking for a partner and after removing the materialistic characters, see through into the actual personality and where their heart lies.
The views expressed are the author's own.