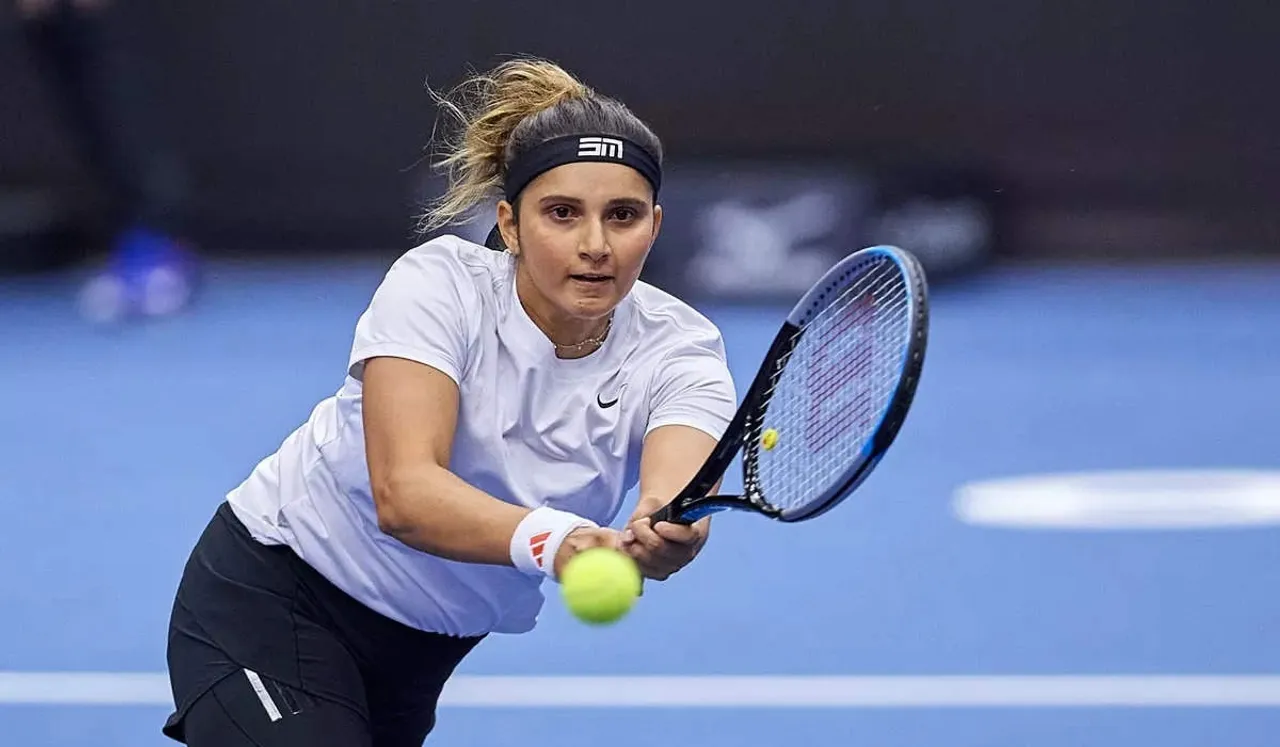 As Sania Mirza walked into the Rod Laver Arena today in the most significant match of her career, her star power was on full display as the audience cheered the loudest for her, irrespective of whom they were supporting. Mirza's biggest fan - her four-year-old son - was in the audience too and he cheering for his trailblazing mother was a sight one can watch over and over again. I was 12 when my interest in Lawn Tennis piqued. Mirza was the new player on the block and her participation in international arenas, and her 2005 US Open final against Maria Sharapova, put her on the map like never before.
Last month, after almost two decades of giving everything she had to the sport, Mirza announced her retirement from Tennis. In an overwhelming social media post, she shared how Australian Open 2023 would be her last grand slam tournament and this month's Dubai Open her last professional match in the sport.
On Friday, Mirza paired with Rohan Bopanna to play the mixed doubles finals, eighteen years after she made another gland slam debut at the same tournament. However, the Brazilian pair of Luisa Stefani and Rafael Matos beat India's Mirza and Bopanna 7-6 (2), 6-2 to win the Australian Open mixed doubles title in Mirza's last match at a Grand Slam tournament before she retires.
Life has come a full circle for Sania Mirza as she steps away from the sport on her own terms today, an essential reason why her journey feels like a personal victory. 
Sania Mirza Retires
While Mirza entered professional tennis two decades back, her journey started thirty years ago. Mirza, who started training for tennis at the age of 6, turned professional in 2005. But representing the Indian flag wasn't her dream alone, it was also her family's vision and, therefore, her success will always be an extension of their undeterred faith in her; after all her father was her first coach to train her.
Having clinched ten singles titles and thirteen doubles titles as a junior player, Mirza's entry into the senior squad after winning Wimbledon Girls' doubles tournament, was the stepping stone into becoming India's most celebrated sportsperson to date.
Mirza, who achieved the highest ranking of world no 27 in 2007, is India's most successful player in singles and mixed doubles. Having won six Grand Slam titles in doubles and mixed doubled combined, she became the first Indian to achieve the world number 1 ranking in 2015.
It's unfair to say that Mirza became our favourite Indian tennis player because she was the most successful, what makes her our numero uno is her commitment to the sport through the two decades she's played surpassing the challenges on and off the court.
Why we call Mirza the torchbearer for Indian tennis is not just limited to her being the most successful player, she is supremely popular worldwide and today's final proves why. In 2016, she was named among the 100 most influential people by TIME magazine and while she was hailed internationally, some sections of her homeland questioned her patriotism. In the past two decades, Mirza found herself in a series of controversies, as she was rebuked by her own country's people - whether it was concerning the national flag, her marriage with Pakistan cricketer Shoaib Malik or the attire she chose to wear on court, and for that, no apology will ever be enough.
Her large number of achievements across Grand Slams, the Asian Games, Commonwealth Games and WTA Tournaments demonstrate how a dream of a six-year-old girl who once fought with a coach to enter a Hyderabad court to play tennis not just reached fulfilment but also outshone worldwide.
The Last Dance
"Thirty (yes, 30!) years ago a six-year-old girl from Nasr School in Hyderabad, walked onto a tennis court at Nizam Club with her young mom and fought the coach to let her learn how to play tennis…The fight for our dreams began at six," she wrote in her parting note.
The tennis legend, who competed in not one but four Olympic Games, continued, "To win medals for my country has been my biggest honour and I feel truly humbled to have been able to stand up on the podium, knowing that the tri-colour had been raised high to be seen and respected by millions all over the world all because of something that I was privileged enough to achieve. I have tears in my eyes and goosebumps even as I type this."
While Mirza has previously won an Australian Open mixed doubles title alongside Mahesh Bhupathi in 2009, her participation in the finals today feels bittersweet knowing it's her last ever in a Grand Slam.
Her alliance with Bhupathi, Leander Paes, Martina Hingis, and Rohan Bopanna has been greatly successful, and it's her impeccable ability to mould her game in all terrains across courts that brought her so far in the game.
As Mirza bids adieu to a Grand Slam Court today, she leaves a legacy for several aspiring tennis players to follow. Her commitment to the sport led her to open the Sania Mirza Tennis Academy in Hyderabad, and her backing for all the current professional players shows the kind of mentor she has already become.
In an earlier interview with an agency last year, Indian tennis player Ankita Raina shared how Mirza was gracious enough to invite her to her home in Dubai to practise. "I remember it was lockdown in Pune and I was planning to come back after the tournament, but she asked me to stay with her so we could prepare and get ready. So, I would say that it's following her footsteps and I hope that I crack into the Grand Slams soon," she said.
Watching Mirza embrace her son, Izhaan Mirza-Malik, today is an inexplicable feeling. Like me, several fans tore up watching the semi-final when Izhaan ran across the court to meet his champion mother. Today, the feeling multiplies twofold.
After Mirza clinched a semi-final victory on November 25, one of the commentators called her 'India's legendary tennis player, who has brought glory to her nation in more ways than one.' Given Mirza's legacy, the title of a legend is only fitting because she is, undoubtedly, one of the most legendary sportspersons India has ever produced.
---
Suggested reading: How Sania Mirza Inspired A Generation Of Girls To Always Dream