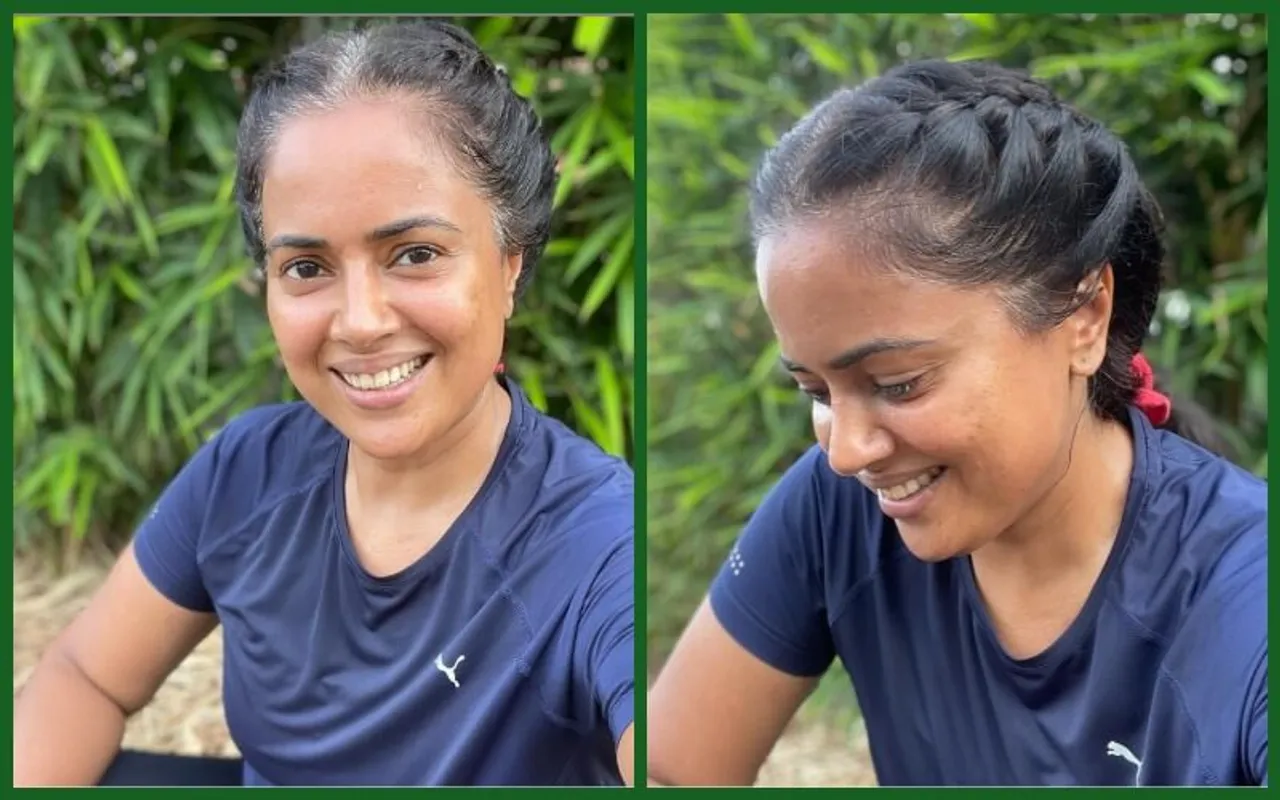 Sameera Reddy White Hair Post: Actor Sameera Reddy recently shared a post on social media in which she revealed how alarmed her father was when she decided to stop colouring her hair. "My dad asked me why I'm not covering my white hair. He was worried about people judging me," she wrote. Like Reddy, many women have given up on colouring hair during the pandemic and embraced their greys. For most though, the change has come from a lack of social engagements, which means they do not have to put in the effort to look younger than their actual age or try and fit into social standards of beauty.
Further in her post, Reddy elaborated how she wasn't worried about being judged and that freedom is liberating. "I used to color every 2 weeks so nobody could catch that line of white. Today I take my own sweet time and choose to color if and when I feel like," she wrote, further adding that the shift and acceptance begins when old thought processes are broken by starting conversations. This wasn't the first time Reddy had posted a picture in which her greying hair was quite visible. She also isn't the only one.
Actor Neha Dhupia, who is expecting her second baby this year, too had shared a family portrait in July. She didn't cover up her grey hair for this photoshoot, which was unusual for a celebrity in her early 40s, especially in India. White hair is associated with ageing, especially for women. So while a salt-and-pepper look makes a man sexy, a woman in her 30s, 40s or even 50s will raise eyebrows and invite callous remarks on her age and looks if she does the same.
Let us be clear, there is nothing wrong with colouring hair, it is an individual choice. As Reddy pointed out in her post, she too hasn't given up on colouring her hair. But the choice to do so now depends on when she feels like colouring her hair, instead of doing it out of compulsion, because log kya kahenge?
It is still difficult for younger women to embrace the white streaks in their hair because doing so means getting labelled as old and unattractive. You look younger than your actual age...you haven't aged a day...you put women in their 20s to shame till the day these remarks are seen as compliments not much is going to change.
But the pandemic has forced us to address our greying hair, it has made us realise that we can live with them, if we want to and if we can bring ourselves to stop caring about how others will perceive us. Hopefully, more women like Reddy and Dhupia will challenge the beauty and ageing stereotypes that grips Indian society. If only we can see greys as a choice. If only beauty isn't defined by the colour of our skin and hair or the lack of blemishes and wrinkles on our faces. For this to happen have to stop judging other women, irrespective of what their stand on these practices is.
Do colour your hair if you want to, just don't shame those who don't.
Views expressed are the author's own.
---
Suggested Reading:
Neha Dhupia to Sameera Reddy: Bollywood Women Who Are Showing Off Their Grey Hair
Breaking News! It Is Natural For Women's Hair To Grey
For Future Brides, Let's Stop the Beauty Test
---