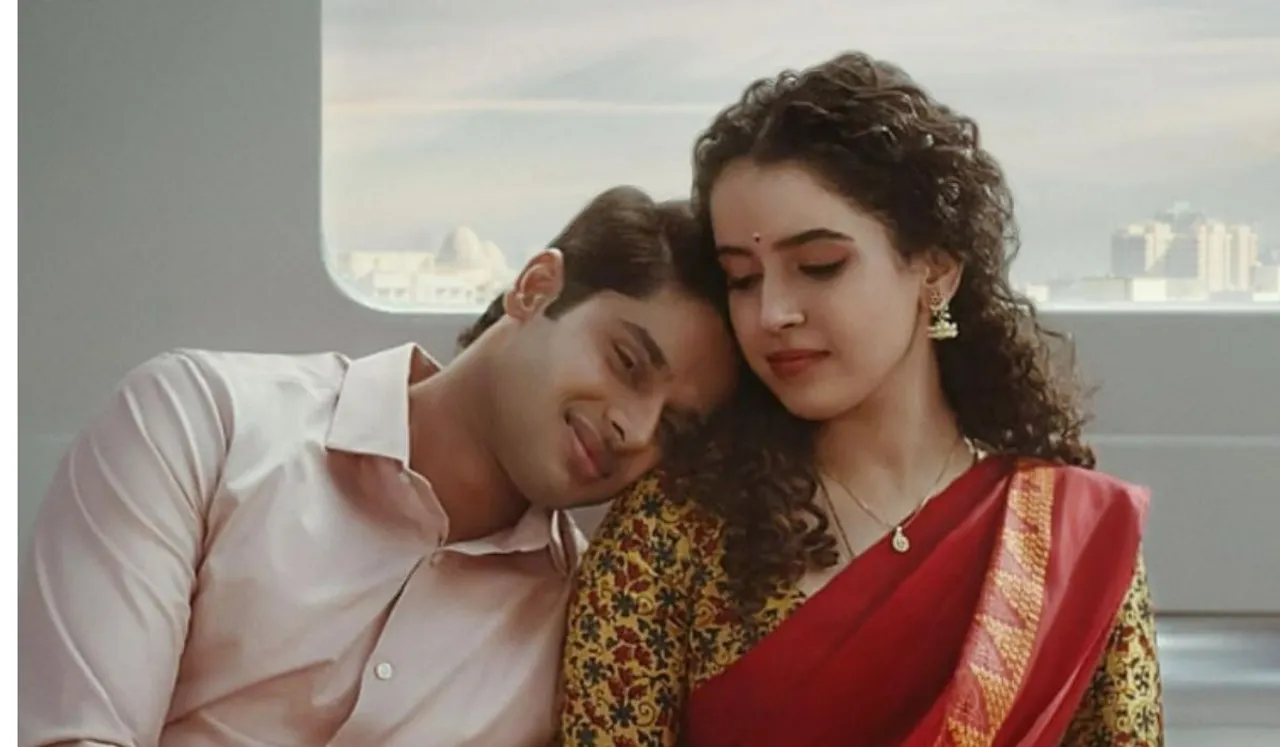 Despite being very common, long distance marriages in India seldom find apt representation in cinema. The romance in such relationships is all about expressing your feelings through smileys and GIFs and finding a quiet corner for a call, while the rest of the members in your home are asleep. While Bollywood would like to add the tadka of differences between a couple which leads to a breakup, most fights in long-distance marriages are mundane and unglamorous. Sanya Malhotra starrer Meenakshi Sundareshwar, however, promises to capture the essence of such relationships.
Directed by Vivek Soni, the film also features actor Abhimanyu Dassani in the lead. On October 5, the makers of Meenakshi Sundareshwar revealed that the film will have an OTT release on Diwali. Last month, a song from the film was unveiled by streaming platform Netflix, to offer viewers a peek into the film.
The song promo of Tu Yahi Hai, released on September 26 featured its newly married lead couple trying to keep the spark alive via digital conversations. In the first scene itself, we see Dassani's character Google, "Ways to make your long-distance relationship work." The beginning of the song seems a bit on the nose, but it gets better. We see Meenakshi and her husband, who seem to be living away from home, try out different things together despite the distance between them. They grow a cactus plant together, catch up over messages while doing different chores and share video messages.
The only films that come to my mind, which broached the subject of long-distance love are 2 States and Love Aj Kal, in one of which the lead couple breaks up thinking that distance will eventually tear them apart. None of these films are about married couples, where the commitment to be together has already been officiated and witnessed by your family. Now you have to pull up your sleeves and figure things out.
We all have seen couples go through this ordeal in real life and while tales of their relationship might not be as cute and tech-savvy as that of Meenakshi and her husband, the struggle is real. My grandmother, for instance, had to raise four children on her own, while my grandfather was away on army duty. My mother took care of me for two years, while my father was living in a different city to complete a diploma course. Even my husband and I had to spend nearly two years apart in bits and pieces as he was working offshore.
So yes, from both experience and observation, I can say that long-distance marriages are not easy. You have to find ways to bond, overcoming different schedules, duties and time zones. Technology does make it easier to stay connected, but can it save a relationship from crumbling? Can it replace the feeling of being close to a loved one, being able to hold hands with them, physically, and not via emoticons? No. Even in the digital age, making a long-distance relationship work involves a lot of energy and patience. On some days you have both, on others you have none. Honestly, there is no formula or manual to get it right (none that I know of).
This is why it will be interesting to see how a commercial Hindi film tackles this subject and add more substance to it than cute messages and hummable songs.
Check out a clip from the song Tu Yahi Hai from Meenakshi Sundareshwar:
Views expressed are the author's own.
---
Suggested Reading:
Sanya Malhotra's Film Meenakshi Sundareshwar Release Date Is Here
Suriya Starrer Jai Bhim To Release On OTT Platform On November 2
Five Popular Webseries That Went From YouTube To OTT Platforms