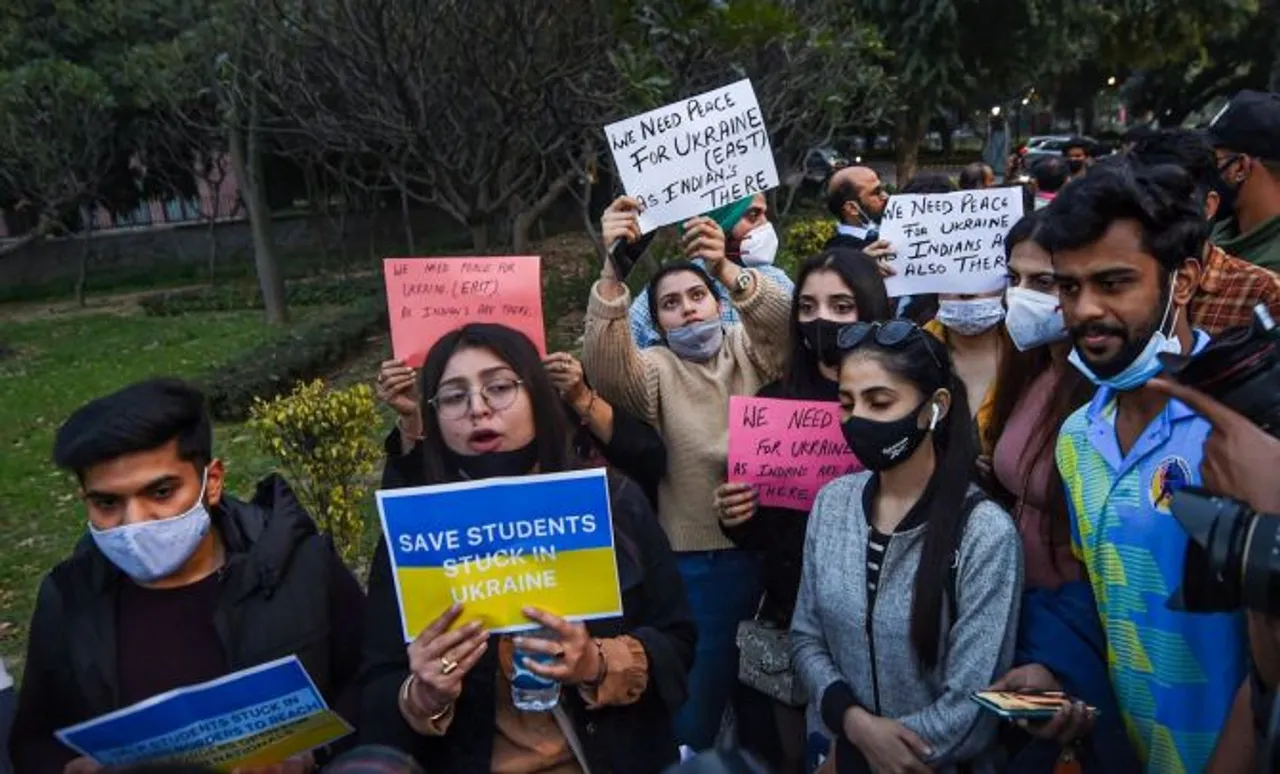 A 21-year-old medical student from Karnataka tragically lost his life during shelling in Kharkiv city of Ukraine. The Eastern European nation is under attack by its neighbour Russia, whose head Vladimir Putin wants to "demilitarise" it. The student, Naveen Shekharappa Gyanagoudar hailed from a farmer's family in Chalageri village of Haveri district. Despite scoring 97 percent in a pre-university course, Naveen could not secure a medical seat. He was not alone.
As many as 20,000 students were studying in Ukraine, mostly pursuing a medical degree, of these, 12,000 have safely returned home, as per India's Foreign Secretary Harsh Vardhan Singh. 20,000 might seem like a large number. At least it does to a certain group of people on social media who didn't spare a thought for these young men and women stuck in a war-torn country, before coldly asking, why did they go to study abroad? This question has been echoing on Twitter for days now, as India continues to extradite our students, but not at the pace that these children or their wards would like. Indian government must have its own set of hassles, mobilising so many people in such a situation would have given sleepless nights to many at the Ministry of External Affairs, but to defend the government's slow pace, must the students be targetted with such questions?
---
Suggested Reading: Indian Students In Ukraine Freeze In Cold At Polish Border, Sent Back To War Torn Country
---
Indian medical students in Ukraine: grabbing whatever opportunity they can
Besides, migration for studies isn't as novel an idea as WhatsApp warriors want it to seem. For instance, there were 1,67,852 students enrolled in the United States for the academic year of 2020-2021, and mind you this was the number after a 13 percent drop from the previous year, owing to the pandemic. To answer the why part of it, one can only ask, what else are they supposed to do?
It is not as if students willingly want to leave their loved ones behind and go to a country where everything from language and culture is alien to them, and burden their parents with a loan just for the kicks. As Naveen's father said in an interview after his son's death, "Despite scoring 97 percent in PUC, my son could not secure a medical seat in the State. It became inevitable for us to send him to Ukraine for studies. But we lost him."
In 2021, 16.14 lakh candidates had registered for the National Eligibility Entrance Test, competing over seats in the MBBS course, whose number stands a little over 83,000. While students could also secure admission in other medical courses like BDS, BAMS, BHMS etc, the seats are simply not enough. What should students who do not get selected do? How many of them can afford to spend a year or two to further prepare for the entrance tests?
Only a few can afford to pay steep donations, and then there are those who opt for similar courses in countries like Russia, China or Ukraine, where both the cost of living and education is lower than paying up a donation. Guess what, students who can afford to grab these opportunities do so with both their hands, as anyone else in their situation would. Even if it means having to crack a tough exam upon their return to India so that they can practice.
You are looking for someone or something to pin the blame on? Then blame our education system, which hasn't evolved to meet the needs of millions of students that pass out from schools every year. Blame the society that conditions parents and students to believe that a child is not intelligent unless they secure a seat in MBBS, IIT or MBA. Blame the atmosphere of fear we have created that leads students and parents to believe that they have no (secure) future unless they become doctors or engineers.
Indian students in Ukraine need swift evacuation, not taunts from people who don't fully understand the circumstances under which they ended up in a foreign country, not knowing it would be engulfed by a war.
Views expressed are the author's own.