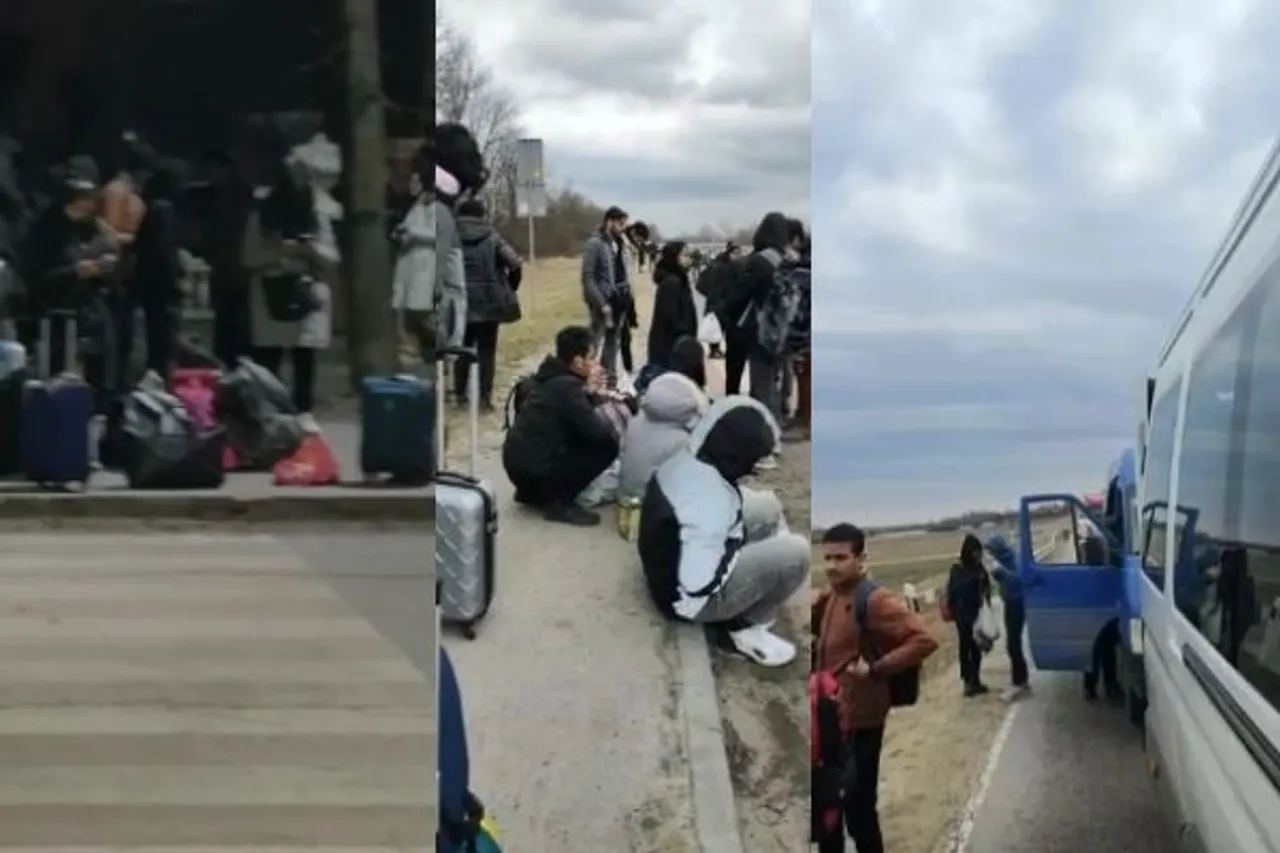 Hundreds of Indian students took off for the Polish border in Ukraine after its neighbouring country Russia declared war last week. A 21-year-old medical student named Shruti Prasad was among the 150 students who started the journey from Danylo Halytsky Lviv National Medical University hostel to the border.
After taking the bus, the students were let off and had to travel 23 kilometers on foot. Turns out they had it easy, as the batch of students who went before them to the border had to walk an even longer distance, Prasad told SheThePeople. 
Prasad is a first-year MBBS student who left her home in Lucknow, in November 2021, to pursue a medical degree in Ukraine. When Russia attacked Ukraine's capital on February 23, the students at Prasad's hostel started to look for options to leave for their respective countries. Prasad claimed that even though the Indian government had promised to bear the cost of the evacuation, the flight fare showed above 60 thousand rupees. Prasad booked her flight regardless but it got cancelled and soon the airbase was closed. The people of Lviv did not hear sounds of danger approaching them and blinding speed until 4:30 am on the said date. Soon, jets were flying overhead and sirens were raising an alarm twice a day.
---
Suggested Reading: Haryana Girl Stays Back In Ukraine To Look After Landlord's Family
---
After finally reaching the border, the students were told that no pedestrian will be allowed to enter Poland. The students had lugged their bags and walked miles for nothing. Close to 15 students spent 12 hours freezing hours at the border and had started to turn blue from the cold. While most students made their way back to the hostel, some stayed in an effort to find a way to get to the other side of the border. Defeated, they had to find a motel nearby and heal from the cold.
Shruti Prasad is currently lodged in her hostel with her batchmates. She says, " moral is not down yet but we are physically spent." Prasad is still feeling safe among her friends and is grateful for the efforts made by her seniors, who were the ones to arrange the bus. Prasad says, "We are staying strong as a group." She seems worried for her friends who are currently bunking in Kharkiv subway stations and can hear constant bombings. Over 400 Indian students are currently living in Prasad's hostel and in the nearby one with African, Egyptian and Ukrainian nationals. Prasad says the locals have been very helpful to the foreign students, but they are slowly running out of supplies and stepping out does not seem like a good option.
Often when the students are out to buy supplies, they are met with long lines in front of the ATM machines. When the siren blows, they all have to run back to their hostels.
Her sister in Lucknow Yashashvi Prasad, Uttar Pradesh is working hard to get her sister back to India or to send her to a safer place. She said, " We are having sleepless nights and nobody is coming to help the students there. My mother cried last night and she is really worried for Shruti." Her mother just wants Shruti to sit by her side. Yashashvi has also been trying to connect with people in Romania, Budapest. She was told that her sister can be taken in by Romania but for that Shruti will have to reach either Romania or Hungary border.
---
Suggested Reading: Get To Know Ukraine's First Lady & What She Is Saying About The War
---
Indian Students In Ukraine Desperate To Reach Safety
Another student who chose to stay anonymous spoke to Swati Bundela of SheThePeople. He shared that his flight to India also got cancelled and then he tried to catch a private charter with his friends but Russians started to drop missiles on Ivano-Frankivsk airport and it became dangerous to step out. The Indian students were aware of the rising tensions in Ukraine but like the other nationals, they too did not expect that Russia could actually wage war.
The students are following the "India in Ukraine" Embassy Facebook page for updates and are waiting for the Indian Ministry of External Affairs to extend a helping hand. According to the latest advisory by the government, Indian citizens have been told to not move to any border without prior coordination with the Indian government officials present at the border post. The citizens are to contact the established helpline numbers and emergency numbers of Embassy of India in Kyiv.
Shruti Prasad's sister Yashashvi has been constantly trying the numbers but to no avail. She believes her sister is strong and will do everything to stay safe but she does not know how long Shruti and her friends will have to wait for the Indian government's help.