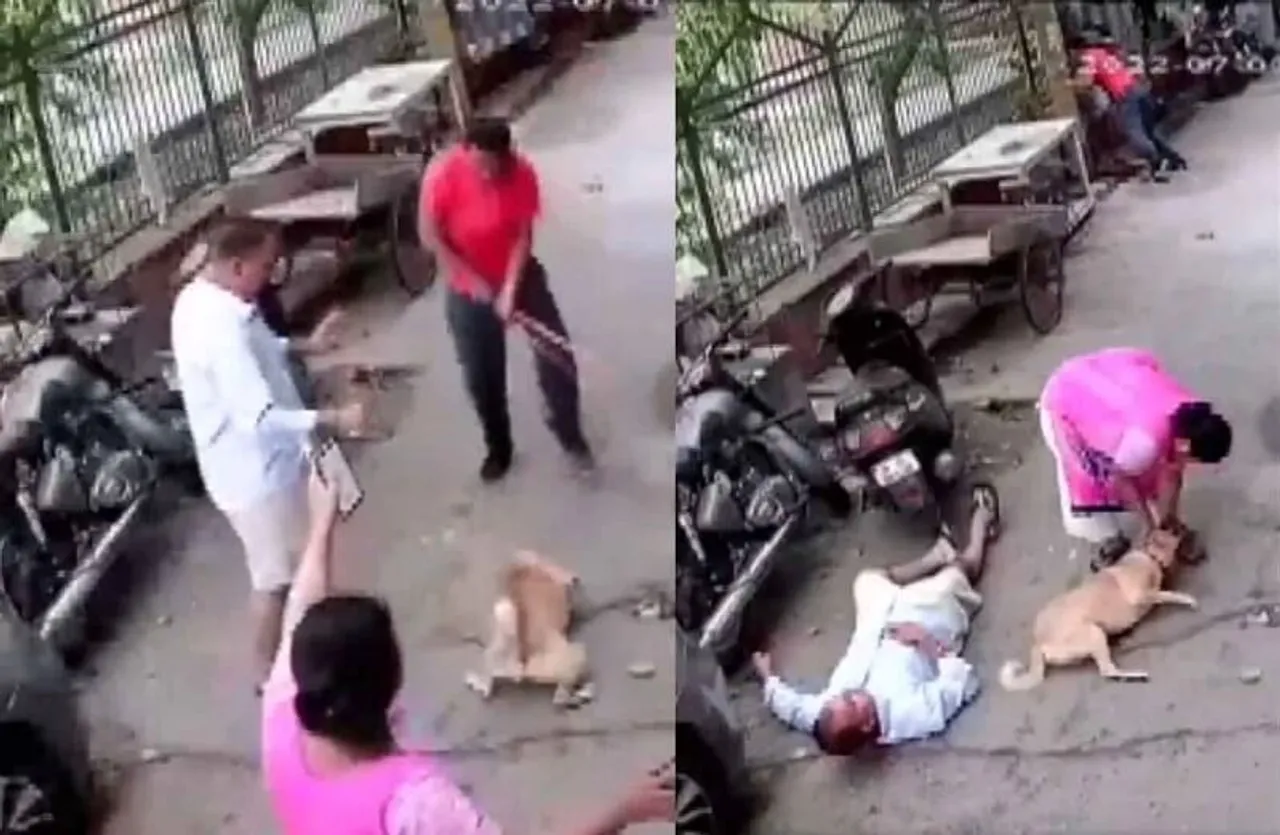 A shocking incident of a man beating a dog with an iron rod has sparked a conversation about animal cruelty on social media. Dogs may be considered a man's best friend, but that does not protect them from senseless animal cruelty. From putting pet dogs at risk for social media views to attacking them with sticks, animal cruelty is unfortunately very common in India. Why are people so comfortable with harming animals? Do they not see animals as living beings who have the right to be treated with kindness and not malice?
A horrifying CCTV video from Delhi is doing rounds on social media, which shows a man attacking his neighbours and their dog after being fed up with the pet's barking. In the video, the man can be seen running towards his neighbours with an iron rod, ready to attack. After the dog barks at him and attempts to bite him, the neighbour brings the rod down onto the dog and hits him. He then proceeds to attack his neighbour as he bends down to check on his dog. Another man finally overpowers and pushes away the assailant.
Man beats dog with iron rod: Animals deserve compassion not hate
According to the police, the man who attacked the dog, Dharamvir Dahiya, had been taking a stroll when the pet dog started barking at him. He picked up the dog with the tail and threw it away, and the dog's owner Rakshi stepped in to save his pet. Dahiya then allegedly chose to attack the dog again and was bitten in response. He then returned with the iron rod and reportedly attacked the residents and the dog. The dog was injured and taken to the veterinarian and has a clot in its head.
A case was registered against the suspect under sections 308 (attempt to commit culpable homicide), 323 (voluntarily causing hurt), 341 (wrongful restraint), and 451 (trespassing) of the Indian Penal Code and Prevention of Cruelty to Animals Act. The act was enacted in 1960 to prevent infliction of unnecessary pain or suffering on animals and amended the laws related to the prevention of cruelty to animals. The government also formed the Animal Welfare Board of India to ensure that animals in the country are treated with empathy.
Why is animal cruelty so common in India? In too many cases wild animals such as monkeys and leopards are killed and stray animals are often neglected, abused, or killed by people for the sake of amusement.
Rather than avoiding the dog after the dog barked at him, or complain to his owner, the man decided to attack the pet and three people with an iron rod in a fit of rage. It shows how many people see animals as disposable creatures. The incident also raises red flags about the tendency to resort to violence, which seems to be on rise among people, at slightest of provocation.
---
Suggested Reading: Paws To Heal: Do You Know What Is Animal Assisted Therapy?
---
Why Is Animal Cruelty So Common In India?
­In a truly cruel and horrific act, a dog was allegedly tied behind a car and dragged to death in Rajasthan in 2019. A video of the incident went viral on social media. The accused claimed that the dog was found dead outside his garage and that he was taking the body out to the forest to bury it. If that was true, then shouldn't the deceased body of a creature be treated with respect rather than tied to the back of a car and dragged?
The autopsy confirmed that the dog died due to the canine's trauma and injuries after being dragged on the road.
It is bad enough to harm an animal, but it is especially cruel to torture and kill an animal for no discernible reason.
That same year, 50 stray dogs were allegedly poisoned on the orders of the village head in Telangana. According to reports, locals had complained about the dogs attacking people. Instead of searching for a solution, people once again decided to commit violence was the best policy and decided that the lives of animals were not worth searching for solution.
People found it easier to kill stray animals rather than investing time and effort into thinking of solutions. Does that not display how little value is given to animal lives? Killing a defenseless animal is seen as a solution rather than a heinous crime.
Do Animals Only Deserve Security If They Serve A Purpose?
While there are people who expressed their disgust and shock at the video from Delhi, one social media user expressed that the accused should be sent to jail, but then asked, "what is the point" of having a dog that could not deal with an intruder. The user described having such a dog as "money wasted".
Do animals only have value if they serve a purpose? Are love and affection no longer a reason for people to have pets?
Only valuing animals based on the services they provide reduces them objects that we value, but on certain conditions. This mindset of only treating animals who give any kind of service back to us with kindness is also reflected in how people treat other people.
Should any living creature be treated with respect and dignity rather than cruelty, regardless of how "useful" they are? In times when hostility has become our second nature, we all need to pause for a minute and assess our behaviour towards each other, and the world around us. Sooner or later, we might end up receiving what we are giving. This could only lead to horrific consequences for everyone.
Views expressed are the author's own.