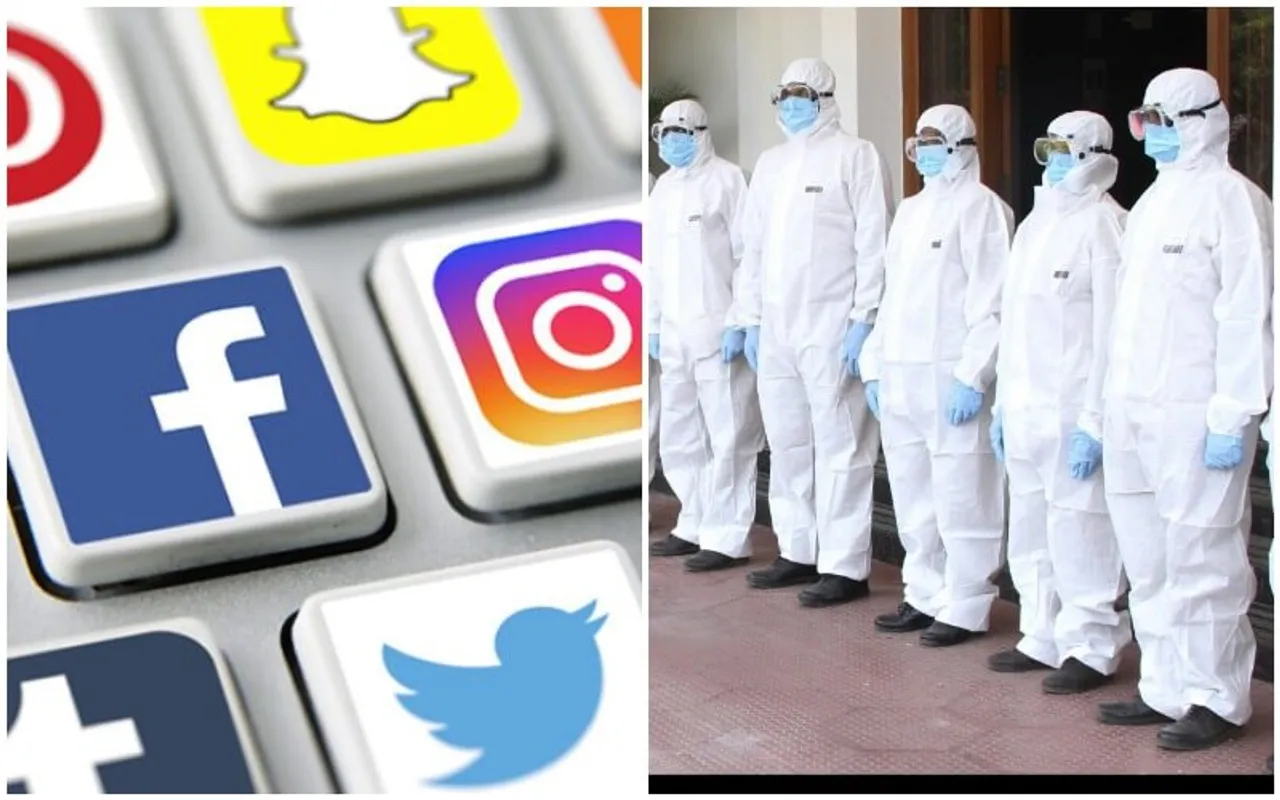 COVID-19 help on Twitter: On social media, there really has been no better time to simultaneously mourn and hope. The meme-ridden Twitter timeline has been turned inside out to reveal a messy universe that knows nothing but gloom and loss and breakdowns. To think that this is just a fraction of the havoc this fresh, deadlier COVID-19 wave has wreaked in India kills any hope one may have for any recovery from this dystopia.
Outdoors, beyond our screens where the feet can't currently travel - the country gasps for oxygen, begs for any medicine to keep their parents or children alive and then waits hours for their turn to cremate a family member who will end up becoming a statistic when the national numbers are tallied at the end of the day.
It's hard to see the silver lining in these dark times. 
But there are sporadic glimmers of it. Nowhere else, but on those very social media channels that are delivering headlines and updates that rend the heart. Is it possible for the human soul to keep alive so little optimism against so much pain without buckling under the bigger, more devilish force of the two?
Social media, today, is trying to harmonise them. Every day, when on my Twitter timeline cluttered with dying calls for emergency help I see interspersed sparse news of a patient living to see another day or a child hugging her recovered parent - all because the internet came together against all hopes to make it happen - I can't help but feel relieved. If only just a little bit.
There is immeasurable anger, of course, for authorities not having done enough too soon. And immeasurable gratefulness for frontline health professionals working round the clock, their own families neglected so someone else's can sleep better.
But there's powerful pride in finding community online; in witnessing COVID-19 help on Twitter being offered without interest, in the kind consideration of the youth promptly on their feet at the first alarm, in bigger accounts stepping down from their high horse of fame to connect patients to leads.
Our mental capacities are near burnout. It is only on the reserves of these small selfless acts by strangers that we're sustaining faith for making it out of this one day, together.
Here Are Just Some Of Many Ways People Are Seeking, Offering COVID-19 Help On Twitter:
Volunteers continuously verifying, curating helpline numbers
40 Beds available with oxygen at Ambedkar Hospital, New Delhi.
93105 86617
Personally verified at 3:50pm.

— Anandita🏳️‍🌈| check tl for covid resources (@devilsxblessing) April 22, 2021
No fee health consultations for people with conditions
Hey ladies,

So I just talked to my sister who is a gynaecologist. If any woman is having any issue and cannot visit hospital, please DM me and I will get her consultation. No fees, nothing required.

— Sheen ✨ Check TL for COVID Resources (@SuchAMisfit) April 20, 2021
Free tiffin meals for essential workers and frontline warriors
Khichdi Dabbas for ambulance drivers & police men on duty. We make Khichdi interesting !! Thank you each one who supported pic.twitter.com/2W0FtRjuIQ

— Rōnté (@rons1212) April 20, 2021
Amplifying resources for blood plasma, donations, oxygen, etc.
Guys! This site I've confirmed from a legitimate source who's a blood donor for over 2 years now. You can use it to contact blood donors AS WELL AS plasma donors. You have to select area and you get a list of available people. https://t.co/ZD8OIBLnHJ

PLEASE RT AND AMPLIFY.

— Krithika💖 (@KrithikaBhat_) April 22, 2021
Web developers generating easy, quick search links for resources
Updated the URL to https://t.co/Ok5E2bu5Rh

The old URL should automatically redirect to the new URL.

— Umang (@umanghome) April 20, 2021
Volunteers consoling families, burying their kin as they say goodbye a final time
Bengaluru based Anne Morris has been volunteering her time at the Indian Christian Cemetery, Shantinagar, where she ensures a proper, dignified farewell for persons who succumbed to the virus. https://t.co/M7c7aY5thD

— SheThePeople (@SheThePeople) April 22, 2021
Home delivering groceries, other essentials for patients, elderly
Still delivering and I now have regular customers too. 🤭
So if you are in isolation and need someone to run errands for you in and around Khairtabad, hit me up. pic.twitter.com/CtPxJ73V7t

— Rikit Shahi (@chotesarcar) April 21, 2021
Help with homework or schoolwork to alleviate unnecessary stress
Hi, if anyone diagnosed with covid or have covid positive family members, need help with their school assignments (any grade) or psychology assignments ( 11th and 12th grade ) due to not getting time please let me know. I'll gladly do it for you. Rt to amplify

— riya (@gaynslay) April 21, 2021
Organisation of free mental health therapy for frontline workers
Hi! If you're a mental health professional that can provide free, subsidised or even at cost therapy to covid frontline workers and relief volunteers, please fill this form: https://t.co/6KFQLEaME7

If you can donate money to help us support these costs, please email me.

— Vandita Morarka (@vanditamorarka) April 21, 2021
Going the mile beyond human lives, caring for our furry friends
This is a crowdsourced list of pet boarding centres across India that are taking in pets from Covid-infected families while they get better.

Please add to this / share with other pet parents so that they might benefit as well!#dogsofindia https://t.co/BvAUZTirq0

— Garima Kaushal (@kaushalgee) April 19, 2021
Views expressed are the author's own.