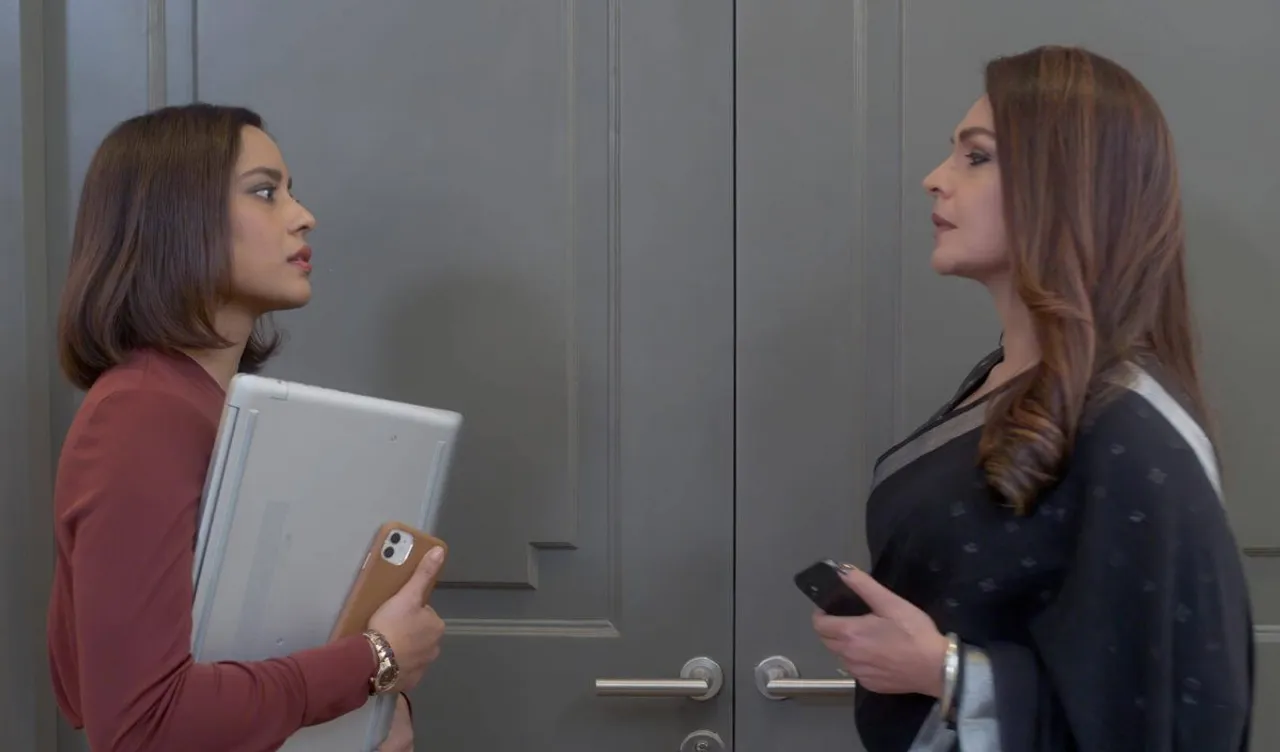 Bombay Begums Review: "Zaruri nahi hai ki begum sirf mehal mein rahe, kabhi kabhi woh boardrooms mein bhi milti hai," tweeted Alankrita Srivastav while introducing the show Bombay Begums. Indeed, the six-episode show now airing on Netflix is a tale of five modern-day women with their flaws and struggles but are queens of their destiny.
The show marks Pooja Bhatt's return to the screen as Rani, a 49-year-old newly appointed CEO of a bank, who has worked very hard to get where she is today. She is a stepmother to two and is constantly trying to win them over. The arch of the relationship with her daughter Shai (Aadhya Anand) is a refreshing take on the generally toxic dynamics of a stepmother and daughter. Lily (Amruta Subhash) plays the role of an erstwhile bar dancer who now lives as a sex worker and wants to give her son a life of dignity. For Rani and Lily both, it is the end that justifies the means. A freak accident makes the two women meet; both are fearless tigresses when it comes to their children. The accident comes as a golden opportunity in Lily's life which has given her a seat at the table to call the shots and get a new start and she wants to make the most of it.
Bombay Begums Review: Watch Pooja Bhatt Talk about her role here:
Back at the bank, we meet Fatima (Sahana Goswami) and her husband Arijay (Vivek Gomber). The college sweethearts who had an inter-caste marriage and now are burdened with societal expectations and failed IVFs. They work in the same office but Fatima is way ahead in the corporate ladder to him.
Fatima's guilt for being more successful than her husband is an interesting exploration and makes one wonder how many women still put their careers on the backburner to make their marriages work. Fatima, who is modern, hardworking and ambitious is a classic example of how women are not untouched by patriarchy either. Her need to be a mother, her constant urge to find better jobs for her husband show how she needs social sanction. However, Arijay is not the product of the same patriarchy, he is ok in his skin and being in the same office where his wife is almost his boss and suggests he can take a break and be a house husband if and when their baby comes along.
Bombay Begums Review: Watch Vivek Gomber talk about Working with women directors &t=61s">here:
Ayesha (Plabita Borthakur) is a small-town girl who comes to Mumbai with big dreams, gets kicked out by Fatima and then rehired by Rani. Gets kicked out of her PG for drinking, continues to sleep with her ex, till she realises that she is attracted to both men and women. At work, she struggles to be taken seriously by a powerful man (Manish Chaudhary) who ties her worth to her sexuality. She gets sexually abused by him after getting drunk at a party. The internal conflict in her coming to terms with her abuse, facing it and calling it out at the workplace and parallelly figuring out her own sexuality is one of the interesting subplots of the show.
The #MeToo allegation at the workplace brings the women together at the end. It is interesting to watch how Rani is comfortable to look the other way when Ayesha comes with a sexual abuse allegation but when she senses Shai might have been abused after a tryst with drug abuse, she opens up about the abuse she faced and reaches out to her daughter. The relationship between the menopausal mother and eagerly waiting to hit her puberty daughter is heart-warming.
Seeing Lily and her gang struggle to put food on the table with dignity pushes you to question what happened to these Bar dancers who were once so synonymous with Mumbai? Apart from Ayesha's own exploration of her sexuality, the show has a few characters from the queer community at the fringes too. In Shai, we have a wonderful depiction of a kid going on to adolescence and her need to hit puberty to find acceptance in the world of young adults. Her sketches are the only sneak peek at her internal conflicts. The show also touches upon infidelity and open relationships as a depiction of the changing times, without passing a judgement on either.
Agreed it is a woman's story but apart from wanting to work with Alankrita Srivastav, it is difficult to find a reason why Rahul Bose signed up for that alleged cameo! Watch it, it is an eye opener on how deeply patriarchy is internalised sometime by women too.
The views expressed are the author's own.