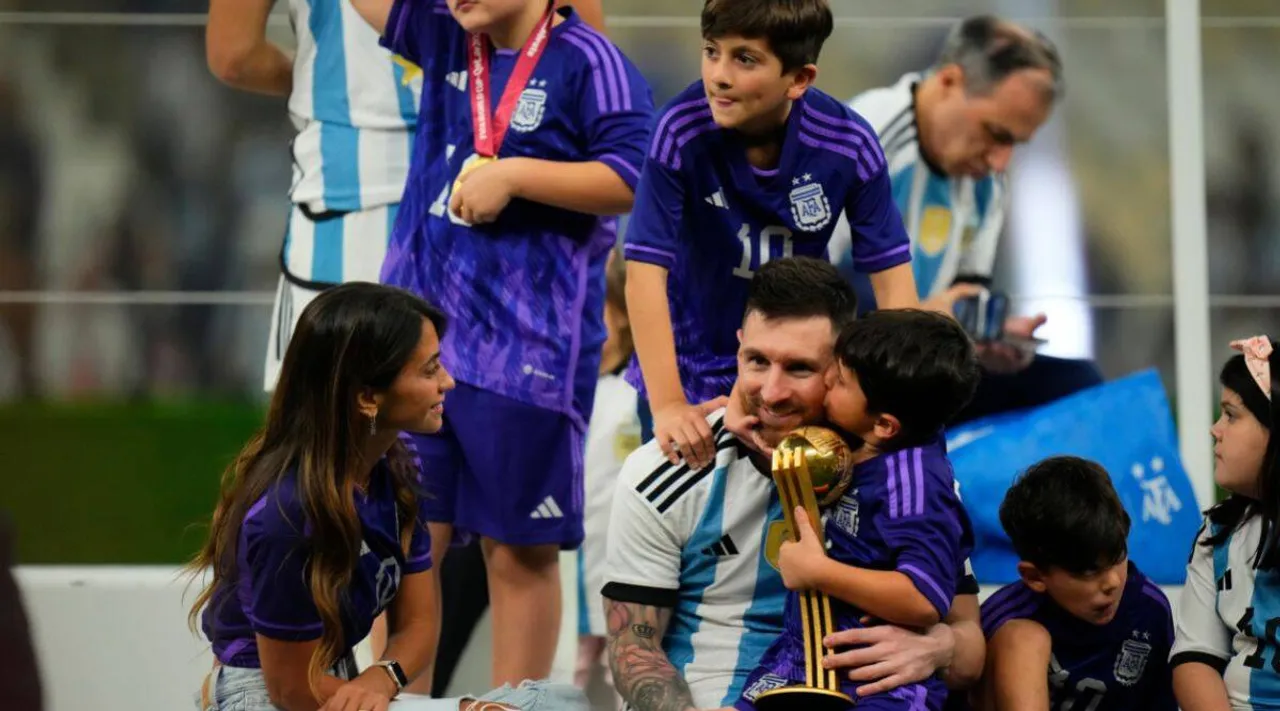 Antonela Roccuzzo and Lionel Messi celebrated with their children post their big win.
Roccuzzo
, Messi's wife took to her Instagram to express her joy: "CHAMPIONS! I don't even know how to start.. pride greater that we feel for you (Messi) thank you for teaching us to never give up, you have to fight to the end."
The 35-year-old footballer had his share of struggles to surpass before he reached his goal. At the age of 11, he struggled with a growth hormone deficiency which might have impacted his promising football career had Barca not stepped in. 
In his last match, the audience sees a humble Messi that shows gratitude towards his family for his big win. 
When the whole world was busy worshipping Messi for his win, Messi was celebrating his lifetime love, Antonela Roccuzzo. Messi was seen clicking g pictures of his wife holding the world cup with his children beside him.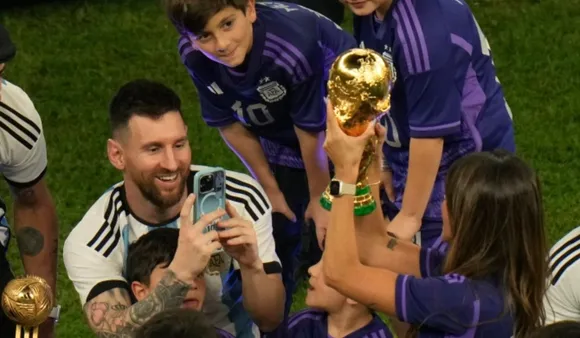 credits - AP
It is believed that the duo had been dating for a decade before they decided to tie the knot. Both Roccuzzo and Leo were well acquainted with each other since their childhood. Messi knew Roccuzzo through her cousin. There have been rumours that Messi would write letters when he was young and in one of these letters he claimed to have expressed his fondness for his wife. 
Both Roccuzzo and Messi have been known to date different people in the past but eventually found their way to each other. It is believed that Roccuzzo had lost a dear friend and was grieving when Messi decided to fly to Argentina to comfort her. This sparked an existing flame between the two. 
Today the duo share three children Thiago, Mateo, and Ciro, three of whom were celebrating their father's victory at their parent's side. 
---
Suggested Reading: Quick Reads: Argentina Wins FIFA World Cup 2022 And More
---
Antonela Roccuzzo and Messi World Cup Win 
Messi celebrating his victory with his family touched the hearts of many fans. Sharing pictures of Messi celebrating with his family, Netizens took to Twitter to share their sentiments. This is what they had to say: 
"Whole world eyes on messi but his eyes on his wife."
"The whole world wanted to click his picture, but Messi was clicking picture of his wife. The way he clicking pictures of his wife is so beautiful."
"Don't tell me how great a man is. Just show me how loyal he is and how he treats his wife."
Antonela Roccuzzo is a very successful model and has a background in social communications, odontology, and nutrition. She is a self-made woman. 
Messi gives Roccuzzo her due credit for his win in the picture we see him taking pictures of her with the trophy. Having a successful career not just in football but anywhere else and having a family is difficult to balance without a supportive partner. 
Roccuzzo made parenting and keeping a family that much simpler for Messi to be able to have a happy family by his side on the day of the win. 
It's easier for a person to know that they have a partner who supports them when they're away at work. Having a successful career often comes at the cost of family and that shouldn't be the case should one not wish to. Having a healthy family with hours spent away from them for practice would not have been sustainable without the support of Roccuzzo. 
While some would hold that Roccuzzo is lucky, one can also say that this is what marriage looks like, two partners supporting each other. Giving Roccuzzo her due credit doesn't make Messi a great man but only a decent human being for acknowledging his wife's contribution to his career. When women choose to glorify regular acts such as these, they often come dangerously close to lowering their standards to accept any less.
The views expressed are the author's own.