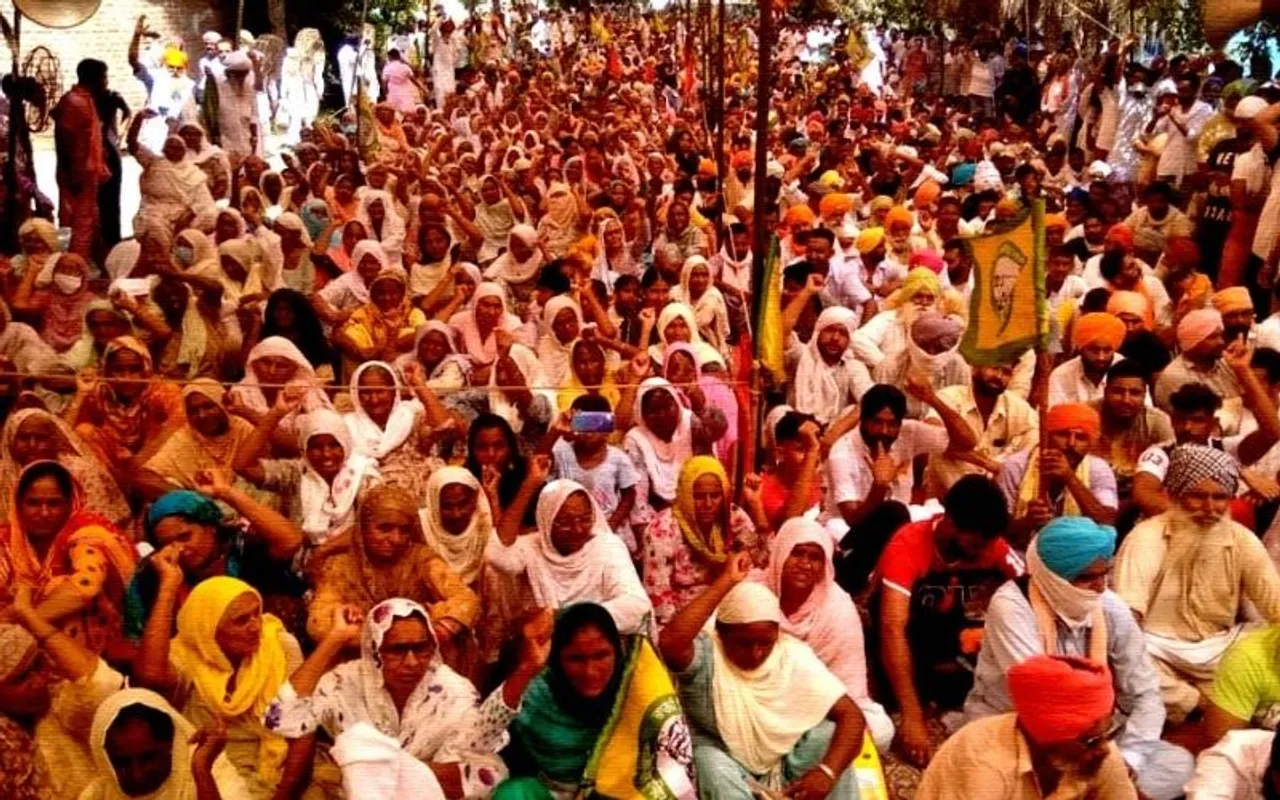 The past year witnessed many occasions where Indians protested and marched on streets demanding justice and rights. Even the lockdown and global pandemic could not stop the citizens from exercising their right to object. A commendable thing to note here is that we saw that a large number of Indian women led protests and took the charge to lead revolutions in their hands.
Women were at the forefront of such protests and this article will focus on their guts and commitment to many important causes from social security to farm laws.
ASHA Workers
In September 2021, Accredited Social Health Activists (ASHA) workers protested in Delhi for fixed incentive and social security benefits at their job. They said that the incentive was too low as compared to the work they do and they also do not get social security benefits as other government jobs. They protested in front of Delhi Chief Minister Arvind Kejriwal's residence demanding better pay and work benefits. ASHA workers, who were protesting, were among India's key COVID-19 front line workers and gave their services by regular visits and surveys during the pandemic. They came out as a community demanding the rights that they deserve for the work they do.
---
Suggested Reading: Sexist Bollywood dialogues that must be questioned
---
Special Camps for Disabled
November 2021 again saw the influence with which women led protests. S Jothimani, and MP from Karur, Tamil Nadu, protested for two days demanding special camps for disabled people. She said that she saw disabled people needed help in these tough times but no camps were organised for catering their needs during the pandemic. She protested in front of the district collector's office. At last, her determination was successful in initiating action from the government as they agreed to her demand and said that they will organise camps at the earliest.
Protests Against Caste Determination
Another incident where we saw that women led protests, this time in Kerala, is when Deepa P Mohanan went on a hunger strike against caste discrimination. The PhD scholar questioned why her progress in work and studies was being curbed by the director of MG University 'because of her Dalit status.'
Mohanan faced backlash and difficulties when she filed complaint against the director as he reportedly had political connections and the student union of the institute favoured him. However, many other unions supported Mohanan and her initiative to bring the caste discrimination to the forefront. At last, Mohanan protests resulted in the removal of the director from her post as a step to safeguard Dalit rights.
---
Suggested Reading: Who Is S Jothimani? Karur MP Demanding Special Camps For Disabled Persons
---
NEET Linked Protests
We again saw how women led protests from the front when various female resident protested doctors demanding no delay in NEET PG Counselling. The nationwide protest was fuelled by the equal support of the female community. They boycotted hospital's services demanding counselling of the MBBS graduates in order to increase the workforce in the hospitals.
Farmer Protests Led by Women
In January 2021, when the Supreme Court stayed the centre's farm laws, the then-Chief Justice of India SA Bobde appreciated a proposition that pushed for women to refrain from partaking in protests, along with elders and children. Read here. Overturning that reductive proposal, women sustained shoulder-to-shoulder with men unabated at the farm protests, showing the historic dubbing of them as the 'weaker gender' has always been false.
To mark their irreplaceable participation, the protest site at Singhu celebrated 'Women Farmers Day' on January 18. Women took centre stage, organising tractor rallies, managing crowds and rousing the campaign significantly. What's more, their resistance and resilience made for a front cover feature for the prestigious TIME magazine in March, telling tales of how they refused to be oppressed and beaten down.
Many leading women protesters like Harinder Bindu, Jasbir Kaur Natt emerged who took the charge in their hand and led the way. Cities like Haryana, Punjab, who have a high number of conservative households, saw a great number of women participate in the protest.
---
Recommended for You: 7 Underrated Must-watch feminist films 
---
Women have been India's torch bearers in civilian protests in a most inspirational way. An accomplishment that cannot go unnoticed is the contribution of 82-year old woman protester, Bilkis Dadi, ho was at the forefront of protests against the Citizenship Act, 2019 passed by the central Government of India. She was featured in TIME's Most Influential People Of 2020 list for her contribution to the movement. She received national and international coverage during the sit-in protest in Shaheen Bagh in Delhi.
Protests Hard to Forget
Women came out to stand with the Hathras gang-rape survivor. Women led the protests, campaigned, marched and sat on dharnas demanding justice for the 19-year old woman who was raped in a small town of Uttar Pradesh. Read more about crimes in the state of Uttar Pradesh here.
UPSC
The women led protests on the education front as well. Yogita Bhayana led many to Delhi's political corridors to rally for this. They took charge when the UPSC students protested for extra attempt and age relaxation in the nationwide examination. They said that their studies were affected during the pandemic and they deserve another chance as the studies are back on track. The women led protests by initiating Twitter trends, filing court petitions and they were set to organise protests in Delhi as well.
Across the country, women have proved, again and again, when it comes to seeking our rights, they will not step behind. Here's to every woman who protests, both on the streets and in her silence.