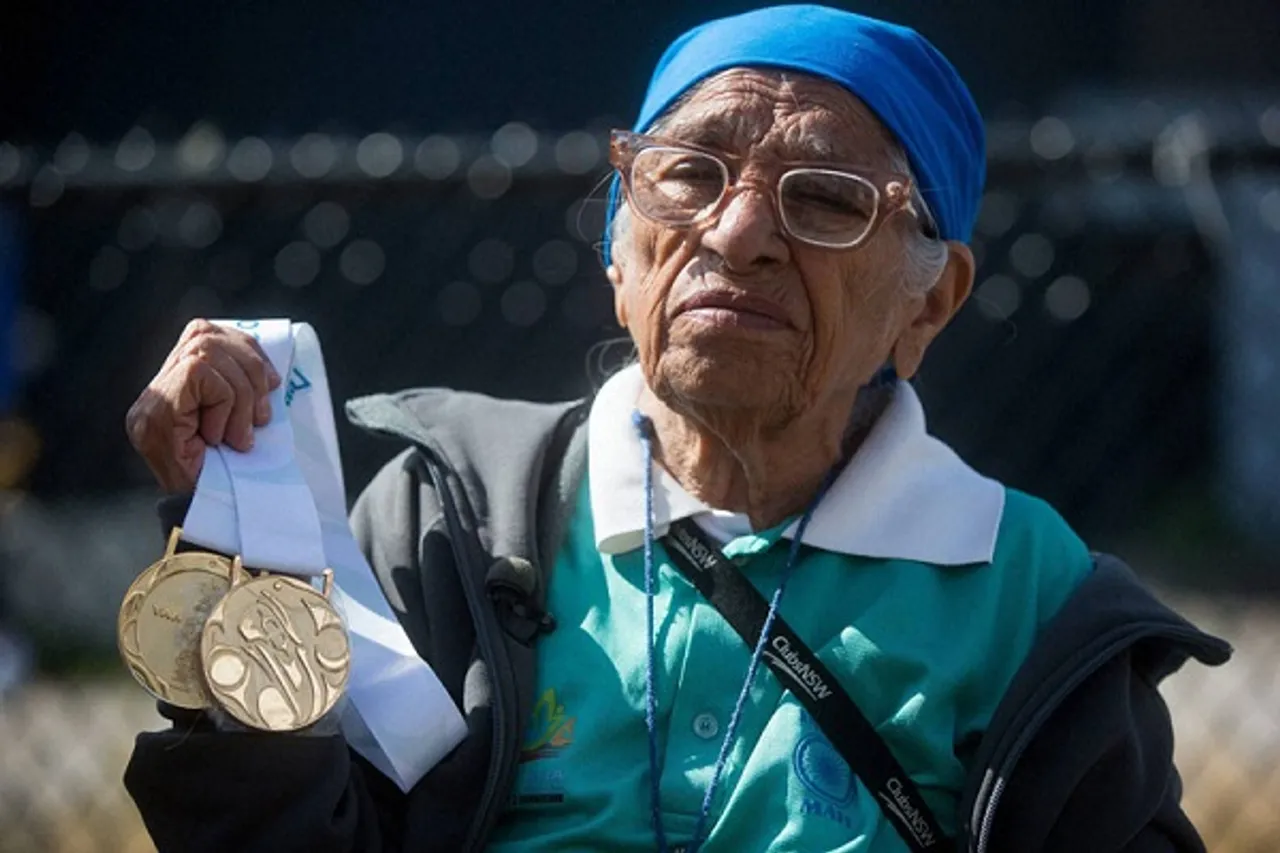 Ace athlete Man Kaur recently turned a whole 105 years. Her feet still run stable and her spirit is unbreakable. As someone who came into the challenging world of sports at the age of 93, and has since gone on to conquer several records and world championships, Kaur personifies - in mind, body and spirit - that age is no barrier when passions come alive.
Her love for athletics is blind to all hurdles coming her way, most of all to age. The sportswoman spirit she harbours is what not many can boast of but what everyone across ages is inspired by, including fitness guru Milind Soman who dropped her this encouraging birthday wish. 
Her explanation for this never-say-die spirit is admirably simple: "Mujhe sports pasand hai… Changa daud raha hu, ruk na kyun bhai?"
As she turns 105, here are all the times athlete Man Kaur gave us fitness goals:
1. What motivated Kaur to turn to sports at 93 was her athlete octogenarian son Gurdev Singh (83). "You have no problem, no knee problem, no heart problem, you should start running," he recalled telling her.
2. She won her first medal in 2007 at the Chandigarh Masters Athletics meet. She ran in this race "for the heck of it," as she then recalled - a sentiment only the truest of athletes will resonate with.
3. In 2016, she finished the 100-metre dash at the American Masters Games in Vancouver clocking a time of a minute and 27 seconds that won gold. Right next year, she became the world's fastest centenarian by breaking her own world record to clinch gold in 100m at the World Masters Games in Auckland, New Zealand.
4. At 104 last year, she was conferred with the prestigious Nari Shakti Puraskar (the highest civilian honour for women) on the occasion of International Women's Day for her "exceptional contribution towards women empowerment." She was honoured with Rs 2 lakh and a certificate.
5. Athlete Man Kaur is more than just about running. It seems no sport daunts her, since she is the oldest person in the world to walk along the top of Auckland's Sky Tower and has won medals in javelin throw and shot put.
I want to win more. I feel very happy after winning: athlete Man Kaur on what keeps her going
6. When she won gold for shot put at the World Masters Athletics Championships, Poland in 2019, her son revealed that Kaur had been suffering from a health issue in the days leading up to the competition. But that didn't deter her from the running track. "For the last few days she was in pain due to her bent spine, but she was so happy after completing the race that she forgot all about it," he said.
7. A lot of us unhealthy ones go to sleep as the sun wakes and come to life at sundown. But the sprinter granny is known to be very dedicated and wakes up at 4 am every morning for training. She runs a distance of about 20 kilometres every day and trains regularly at the gym.
8. Her mantra towards life is lively and motivational: "I want to win more. I feel very happy after winning. The government has not given me anything, but it doesn't matter as I just want to win, because winning gives me happiness."
9. Kaur at 105 is a repository of wisdom and the centenarian athlete doesn't hesitate in imparting some of it to those who need it. Her son says, "She encourages the old ladies that they should run, they should not eat the wrong food, and they should encourage their children also to take part in the Games."
10. Here's another nugget to borrow from the fitness icon herself: "Start the day with a glass of kefir and have chapatis made of sprouted wheat. No fried food."