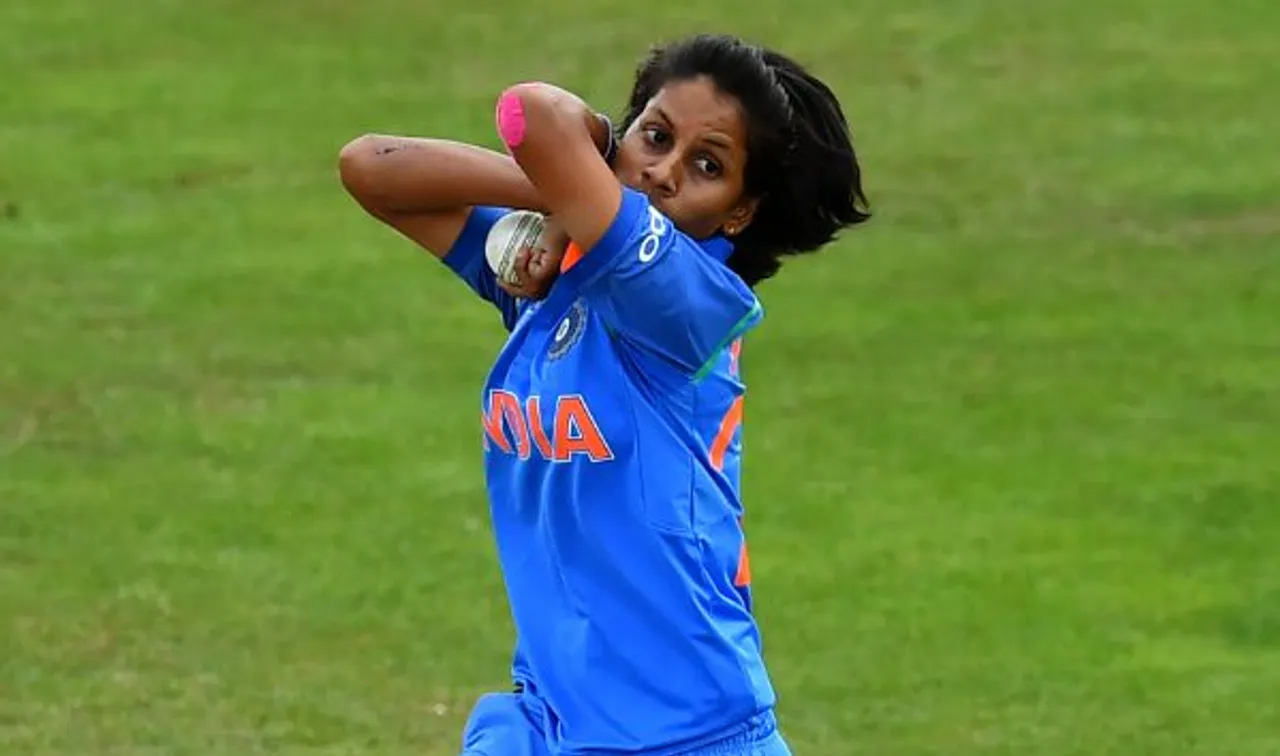 "Leg-spin kaafi difficult job hai. Usme jigra chahiye bowling karne ke liye! (Bowling leg-spin is a tough task. You have to have a big heart to bowl it.)"
This is what Poonam Yadav was told by her coach early in her career. She started off as a "decent" medium-pacer, "but I didn't get enough bounce because of my height," she tells us.
"My coach told me to learn leg-spin. He also warned me that it is possible I may learn quickly; it is possible I may learn slowly. It is possible I may not learn and could end up never playing cricket."
In the same breath she adds, "Maine kaha risk leti hoon life me, aur kya hai. (I said I'll take that risk. What's to lose.)"
To say that she has tasted success would be an understatement. With 76 wickets in 55 T20Is, Poonam is India's leading wicket-taker in the format. The next is Jhulan Goswami, who has retired from the shortest format, with 56.
Leg-spinners are a breed that has to be taken care of in our sport. Although of late, there are more such bowlers coming in, Poonam was one of her kind when she began. "I used to be the only one at Ekalavya stadium bowling leg spin. I wondered what a different job this thing is," she recalls.
ALSO READ: Repent Not, Repeat Not: The Devika Vaidya Way
"When I used to trial, there were separate queues for off-spinners, left-arm spinners, medium pacers. I used to ask them where is the queue for leg-spinners. I was told I was the only one then," she adds, laughing.
In the first T20I of the series against South Africa in Surat, Poonam picked up a couple of wickets. First, she let out a flighted googly that bamboozled Laura Wolvaardt. The South African got on to the front foot to drive, only to later realise that she had been deceived. The ball snuck in through the gap between bat and pad to rattle the woodwork. On the next ball, a perfect leg-spinning delivery gripped the surface and had Sune Luus committing to a shot pretty early. All she managed was to spoon a catch to cover.
When asked about the more satisfying of scalps, pat came the reply, "Obviously loved the dismissal of Wolvaardt because she couldn't read the ball. She met me in the lift later and confirmed with me if that was a googly. She didn't expect it to come in. I liked it because it went through the gap between bat and pad, when she had come ahead for the drive. It wasn't as if she was on the back foot and missed it or something."
Her love for dismissals by the wrong 'uns becomes clear when she enlists the batters who she remembers getting out via the googly – "(Chamari) Atapattu in the World Cup, 1st T20I (Wolvaardt), (Anya) Shrubsole in England. Shrubsole went on the back foot and missed it because it came in. I remember it was the third ball. Off the first two balls she came ahead and then was surprised by that third one, a googly."
Such vivid memories.
With rain affecting most of the practice sessions apart from the two matches so far, it becomes imperative for spinners to get acclimatised bowling with the wet ball. Given that night matches are often accompanied by dew, the skill is all the more vital.
"In damp conditions, it becomes a bit tough for the batter when you pitch the ball up as opposed to bowling short, because there is more time to play from the back foot. But if you bowl it fuller, it is difficult because the ball tends to stop a bit," she explains.
"That's how I got Luus in the first match. The weather conditions are good for bowling, but at the same time, it is easier to play with the spin on this track. When we practise during winters, it is tough to grip the ball due to wetness. There's a risk of bowling full tosses then. At that time, we try to bowl at a quicker pace. I use those methods to practise in wet conditions as well."
Picture Credit: sportsCELEBfamily
ALSO READ: Deepti Sharma: Self-Effacing Words, Attention-Seeking Performances
This article was first published on Women's CricZone, a revolutionary website dedicated to providing exclusive insights, news & live scores from the world of women's cricket.
Read More Here.