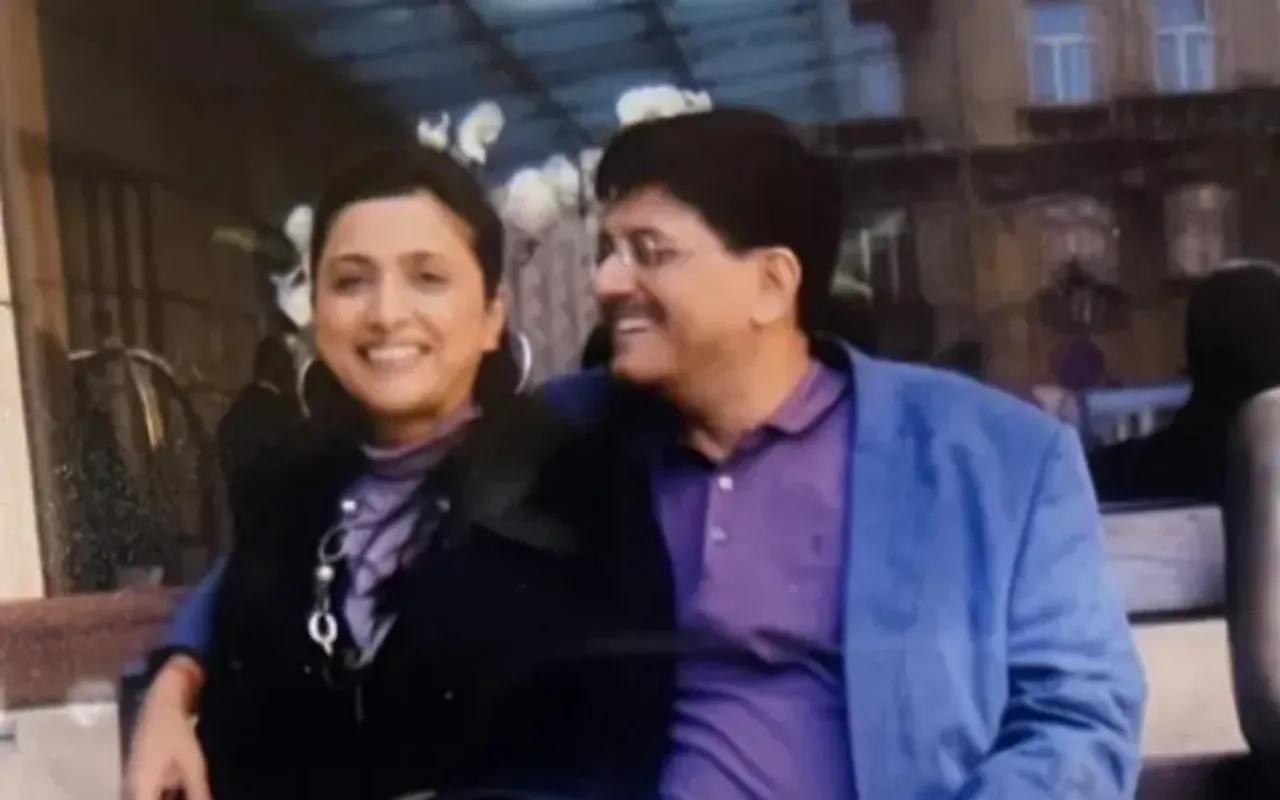 Who is Seema Goyal? The 57-year-old Indian politician and minister Piyush Goyal, who holds multiple portfolios in the current central government posted two pictures with his wife, Seema Goyal on their 30th wedding anniversary. Along with the two pictures, the minister penned down a cute note for his wife on social media.
The minister posted one of their wedding pictures which shows Seema Goyal putting the garland over his head. The second picture showed the minister and his wife sitting shoulder to shoulder, Piyush Goyal's hand wrapped around her shoulder. While the minister smiles looking at his wife adorably, Seema looks at the camera and flashes a wide smile.
"You complete me, Seema," wrote the minister on Twitter, adding, "Happy 30th wedding anniversary."
This is not the first time that the minister has shared pictures of them on social media with such captions. In 2019, he posted on the same day on Facebook and his caption read, "As we celebrate another year of togetherness, I can't thank Seema enough for being a part of my life and waling together every step of the way."
Piyush Goyal is the Minister of Commerce and Industry, Consumer Affairs and Food and Public Distribution and Textiles, under the Government of India. He is also a member of the Rajya Sabha and was the Railway Minister between 2018 and 2020. He is also a member of the Bharatiya Janata Party.
Who Is Seema Goyal?
Seema Goyal married Piyush Goyal 30 years back. She is the mother of their kids Radhika Goyal and Dhruv Goyal.
The Congress in 2018 had alleged that Seema Goyal owns Intercon Advisors Pvt Ltd which earned a profit of Rs 30 crore on a paid-up capital of Rs 1 lakh in just 10 years. On basis of that, they demanded the resignation of the then Railway Minister Piyush Goyal as his position as a minister was "compromised". Allegedly both husband and wife were owners of the company when in 2014, Piyush Goyal resigned as the director on May 13, 2014, and transferred his shares to his wife. This was the year, he became Cabinet Minister.
Seema Goyal was also appointed as the director of Flashnet Info Solutions India Limited on April 1, 2009.
(Feature Image Credit: Piyush Goyal Twitter)
---
Suggested Reading:
Who Is Marta Ortega? Zara Founder's Daughter Becomes Chairperson Of Parent Company
Here Is Why Advocate Indira Jaising Is Going To File A Sexual Harassment Complaint
19-Year-Old Kerala Girl Dies On The Spot In US As Bullets Pierce Through Ceiling
---
Also Trending:
&t=443s