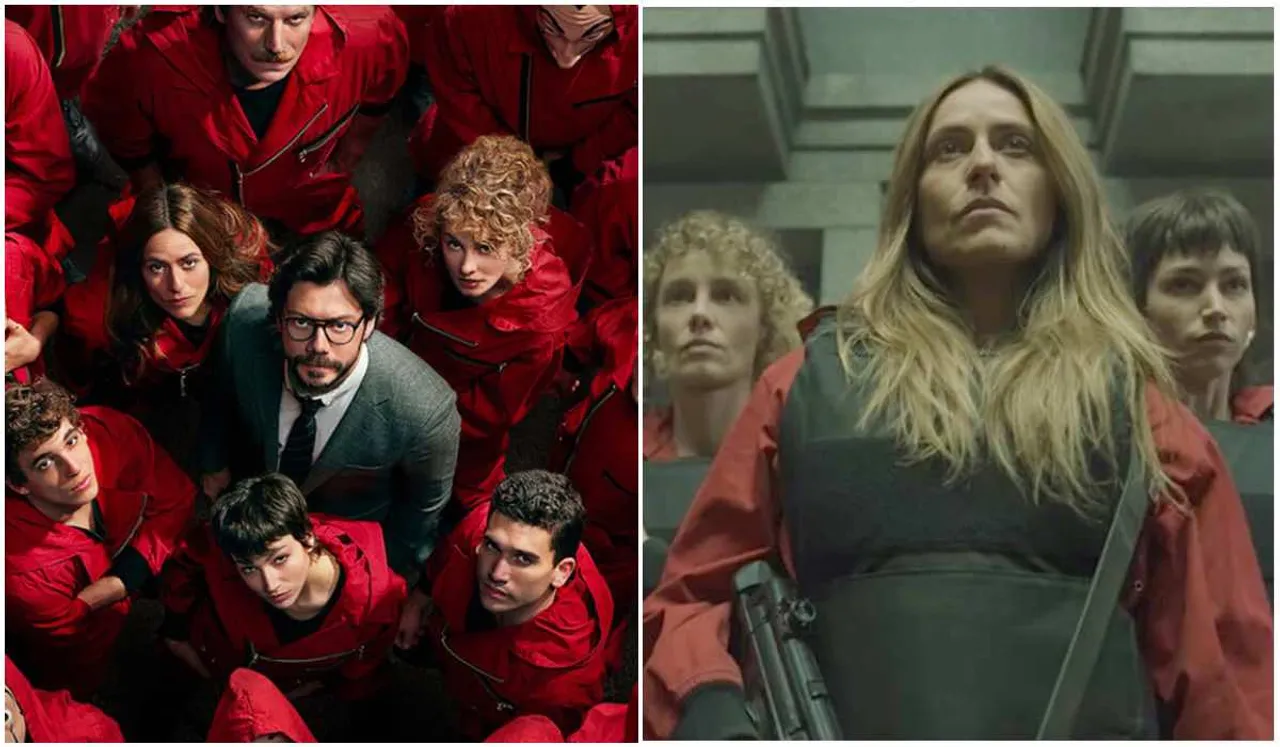 Where to watch Money Heist: The first volume of the fifth and final season of the Spanish-language fantasy crime series Money Heist is releasing on September 3. The final season will have a two-part release, with its remaining five episodes streaming three months later.
La Casa De Papel, a Spanish crime drama has traced two longer and larger heists led by the Professor (Álvaro Morte). These two heists take place in the Royal Mint of Spain and in the Bank of Spain. Fans of the OTT show have high hopes for this season as the fourth season had managed to rack up an incredible 65 million views around the globe, as of August 2021.
The trailer if the latest season, show the heist experts trapped, fighting for survival against all odds. 100 hours have felt like 100 years, Tokyo describes her current situation in the trailer, which also showed an intense fight between the gang and the military.
According to the official synopsis of season five, the high-stakes robbery gang has been shut in the bank for over 100 hours. Meanwhile, police officer Alicia Sierra (played by Najwa Nimri) captures The Professor and he doesn't have an escape plan. Though the gang has managed to rescue Raquel Murillo aka Lisbon (Itziar Ituño), an enemy comes on the scene that is much more powerful than any they've faced so far: the army. "The end of the greatest heist in history is approaching, and what began as a robbery will turn into a war," the synopsis reads.
Where to watch Money Heist
Money Heist Season 5 volume 1 will arrive on Netflix on September 3, 2021. Volume 2 will release on December 3, 2021.
The series features Úrsula Corberó, Álvaro Morte, Itziar Ituño, Pedro Alonso, Esther Acebo, Enrique Arce, Rodrigo de la Serna, Miguel Herrán, Jaime Lorente, Darko Peric, Najwa Nimri, Hovik Keuchkerian, Luka Peros, Fernando Soto, Jose Manuel Poga, Belén Cuesta, Fernando Cayo and Mario de la Rosa.
There has been a gap of 1.5 years Season 4 and Season 5. The Season 4 had eight episodes. The trailer for season 5 shows the gang mourning the death of Nairobi. The series received Best Drama Series at the 46th International Emmy Awards. And is considered as the most watched non English language show on the OTT platform. The series has been critically acclaimed for subversion of the heist genre by having a female story teller in Tokyo. The first part was released on Spanish TV channel Antena 3 in 2017.
Watch Money Heist Part 5 Vol. 1 trailer here:
---
Suggested Reading:
Meet The Cast Of Money Heist's Korean Remake
The Crown Season 5 First look Reveals Elizabeth Debicki As Princess Diana
Money Heist's Alba Flores Speaks Telugu! Who Is This Spanish Actress?