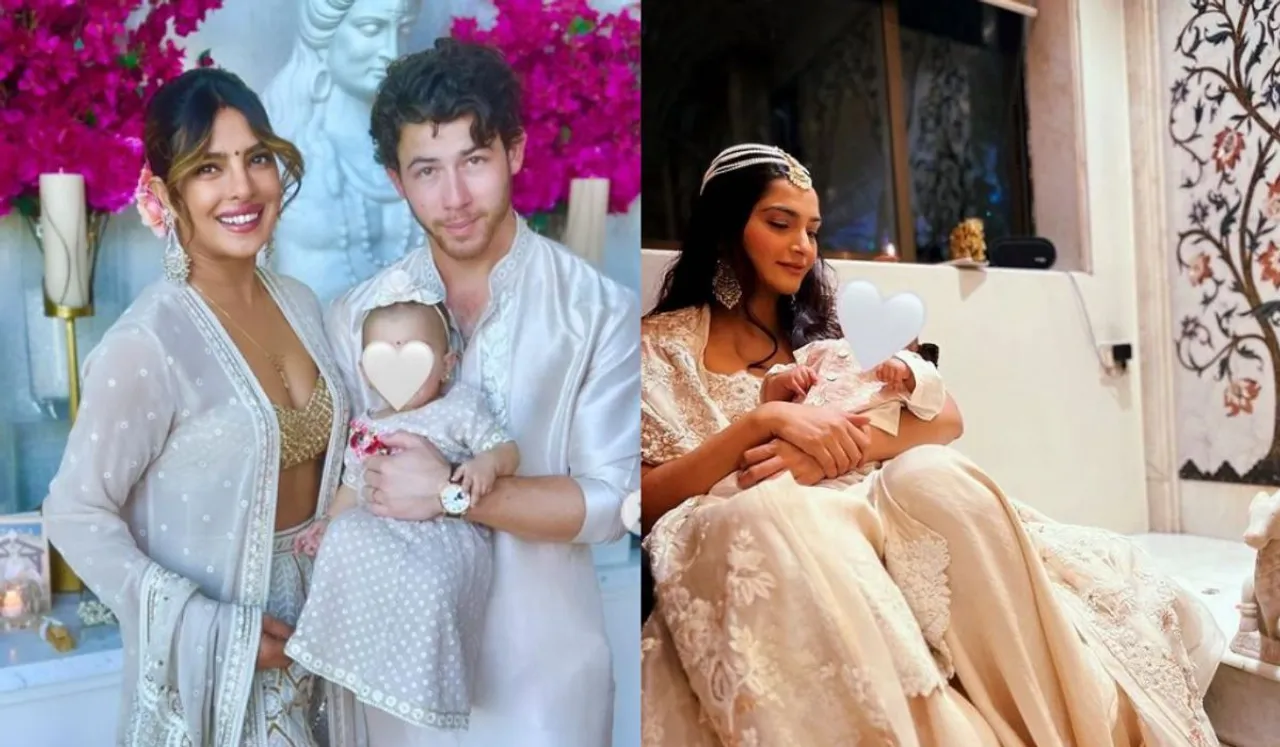 Diwali is a very special festival all over India and having a little new member join the festivities only adds to the happiness. Priyanka Chopra and Nick Jonas shared photos of celebrating Diwali with their daughter Malti, and so did Sonam Kapoor with her little Vayu.
Diwali is that time of the year when families meet and make every moment worth it. This year a few of the Bollywood celebs got to welcome their babies into their lives and they shared photos of the happy moments they shared with their little ones.
Bollywood Moms On Diwali
Priyanka Chopra
Priyanka Chopra and Nick Jonas welcomed their daughter Malti Marie Chopra Jonas in 2022 and the new mom has been sharing special moments of them on social media ever since. Baby Malti had a rough beginning as she spent her first 100 days in the hospital and then her parents took care of her by rescheduling their busy life. Chopra and Jonas have been very hands-on parents and they have shared several moments of the family having fun together. This Diwali, Chopra shared photos of holding Malti along with her mother Madhu Chopra and husband Nick Jonas. They can be seen involved in puja during the Diwali celebrations. Chopra captioned the post saying, "Love, peace and prosperity to all. From a heart truly laden with gratitude, I wish you all a Happy Diwali. Sorry I'm a little late but decided to stay in the moment just a little bit longer.. ॐ नमः शिवाय From ours to yours. Love and light 🪔🙏🏽❤️".
Sonam Kapoor
Sonam Kapoor gave birth to her son Vayu a couple of months ago this year and her fans have been eagerly waiting to have a glimpse of the baby boy. Kapoor has shared her journey through her motherhood on her social media and how she is slowly coming back to the routine and work. She had earlier shared pictures of holding her son while getting her makeup done for an event. Kapoor and her husband Anand Ahuja had thrown a Diwali party at their residence and all of their family and friends had come over to have a good time. Rhea Kapoor, Sonam Kapoor's sister recently shared some photos of Sonam Kapoor along with one with the little one. Rhea Kapoor said in the caption that it was her who styled her sister for the celebrations, she wrote, "And back to styling my number one with my best girls. Never looked happier, better and more like herself. "
Debina Bonnerjee
Debina Bonnerjee and Gurmeet Choudhary welcomed their first daughter, Lianna Choudhary earlier this year and it was their first Diwali together. Bonnerjee is also pregnant with their second child so this year was very special for the family. Bonnerjee wrote on her Instagram post, "Lots of love, light & happiness from us to you & your family 💜#happydiwali", as she shared photos of the three of them together.
---
Suggested Reading: 5 Indian Survival Thriller Films You Can Watch Ahead Of 'Mili'
---
Alia Bhatt
The mom-to-be and one of the leading actors of Bollywood Alia Bhatt shared moments of her Diwali as she spent it in bed with her pet cat, Edward. Bhatt often shares photos with her pet and most of them are adorable as the selfie she shared on Diwali. Bhatt reminded the audience about the previous Diwali and said, "Happy Diwali from throwback me as current me is spending Diwali in bed Love & light to all."