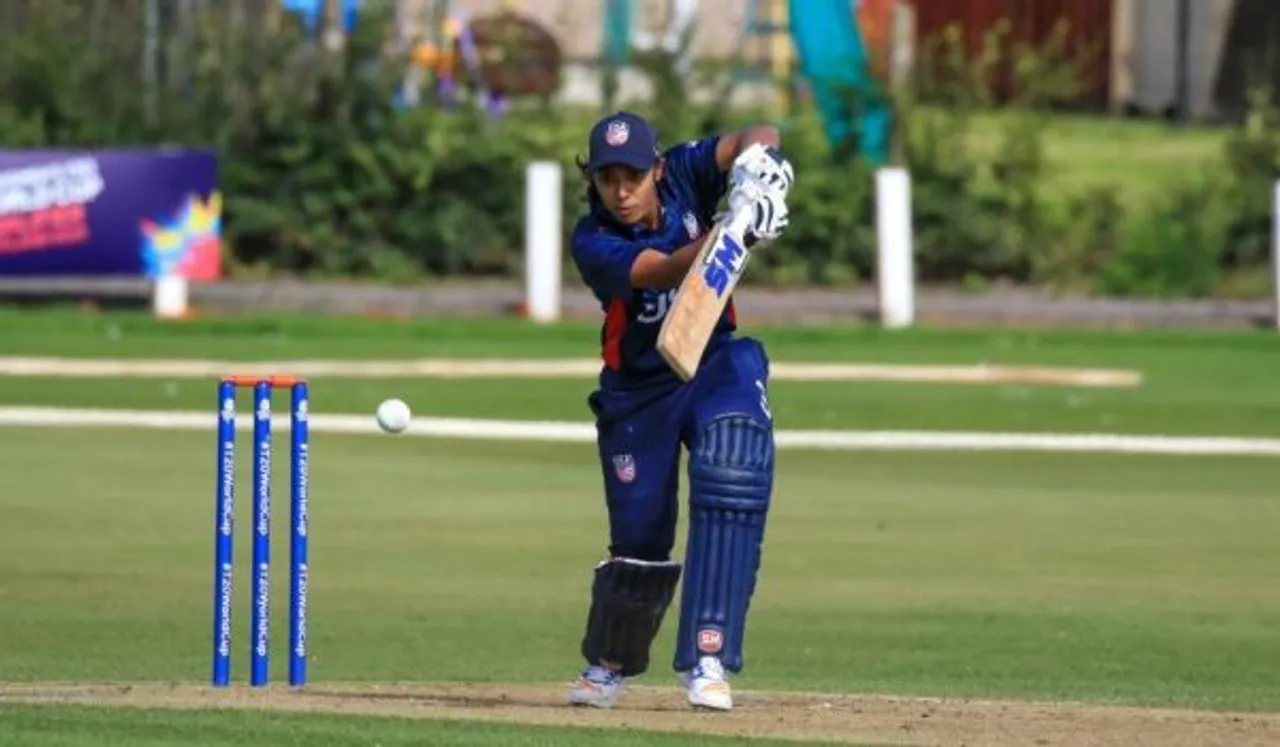 Julia Price, former Australia wicket-keeper-turned United States of America head coach, often uses the word 'brave'. It is one of her coaching philosophies— a value that she wants her team to imbibe.
If there is one person in the USA team who epitomises that quality, it is Sindhu Sriharsha, their captain. Sindhu's career has seen her take some fairly courageous calls— decisions that eventually led her to where she is now: at the helm of an international cricket team.
Like most Indian girls, Sindhu's cricket story began in the streets outside her home. Born and brought up in the heart of Bangalore in a "non-traditional South Indian family", seven-year old Sindhu was often seen playing with the boys in her neighbourhood, "any time and anywhere she could." As the only girl in the group, Sindhu attracted the attention of her neighbours, one of whom was Smitha Harikrishna, the former India batter.
"Smitha Harikrishna lived exactly in front of my house and used to watch me playing every day," Sindhu tells Women's CricZone. "She was the one who actually encouraged me to join a formal coaching camp in Bangalore. I was only nine years old then… That's how it started for me."
Sindhu can be described as a prodigy— Under-16 debut at 10 years old, India Under-21 debut at only 17, and a consistent member of the India A and Board President's XI squads from that point on. She was knocking on the doors of the Indian team, scoring heavily in the domestic circuit. But suddenly, something snapped.
The year was 2011. Sindhu was only 23. She had scored more than 1200 runs for Karnataka, was one of their mainstays with the bat, and had also been identified as one of the most promising batters in the domestic circuit. Then how did it all suddenly go downhill?
"The (last) season had probably gone on well. I knew I was in an NCA camp— I performed really well to make it to that camp," she explains. "It was one month of training in Bangalore and then we had the last few days in Anantapur. They had chosen 30 girls for the camp, and were supposed to pick 22 from that. I had done well in the matches and I knew I was batting really well…"
"Anyway, long story short, I didn't make the 22…" her voice trails off. "…I think that was the day I just knew I was done."
ALSO READ: Women's Cricket Team Asks BCCI For Psychologist For Mental Wellbeing
The beginnings
"I think they took me because there was no one else," Sindhu jokes when asked about her first Under-16 tournament.
She was only 10-years old, still in her first year of cricket, and had been selected to travel with the Under-16 Karnataka team to Kurnool as their second wicket-keeper. Although she didn't get a game, she had taken her first steps in a team that would become a major part of her life.
However, it wasn't until Sindhu turned 13, and made the move to the Karnataka Institute of Cricket (KIOC) under the tutelage of Irfan Sait, that she began to take the game seriously.
"I think when I moved to the KIOC camp, that's when I kind of started realising that yes, I do have a skill. I felt that if I do work hard that I can probably do more… That I can take this up as a more serious sport than just a hobby."
From then on Sindhu's climb up the ranks was steady. She made a mark at every level she played with both bat and gloves, impressing those around her. There was, however, one small drawback.
As a member of the Karnataka state side and a wicket-keeper herself, Sindhu was directly competing with Karuna Jain— who at that point was already in contention for a spot in the Indian team.
"I think I started taking a lot of responsibility once Karuna Jain and Deepika Babu were employed with Air India (in 2004)," Sindhu explains. "Until then I was still the junior— the back-up for Karuna because she was the first-choice 'keeper for Karnataka. But once she made the move to Air India was when I started getting a lot more serious with my game, knowing that I had more opportunities."
It was a phase that saw her elevated into national contention— selected for the India Under-21 tour of Pakistan and then subsequently as part of the India A and Board President's XI teams that played against touring sides. All this, when she was still in her teens.
ALSO READ: Aishwarya Pissay: Meet India's First World Motorsport Champion
In 2006, when the BCCI took over the administration of women's cricket the Air India team was disbanded, which meant Jain and Babu returned to the Karnataka setup. Once again Sindhu had to relinquish her position behind the stumps. However, she had by then become an indispensable member of the line-up— her skills with the bat were indisputable.
"I was still playing in the team as the main batter, so I wasn't missing out much. Of course, it probably took away my chances of playing (for) India because I was going as a specialist bat. Not having a second skill probably hurt my chances."
Despite the obvious disappointment, Sindhu believes it was the competition that made her a better player, one who continued to challenge Karuna and the other keeper-batters in the country for a position at the highest level.
Call it stubbornness or mental fortitude, but Sindhu kept at it like the Little Engine That Could. She kept at it because she was brave, and she believed that her courage and willingness to push against the odds would favour her at some point.
"Of course it was a frustration to not be able to (take the gloves)… Because I think if I was in any other state team, I probably would have got many more opportunities," she says.
"I think it works both ways if you look at it… If I was more complacent in some other state team I probably wouldn't have been able to improve my skill. But because it was Karuna there, she also pushed me to be the 'keeper that I am today."
Leaving it all behind
"I loved going to practice. I probably haven't missed a single practice (session). If I wasn't sick, I was on the ground," Sindhu reminisces. "So the day I knew I didn't want to go anymore… The day I knew I was finding reasons to not be on the ground, was the day I knew I was done. I loved the game, but I didn't have the zeal in me to go out there."
ALSO READ: Meet Rituparna Roy, The New Coach Of Vidarbha's Women Cricket Team
"I never fell out of love with cricket. I continued to watch the game and follow it very keenly, but at that point I felt I had had enough."
The camp it seemed had sucked everything out of her.
"It was difficult and also easy in a way. I think when I was ready to make that call (to step away) I just knew that I was done. I just knew that I didn't want to play cricket anymore and I took that call in February 2011, when I was 23-years old."
"I was just finishing up my post graduation (MBA in Finance and Marketing) and I wanted to explore life outside cricket. I wanted to see what it was. I always had aspirations of having life outside cricket. So I thought 23 was the right time for me— it didn't work out, I didn't make the team. It kind of just gave me the right reasons to move away."
Soon, Sindhu found herself working at a multi-national company for a couple of years. She completely cut herself off from her former teammates. While the love for the game remained, the motivation and drive to succeed— something that defined her as a player— had slowly withered away.
In 2013, Sindhu got married and moved to San Francisco. That was where cricket made its way into her life again.
Sindhu's move to the country on a non-work visa meant she needed to find something "to keep her occupied through the day." Ahead of the move, her husband, Sriharsha MS, suggested cricket could be an option.
Incidentally, around the same time, a former colleague from KIOC, Akshata Rao— now a member of the USA team— got in touch with Sindhu and told her they should meet up when she arrived in the country. There was someone she wanted her to meet, and something she thought her friend could get involved in.
Rao introduced Sindhu to Nadia Gruny, former captain of USA, and that was the start of a new chapter in her life.
The second coming
USA Cricket's suspension by the ICC meant that Sindhu experienced little or no international cricket during her first three years there. However, she was part of a few programs that had been laid out for women cricketers in the USA in which Robin Singh, former India allrounder, was involved. It was through the World Wide Cricket Academy (WWCA) that Sindhu got her first taste of 'international' cricket in the USA.
ALSO READ: Sophie Luff: Juggling roles, absorbing pressure and doing it all with a smile
A few years of club cricket and a couple of development tours later, in 2016, the ICC handed USA a wildcard entry to the European Qualifiers in Scotland where the team played their first international match in five years. It was an emotional ride for many players who were part of the squad in 2011 (the last time USA had played an ICC tournament), but largely it was as if the team was starting from scratch. For Sindhu, cricket had given her a second chance. Having given up the game in India, here she was five years later, ready to don international colours.
Personally, she didn't think of it as vindication of her talents, but those that had watched her closely back home knew that it was a long time coming.
"At the age of 10 I realised she had the potential in her and she proved me right," Sait, her former coach, told Cricket Country in an interview earlier this year.
As one of the most experienced players in the squad, soon enough, Sindhu was handed the reins of the team.
"I kind of knew that I was in the running in 2016, but then if not in 2016, (I knew) that it (captaincy) would come to me some time later," she says. "So when it did come to me, I definitely felt prepared. I knew the players. I had been playing with them for 3-4 years, so they trusted in me, and I trusted in them as well."
In the lead up to the ICC America region Qualifier 2019 ahead of the T20 World Cup, Sindhu was in a race against time to make sure she was in good enough shape to make the team. She had just delivered a baby boy, Darsh Simha, in October and needed some time to recover. However, only four months later she was back on the field, wanting to inspire her team to something special. She credits her family for being the perfect 'support system' to allow her to come back so quickly.
"The entire time that I was pregnant, I remember my husband telling me, 'You just pop the kid out and get back to playing cricket. Don't worry about it, I'll take care of it.'" she laughs. "I had the best support system to be able to come back to playing cricket within four months of my delivery. My mom stayed with me for a year to take care of me and the baby, and then my husband was always there too. I couldn't have dreamed of doing it without their support."
"Of course it wasn't easy to come back within four months. (My) fitness wasn't there. I hadn't recovered fully, but I just wanted to be on the field. I delivered in October, and January last week I was there for the selection trials in Florida. I wasn't 100% then, but you know, I just wanted to put myself out there… And believe that yes, I still do have it!"
Image Credit: ICC
ALSO READ: Of Risks And Jigra – The Poonam Yadav Tale
This article was first published on Women's CricZone, a revolutionary website dedicated to providing exclusive insights, news & live scores from the world of women's cricket.
Read More Here.