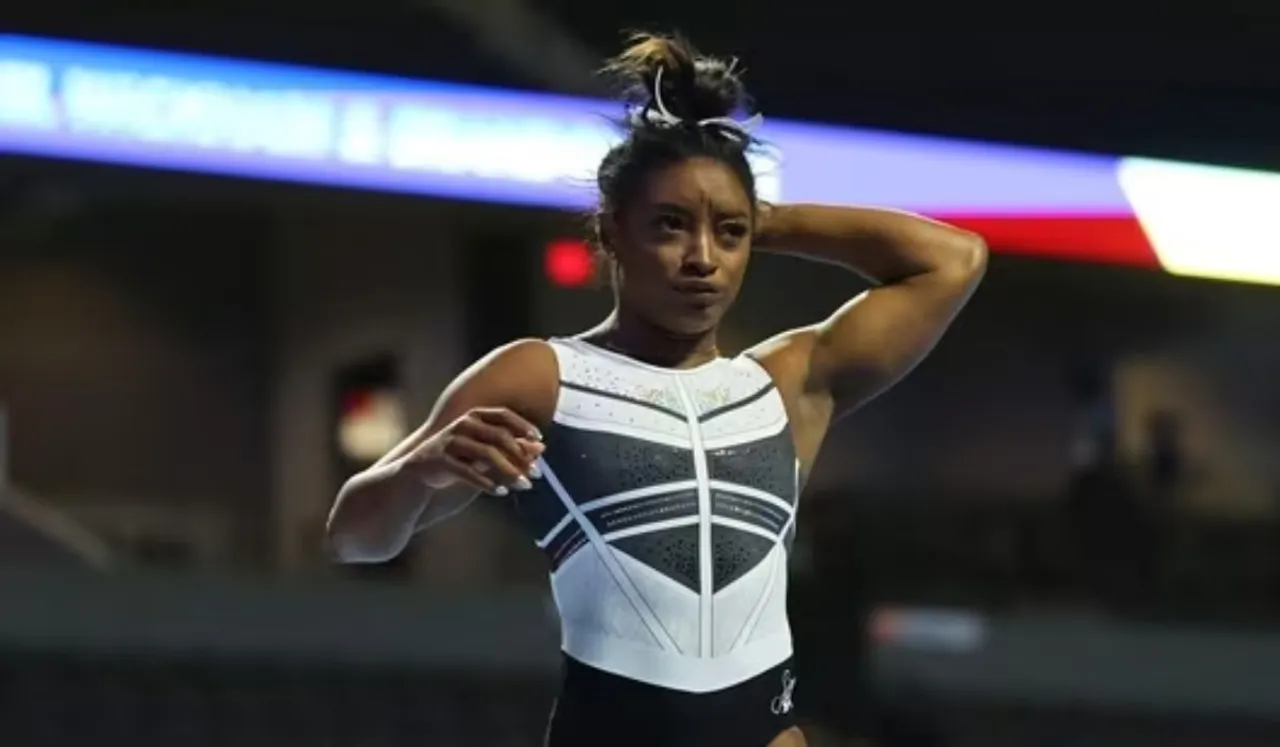 After a 732-day hiatus, Simone Biles started her competition with a brief moment of uncertainty during introductions, but once she saluted the judges, she regained her usual confidence and composure.
In her comeback after a two-year break after the Tokyo Olympics, Simone Biles claimed victory in the US Classic. Overcoming the challenges of the "twisties," which had led her to withdraw from multiple events in Japan, she confidently performed on Saturday night. Adorned in a bedazzled black-and-white leotard, the 26-year-old gymnast appeared comfortable and at ease before a packed audience at the NOW Arena, who showed their support through various signs. Biles achieved an impressive all-around score of 59.100, despite her serious training resuming only in late April after her marriage to NFL defensive back Jonathan Owens.
Approaching her return to the sport with restraint, Biles recently acknowledged the struggle she faced with the "twisties," a term describing a mental block affecting her spatial awareness. She reassured me, however, that she is now in a good place.
Simone Biles Wins US Classic After Two-Year Hiatus
Wearing the number 231 and initially displaying a necklace with "Owens" in honour of her husband, Simone Biles exuded a mix of calmness and vitality before she began competing.
Starting with the uneven bars, she performed close to a sign showcasing a goat, symbolising "Greatest of All Time," which boldly proclaimed "Simone Freaking Biles." While not flawless, she managed to recover from a near-stall near the routine's end, showing her determination. As she executed her dismount successfully, she glanced sideways with an expression that seemed to say "Sheesh."
Her score of 14.000 ranked third in the competition, hinting at her promising performance ahead. On the balance beam, where she earned a bronze medal in Tokyo amid uncertainty, Biles maintained her characteristic poise and stability.
Despite a challenging experience in Japan, Simone Biles never definitively ruled out competing in Paris. The majority of her focus during the past couple of years has been directed towards her wedding and mapping out her future.
However, the allure of the gym remained, albeit with a more subdued approach to her comeback compared to her earlier returns in 2018 and prior to the Tokyo Olympics in 2021.
Currently, she's chosen to convey her message through her gymnastic performances, and they speak with utmost clarity. Her presence on the floor was vibrant, showcasing her long-standing prowess in tumbling passes that always captivate the audience. While Biles, along with coaches Laurent and Cecile Landi, made subtle modifications to her routines to align with the sport's updated Code of Points, she continues to execute some of the most demanding gymnastics routines in the sport, often with seemingly effortless grace.
During her floor routine, Biles impressively managed to keep all three of her tumbling passes within the boundaries, a challenge she faced at times in 2021. Her score of 14.900, with a substantial start value of 6.8, showcased remarkable difficulty, especially when compared to other athletes whose start values did not exceed 5.9.
Her performance concluded with a Yurchenko double-pike vault, a sequence involving a roundoff onto the table followed by two back flips with her hands clasped behind her knees. This particular vault had been under consideration in 2021 as she aimed to execute it in Tokyo, which unfortunately did not come to fruition. However, the possibility remains for Paris. Biles exhibited a small hop upon landing, igniting an explosive reaction from the arena. Her score of 15.400 surpassed any other competitor by over a full point.
The US Classic serves as a preparatory event on the schedule. The upcoming US Championships are scheduled for later this month, followed by the world championships in October, and with less than a year left until the Olympics, the anticipation continues to build.
Ample time exists for refinement, expansion, and growth. Biles' all-around score on Saturday surpassed her performance at the same event in 2018, a precursor to two years of unparalleled dominance that followed.
---
Suggested Reading: Meet The Captains Of FIFA Women's World Cup 2023 Top Teams