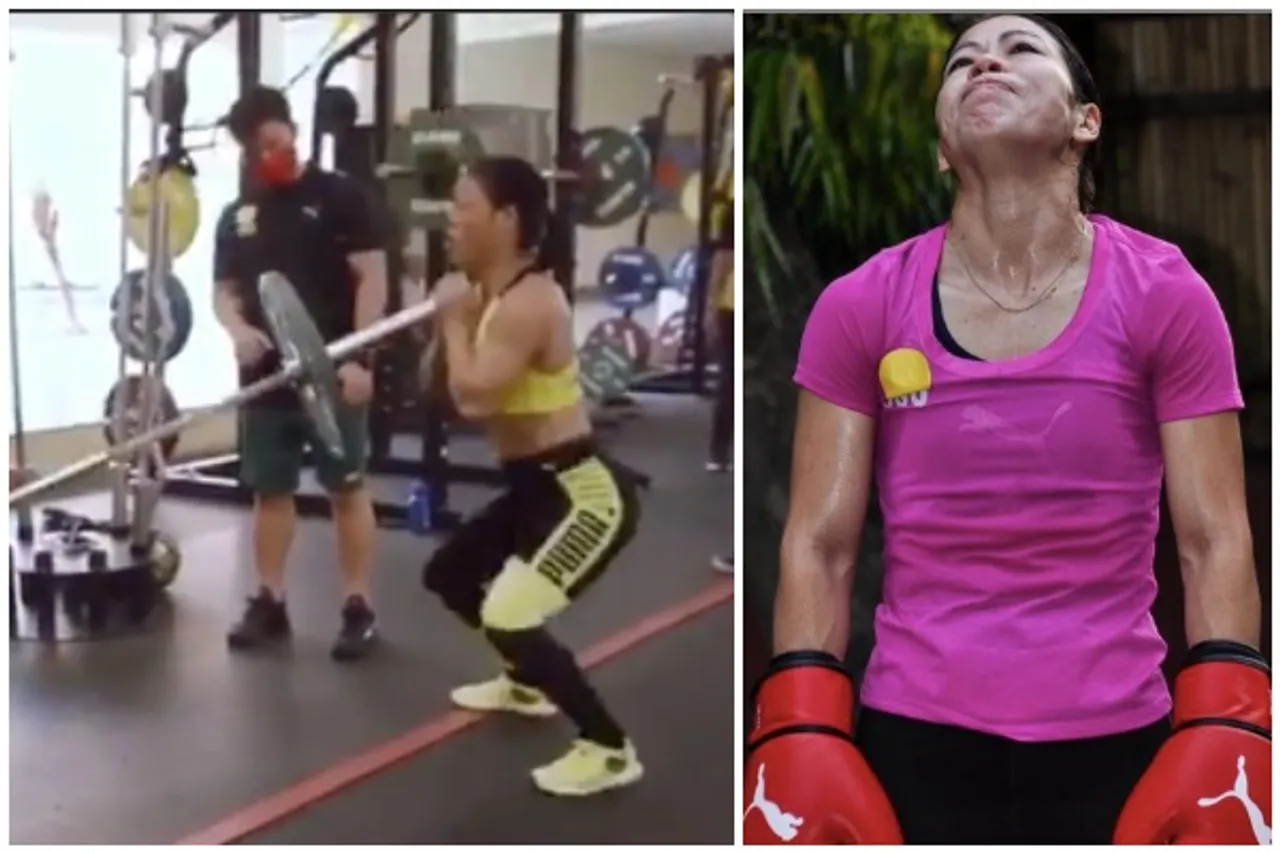 Mary Kom workout video: Six-time world champion M C Mary Kom is using all her time to focus on performance training and functional movement. Till now, she was mostly following working out at home routine, however, on Tuesday as the lockdown eases, the champion athlete was seen heading to the gym to perform some core exercises.
"Loyalty, Hard work, Patience," she captioned the video in which she can be seen lifting heavyweights. "And don't fear to chase your dream," the 38-year-old motivated fans and followers. Kom is currently preparing for the Tokyo Olympics, the sporting extravaganza in Japan opens in under two months on July 23.
Loyalty, Hard work, Patience...and don't fear to chase your dream. pic.twitter.com/7npOYbpIyq

— Mary Kom OLY (@MangteC) June 15, 2021
The athlete often shares extreme workout videos on her Instagram to motivate others to follow suit. Last month, she shared a simple exercise video from Army Sports Institute in Pune and wrote, "I may not be the best but watch me improve." Before that, in February, she shared a training video from a stadium and noted, "Making training a habit is the easiest way to train regularly and the road to success." Her other workout videos are equally inspiring.
The Olympic bronze-medallist (51kg) sealed her place in the Olympics after reaching the semifinal at the Asian/Oceanian Olympic qualifiers at Amman, Jordan in March.
Six-time world champ and Olympic bronze medallist 'Magnificent Mary' is headed to #Tokyo2020!@BFI_Official @MangteC @WeAreTeamIndia

Watch more #Boxing live 👉 https://t.co/3Rlktle6lv pic.twitter.com/sxMwmJpVgM

— Olympic Channel (@olympicchannel) March 9, 2020
In 2019, she became the most successful boxer in the history of world championships, recording her six-time title. At 38, this year, she is gearing up to give a shot at the elusive Olympic gold medal at Tokyo 2021. She became the first female boxer from India to win an Olympic medal in boxing by winning a bronze in London Olympics in 2012. She has previously said that this year's Olympics will be her last appearance in the event.
Talking about her Tokyo dreams, Kom in an exclusive conversation with SheThePeople.TV said, "Every athlete dreams of competing at the Olympics and winning a gold medal and I'm no different. It's the biggest sporting event for a sportsperson, however, I feel the best approach at this stage is to calm my nerves when necessary. Focusing on the goal is essential instead of letting ourselves be under pressure. Pressures are not always constructive. I will just give my best effort, and that will be my master plan." It will be her second Olympic appearance after missing out on qualification berth for 2016 Rio following a second-round loss in the 2016 World Championships.
Feature Image Credit: Mary Kom/Instagram