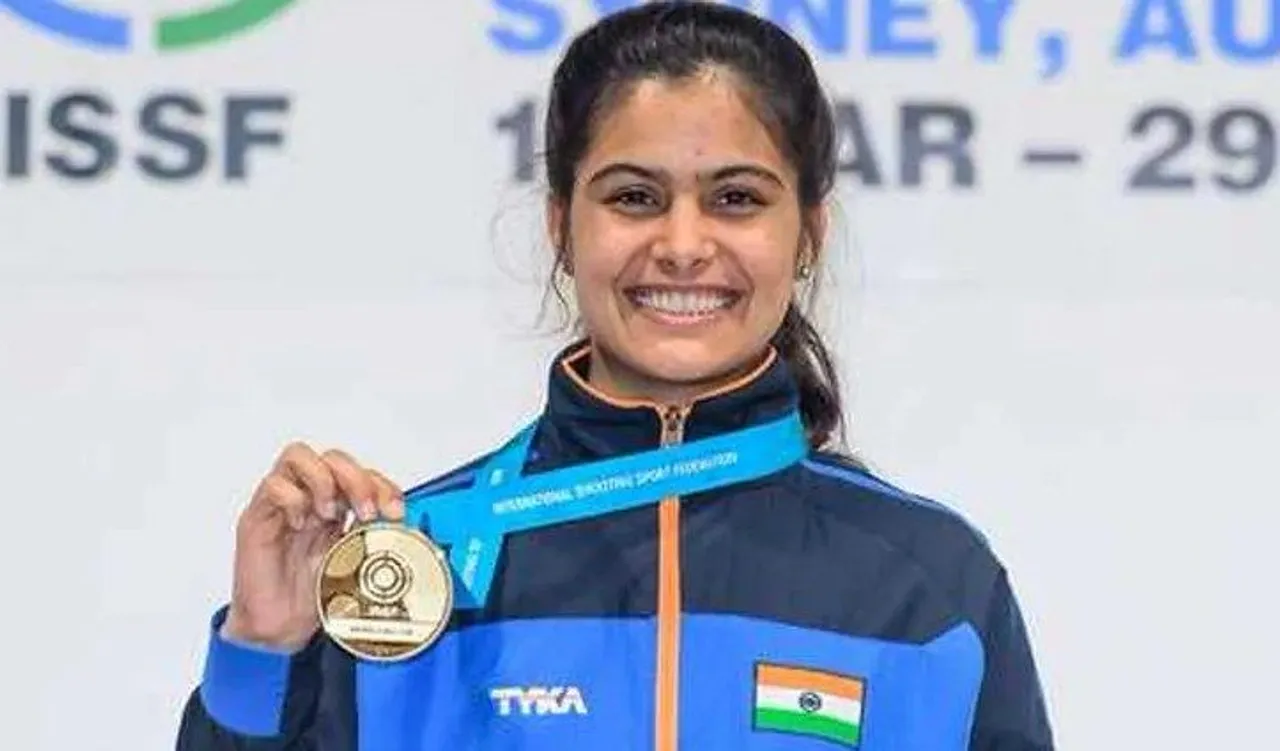 One of India's youngest and most successful shooting champions Manu Bhaker grabbed yet another feat today. Bhaker at the 65th National Shooting Championship Competitions (NSCC) won a total of four gold medals in the women's 25m pistol competition. Adding the individual women's and junior women's gold to the two-team golds she had already won in the discipline.
Manu Bhaker Wins 4 Golds At NSCC
Putting on a spectacular show, Haryana representative Manu Bhaker outgunned CRPF representative Pushpanjali Rana with a 33-27 score in the women's 25 m pistol shooting medal match at Bhopal's Shooting Academy, Madhya Pradesh.
---
Who is Manu Bhaker?
20-year-old Manu Bhaker belongs to the Goria village in the Jhajjar district of Haryana. Bhaker excelled as an athlete right from her teenage years and participated in sports including tennis, boxing, skating, and Huyen Langlon, Manipuri martial art. She went on the win several medals in her distinctive sports and eventually decided to take up competitive shooting. It's popularly known that Bhaker, with undeterred support from her family, took up airgun shooting and achieved her first feat internationally at the Asian Junior Championships 2017 bagging the silver medal. Bhaker grew popular due to her impeccable performance at the National Games held in Kerala the same year as she grabbed nine gold medals and defeated record holder Heena Sidhu in one of the games.
In 2018, Bhaker represented India at the International Shooting Sport Federation World Cup (ISSF) and emerged as a gold medalist twice. With this, Bhaker became the youngest Indian to win a gold medal at the ISSF.
Bhaker also holds an exceptional record at the Commonwealth Games as she won the gold medal in the women's 10 m pistol category at the Games in 2018 at the age of 16. It is still talked about because it was Bhaker's maiden Commonwealth appearance.
Youngest Indian athlete to win gold at Youth Olympics
Bhaker became the flag bearer for the Indian squad at the Youth Olympics Games held in Argentina in 2018. True to her never-ending streak, Bhaker, at 16, once again grabbed gold and became the first Indian shooter and first female athlete to grab gold at the Youth games. Whether it was international competitions, Asian Games or participation on the home turf, Manu Bhaker has emerged as a strong contender in every event she has attacked in. She scored a record score of 593 in the 25m Air pistol's qualification round event.
Bhaker also qualified for the Tokyo Olympics 2020 after she participated and won in the 10m pistol mixed event in 2019 at the Munich ISSF World Cup. Her recent achievement of grabbing four gold medals at the National Shooting competitions in Madhya Pradesh has added to her becoming one of India's youngest and most successful pistol shooters.
Bhaker is a proud recipient of the 2020 Arjuna Award in the category of shooting. Arjuna Awards are given out by the Government of India to athletes who have had successful outstanding performances in Sports and Games. It is the second-highest sporting honour in the country.