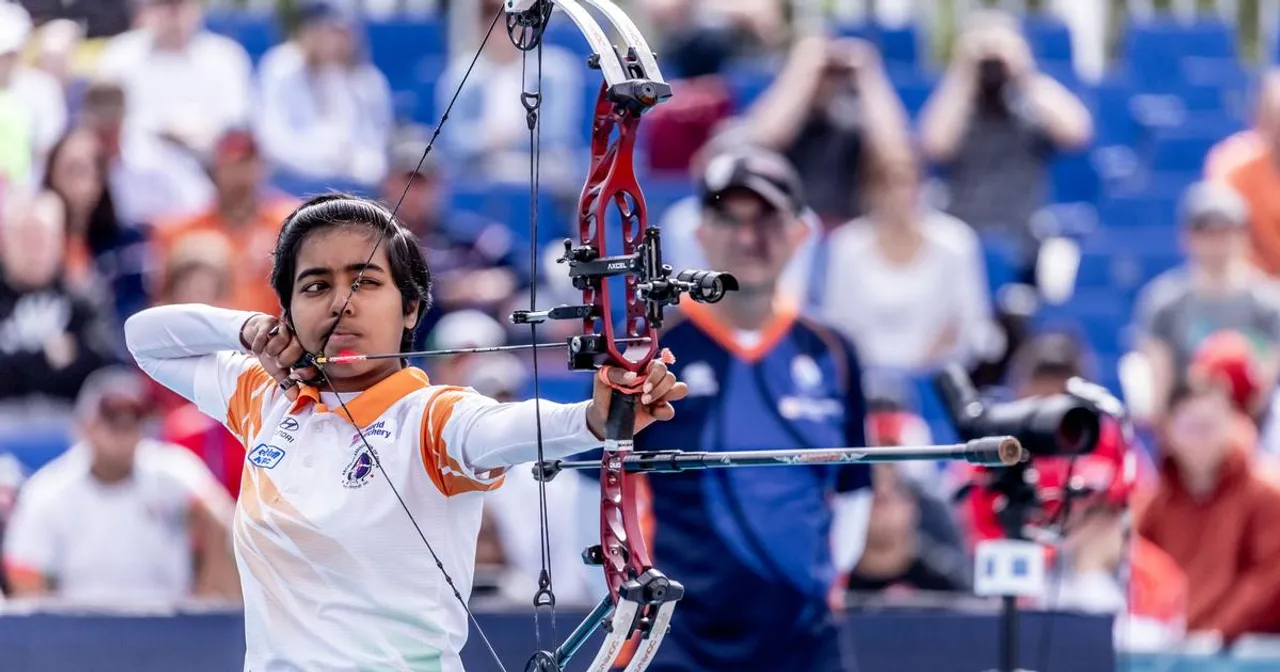 17-year-old Aditi Swami from Satara has etched her name in the archives of sporting history by becoming the youngest-ever senior world champion in archery. Her remarkable feat doesn't end there.
Swami
 is also the first Indian to secure an individual compound gold medal at the prestigious World Archery Championships.
Aditi Swami: Youngest World Champion
Swami's meteoric rise has been nothing short of awe-inspiring. Just two months after triumphing as the junior world champion, she showed unwavering determination and skill in a nerve-wracking final match against Mexico's Andrea Becerra, ultimately claiming the compound women's gold with a narrow victory of 149-147 in Berlin.
Adding to her impressive achievements, Aditi demonstrated her prowess in the team event as well, securing gold in the women's compound team alongside her compatriots Jyothi Surekha Vennam and Parneet Kaur. 
This victory marks a historic moment for India, as it is the first time the nation has claimed gold in this category.
Satara, a city located 15 kilometres away from their village, became the backdrop of Aditi's training journey. Her father, Gopichand, a dedicated government school maths teacher, played an integral role in her pursuit of excellence. 
Passionate about sports, Gopichand moved his family to the city to provide Swami with better sporting opportunities.
At the age of 12, Aditi's encounter with archery proved to be the turning point in her life. Captivated by the precision and calculation required in the sport, she joined a coaching program under the mentorship of Pravin Sawant. 
Her natural talent was evident, leading Gopichand to support her with utmost enthusiasm, showing her videos of archery stars Deepika Kumari and Abhishek Verma. However, Swami's path was not without hurdles. The cost of professional archery equipment was prohibitive, requiring Gopichand to seek loans to provide his daughter with the necessary tools to excel. 
Despite the financial strain, Gopichand remained resolute, knowing that Swami's potential to shine on the global stage was worth every sacrifice. The onset of the Covid-19 pandemic presented further challenges, hindering Aditi's access to the training centre. 
Undeterred, she improvised by setting up her practice area outside her house, refusing to miss a single day of training. Her dedication paid off when tournaments resumed after a year, and Swami showcased her talent, impressing audiences and securing victories.
Gopichand's support never wavered, even if it meant going further into debt to finance his daughter's travel expenses and equipment needs. He firmly believes that Swami's exceptional talent will make India proud at the upcoming Asian Games.
---
Suggested Reading: Indian Women's Compound Archery Team Wins Historic Gold At WC
---