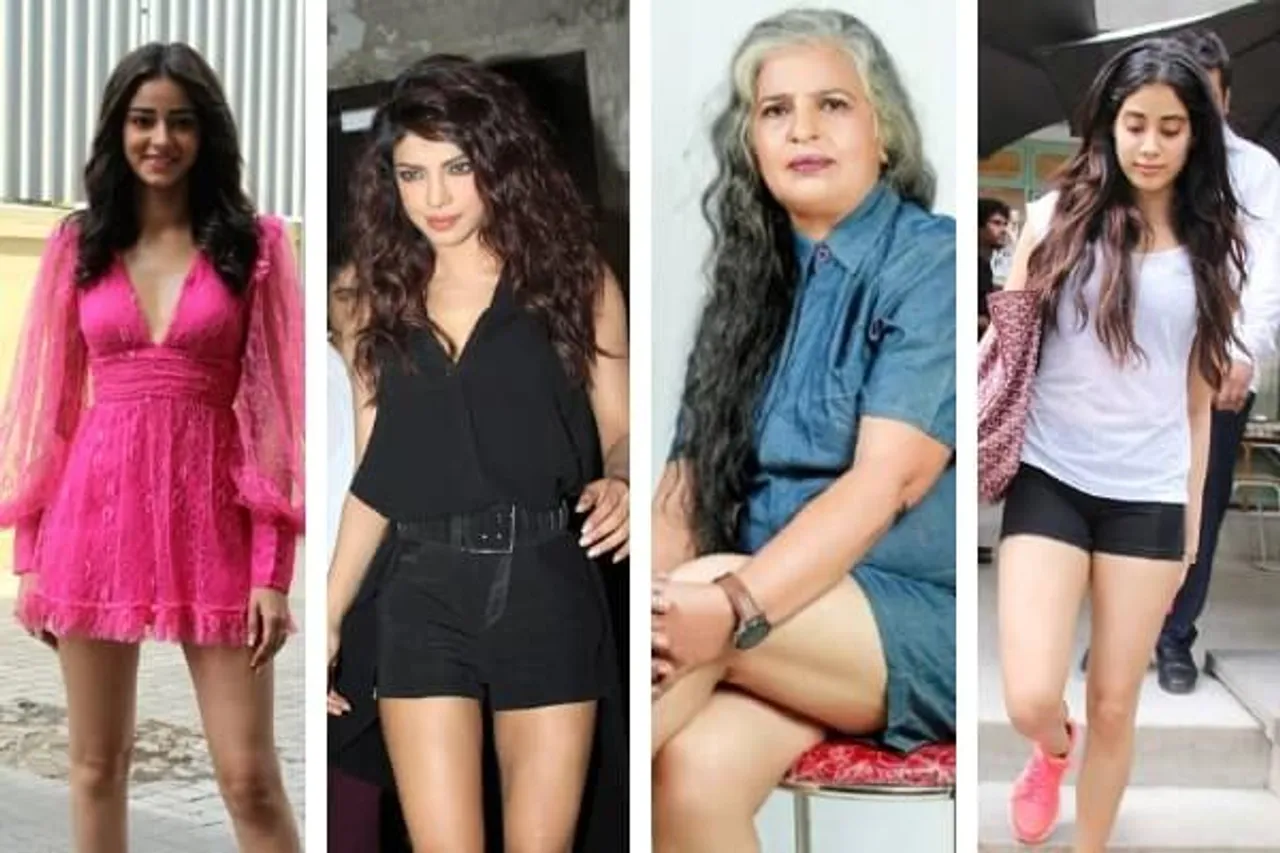 What's Wrong With Wearing Revealing Clothes? The idea of covering up your body because it was "proper" did not traditionally exist in India. Ancient India was always free with showing skin. Wahan se hum yahan tak kaise aaye when a female teacher said girls in revealing clothes deserve Nirbhaya-type rape?
We recently heard this from Uttrakhand's CM- "Ghutne phatte dikhte hai, samaaj ke beech mein jaati ho, bache saath mein hai, Kya sanskaar dogi unhe."
Ye kya pehna hai? Koi shaadi nahi karega...What will your kids learn? Why is it that how a woman dresses is related to her character? What is it about wearing revealing clothes that strips an Indian woman of all her 'values'?
Remember how Samyuktha Hegde was harassed at a Bengaluru park for wearing a sports bra? And of course the rampant slut-shaming that most Indian women have to go through on an everyday basis.
What many Indians today believe in as 'homegrown ideas of decorum and modesty' are in fact British imports - bequeathed to us by the Raj.  And it has bred an entire system of sexism that restricts and controls women.
Sculptures from the subcontinent's history show women depicted nudes, with nothing but clothes that were common for all, not just one gender. "Traditionally, the unclothed body did not really excite comment," says Kishore Singh, director of Delhi Art Gallery (DAG).
The Mughal era between the 16th to 18th centuries brought big changes in clothing when women were expected to cover, take the veil or observe purdah as was the rulers' tradition. The ghunghat cloth is mentioned in writings as early as the fifth century, but not in the way that it is today. The cloth was used as a decorative item on special occasions.
Indian women now are freer to do what they want, at least in the cities, yet we see dress codes being set and women being condemned for what they wear.
The ghunghat cloth is mentioned in writings as early as the fifth century, but not in the way that it is today. The cloth was used as a decorative item on special occasions.
So, the next time people tell you you're showing too much skin, remember to tell them this in some form.
1. Purpose of the clothing: Garments are for protection and decoration in accordance to the varying climate and how you want to express yourself as an individual? Did you know that the blouse was just not part of the outfit for women in Bengal and Southern India? It came into practice following British rule, as late as the 1900s. Indian women wore clothes that they thought were comfortable. So, why can't you do the same?
2. Take ownership of your body: Who owns the female body? Is it men? Is it society? If we own our body, toh kya hum har baar kapde pehen ne se pehle yeh sochte ki log kya reaction denge? Maine thode kum kapde pehne toh log mujhe slut-shame karege? Women's sexuality is policed and moralised very closely and humari biology pata nahi humare kapdo ke beech mein kaise aa jaati hai? Matlab agar maine crop top pehna hai...toh kya mein ek achi maa nahi bann skti? Ek achi bahu nahi ho skti? What's this logic?
3. If other's get excited seeing you, it's not on you: In India, there is no dearth of people, even in prominent political positions making bizarre comments about what is an acceptable dress code for women. How wildly inappropriate is it for a girl to wear a skirt? Are crimes against women just linked to what women wear? India, being a democracy, provides all its citizens with the basic right of choosing what they wish to wear. It is a matter of personal choice and external opinion of any sort is not directly enforceable on any individual regarding the issue. A woman retains the right to wear whatever pleases her. However, men, must at all times, seek consent before intruding into their personal space. A girl being cultured or spoilt should not be a matter of open debate, and definitely should not be used as a justification for harassment!
4. It's just skin: Get over it! If a woman is wearing revealing clothes that does not mean it's her greatest achievement. She's just owning and expressing herself in a way that best suits her.
5. Last if someone tells you that good Indian girls don't show skin- Tell them about the Indian history and say I am following what's there in my Indian culture.
So to the self appointed guardians of our hemline - who no doubt believe they are safeguarding women by prescribing what women should wear -  you are just holding onto archaic colonial ideas.
The views expressed are the author's own.