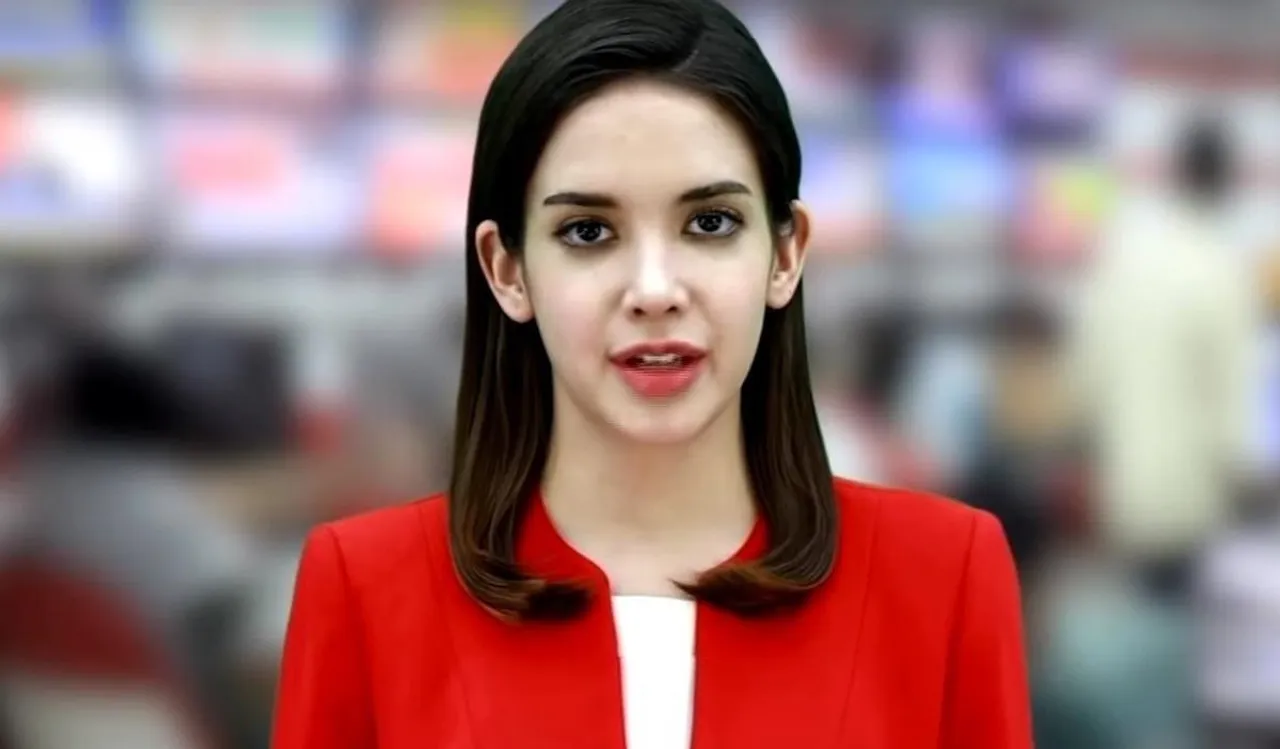 In 2018, China became the first country in the world to introduce AI news presenters. It showed a pair of suit-wearing men delivering a bulletin for China's state-run Xinhua news agency — one speaking Chinese and the other speaking English.
The other Asian country to follow suit was India, which launched an AI-powered anchor Sana at an India Today event attended by Prime Minister Narendra Modi in April this year.
The media group's vice-chairperson described the digital humanoid bot Sana as "bright, gorgeous, ageless, tireless".
Karnataka AI Anchor
It's only been a week since Odia's OTV launched the state's first AI news presenter Lisa. The bot took the internet by storm after presenting news in both English and Odia.
The new entrant in the world of AI anchors is Soundarya, launched by the Kannada channel's Power TV. Billed as South India's first AI news presenter, Soundarya rolled out her first news show on Tuesday.
Calling herself a "robot anchor", Soundarya opened her debut news show by talking about AI's impact on the TV news industry. "AI is leaving its footprint in every industry, and the TV news industry is no different. Robot anchors have already taken North Indian news channels by storm and a few of my counterparts have created a stir. Now, south India will get its first-ever robot news anchor through Power TV. I am Soundarya."
Meet Miss 'Soundarya' South India's first #AI generated news anchor who will be bringing news for you in Power TV Kannada #artificalintelligence pic.twitter.com/EeLqD3JX9Q

— Dr Durgaprasad Hegde (@DpHegde) July 12, 2023
Some are dressed in handloom saris, some in blazers, some don lipsticks while others go au natural. Perhaps it is the robotic voice, or maybe the slightly uncanny facial expressions – but a couple of minutes into the news reportage, you soon realise that the anchor in question is in fact a computer-generated avatar powered by AI.
Though it has raised eyebrows and concerns (for most reasons), it has also sparked discussions about whether India has entered a new era of news broadcasting.
Can you trust an AI Anchor?
Watching the news in the evening is a ritual in many Indian households. For as long as I remember, I and my father would tune in at night to watch a veteran journalist reporting the daily bulletin. The journalist is retired now, and I am married, away from home but even today when I put on the news, I distinctively recollect the memories of watching the telly news with my father and interrupting him to ask questions - who is that minister? why are they reporting this? 
Journalists are trusted sources of information, and their credibility is often built on years of experience, ethical standards, and investigative skills.
While AI news anchors can provide factual information, building trust with the audience requires more than just the dissemination of news. It involves building relationships, verifying sources, and holding powerful institutions accountable, which are crucial aspects of journalism that AI cannot fully replace.
AI systems excel at tasks that involve data analysis and pattern recognition. However, in-depth reporting, investigative journalism, and complex storytelling often require human judgment, intuition, and critical thinking. Human journalists bring their expertise, context, and ability to navigate complex social and political dynamics, which are not easily replicable by AI.
Journalism is not just about delivering news; it's about connecting with people on an emotional level and sharing stories that resonate with the audience.
While many media professionals feel a growing dependence on algorithms and automation, the rise of AI can perhaps be used as a tool to aid in the formulation and delegation of news. We need to look at it as a tool for help rather than a replacement. 
Views expressed by the author are their own
---
Suggested Reading: Sana To Lisa: Meet 6 AI-Powered News Anchors Of The World