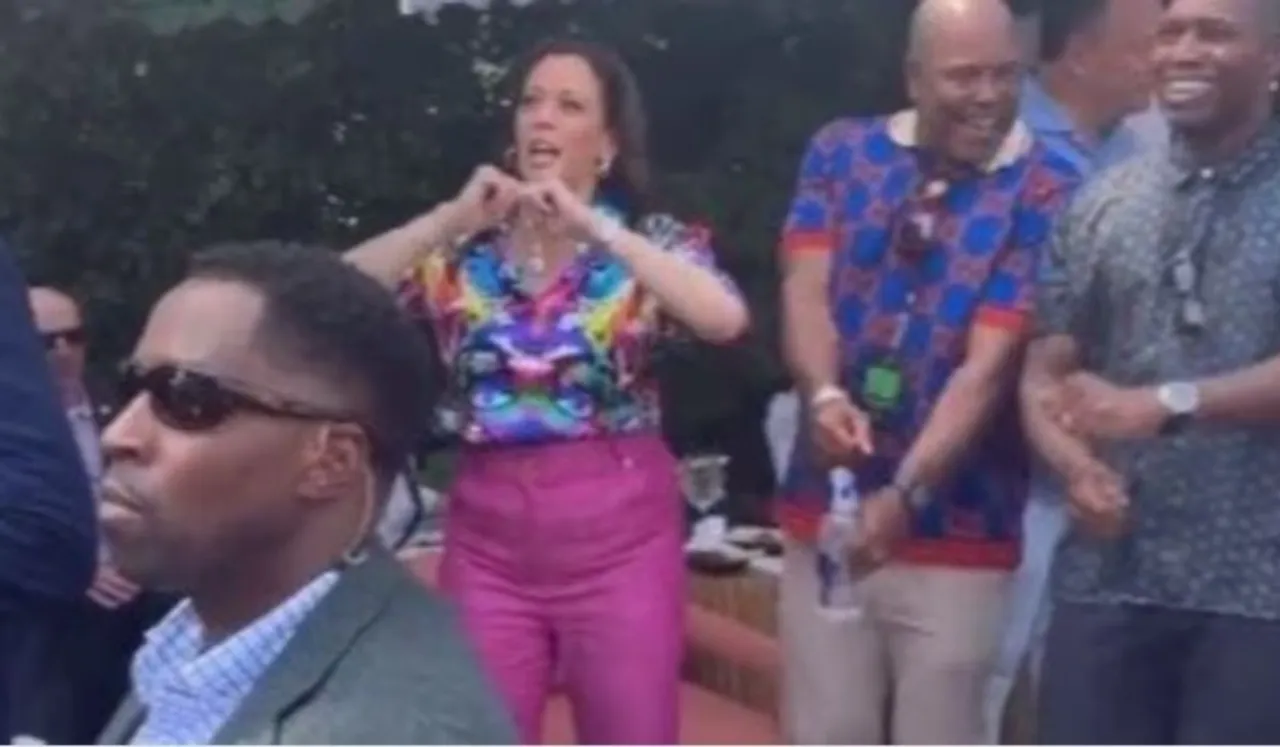 US Vice President Kamala Harris was recently seen moving her feet and enjoying herself at the celebration of the 50th anniversary of hip-hop at the White House, which she hosted. However, a video of the 58-year-old VP has gone viral on social media, drawing heavy criticism from netizens.
The 22-second-long video shows VP Harris dressed in a multi-coloured shirt and high-waist pink pants. She was seen dancing to the music and having a nice time at the party, but her dance moves were called "pure cringe," by netizens.
Kamala Harris Dancing To Hip Hop Draws Flak
The video was shared by political commentator Anthony Brian Logan on his X (formerly Twitter) handle. He captioned the video, "Kamala Harris with the granny moves at her 50th anniversary of hip-hop."
Kamala Harris with the granny 👵🏼 moves at her 50th Anniversary of Hip-Hop partypic.twitter.com/8Lg5XCxQ3a

— Anthony Brian Logan (ABL) 🇺🇸 (@ANTHONYBLOGAN) September 9, 2023
One user said that a loose-fitting dress would have been more attractive than a high-wasted pant after reaching a certain age and body shape. Another user said that her dance moves were giving "aunty vibes."
The video was originally posted on X by political strategist Joey Mannarino, who called out the timing of the celebration considering the challenges the country is facing. He wrote, "It's mid-September and our country is burning down: inflation rages, an economic depression looms, and illegal immigration tears us apart at the seams. Joe Biden is somewhere sleeping, and Kamala Harris is dancing to Q-Tip at a backyard party."
Online Critics Having A Field Day
Despite her professional accomplishments, having one dance at an official party has drawn several criticisms—the amount of backlash she is facing and the pressure to resign are preposterous. From dress policing to criticising her dance moves to deeming this unnecessary, online critic are having a field day. Would netizens have reacted the same way if it were a man in VP Harris's place?
This is not the first time a world leader has received flak for blowing off some steam. Last year, Finland Prime Minister Sanna Marin was under fire after a video of her partying with her friends on a weekend was leaked on the internet. Despite making a public apology, undergoing a drug test that came out negative, providing a powerful defence of her right to have a private life, and showcasing her work record, she was subjected to heavy criticism. She was accused of bringing disgrace to the prime minister's institution.
She Had A Little Fun, So What? She Deserves It!
It's an undeniable fact that the US is facing issues like inflammation, economic depression, illegal immigration, etc., but every country has its own problems, so why should that mean its leaders don't deserve to unwind a bit? From IT to MNCs, several companies are inducting recreational activities to ensure the mental and psychological wellbeing of their employees.
That being the case, doesn't the vice president of a country deserve to blow off some steam amidst her hectic schedule? Why is it wrong for her to enjoy herself with a little dance? What's wrong with her clothing choices? It's outright age-and-body-shaming to troll the dress she was wearing.
Aren't  world leaders people like everyone else who deserve to take a breather amidst the work stress they tackle every single day? Dancing and singing are activities that release a feel-good hormone called dopamine. Which law defines dancing and singing in a party with friends as illegal, even for a political leader?
The controversy seems to be blown out of proportion because she is a woman. It probably hurts patriarchal norms to see a woman rightfully gaining an equal seat at the table. Is this jealousy at its peak from people who cannot even match an iota of her accomplishments? Why is her dress, dance, moves, age, etc., even a matter of concern when her efficiency as Vice President is the only thing that should matter?
---
Suggested Reading: Kamala Harris Fondly Recalls Her Visit To India During Childhood