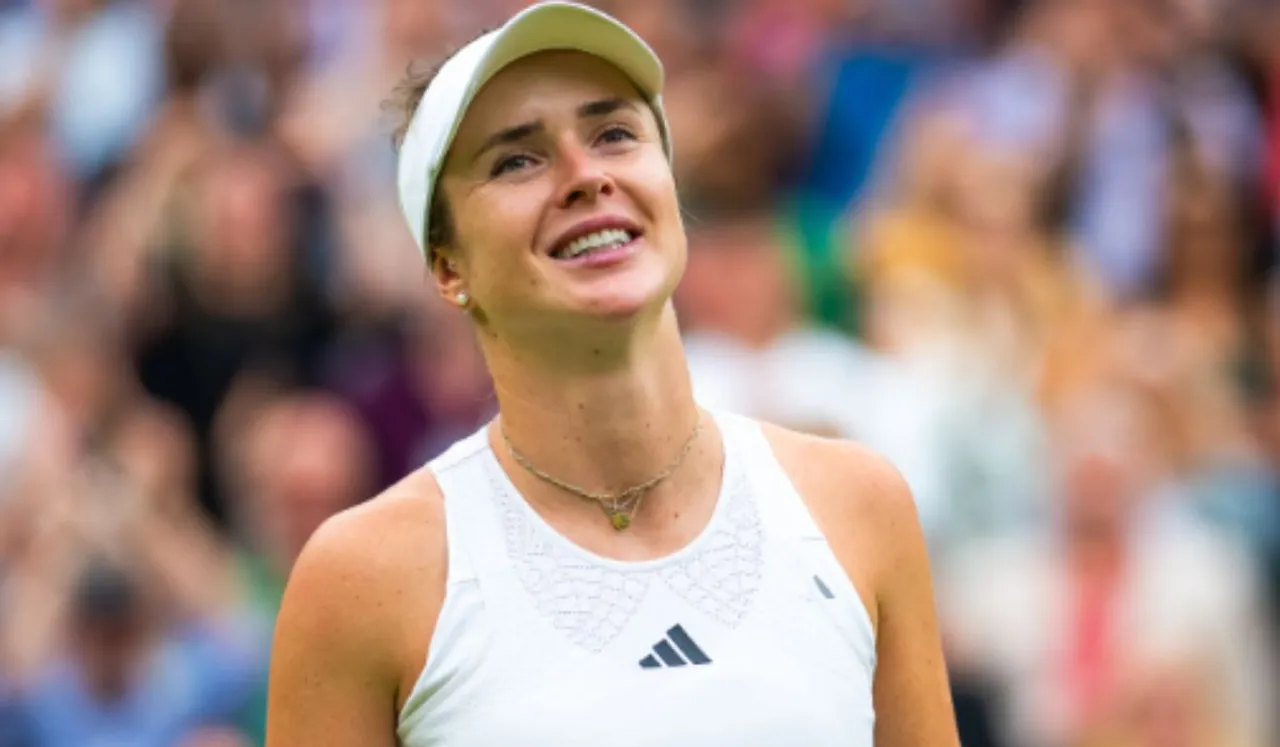 While Czech player 

Markéta Vondroušová bagged the

Wimbledon 2023 title and Runner-Up Ons Jabeur scripted history in more ways than one, that's not the only special moment from the recent Grand Slam tournament. Elina Svitolina, a Ukrainian tennis player, reached the playing field after having a baby last October. She got back to practising in January and won a tour title in May.
The Ukrainian tennis player expressed how delighted she was to have had a baby with her partner and got back to playing tennis really quickly. "Playing in the Grand Slam is an unbelievable feeling." Now, a lot of mothers out there would be wondering if this is truly possible and doing what Elina Svitolina did out there.
Elina Svitolina Wimbledon 2023
With real determination and grit, new mothers can achieve not just this but anything. Pregnancy isn't a setback to women's careers; it doesn't deter their ability to achieve great things. There's a widespread notion in society that perceives women just as mothers and nothing else, right from the moment they give birth. Whatever they were before ceases to exist, and their sole identity becomes that of a mother.
There's an ingrained barrier, emotionally, physically, socially, and culturally, for new mothers to get back to pursuing their careers. The social pressure is so high that women lose their confidence and succumb to society's expectations. For all those women out there, Elina Svitolina is definitely an inspiration to prove that motherhood is not the end of women's careers.
Is It Practically Possible For New Mothers?
That being said, while it's great for Elina Svitolina, this shouldn't be the standard for new mothers. Every woman is different, and every pregnancy is different. So, it's just not possible for some, or rather many, women to return to the workforce, especially something that involves them being away from their baby for longer periods of time during the initial phase.
An established sportsperson like Elina Svitolina would definitely have access to a solid support system to rely on when taking care of her baby, getting back in shape, and returning to a challenging career. But that doesn't apply to every other woman out there. Not all women have a supportive family that'll allow them to pursue their careers without any judgement, criticism, shaming, or blaming.
Only a few lucky ones get an understanding and non-judgmental family to back them up while they chase their dreams. The majority of families might not really be supportive, leaving new mothers no choice but to sacrifice their careers and dreams to take care of their children. That doesn't make them dispassionate or uninspiring. It just points out society's regressive mindset towards women. In fact, one of the reasons young women are reluctant to embrace motherhood is because patriarchal societies often shut the door on their careers and passions.
Also, it isn't always about external pressure and expectations. A lot of women want to take some time off after what their bodies have gone through. Given how incredible it is that women's bodies are equipped to bring a new life into this world, it's normal for the entire journey to take a toll on their physical and mental health. So, it's okay if they want to take it slow, take a break, bond with the baby, and figure things out for themselves and the baby before getting back to their careers.
It's completely subjective. It can be easy for some and tough for others, so while Elina Svitolina getting back to her game within months of having a baby is inspiring, it doesn't necessarily set a universal standard for all women to do it. It's all about what suits a mother and her baby. Whatever her choice, her family must be supportive of it because she deserves it. Having said this, I will reiterate that Wimbledon and Elina Svitolina's journey surely gives a boost to new moms to continue dreaming newer and bigger dreams. 
Views expressed by the author are their own
---
Suggested Reading: Tokyo 2020: Elina Svitolina Wins Ukraine's First Olympic Tennis Medal
---