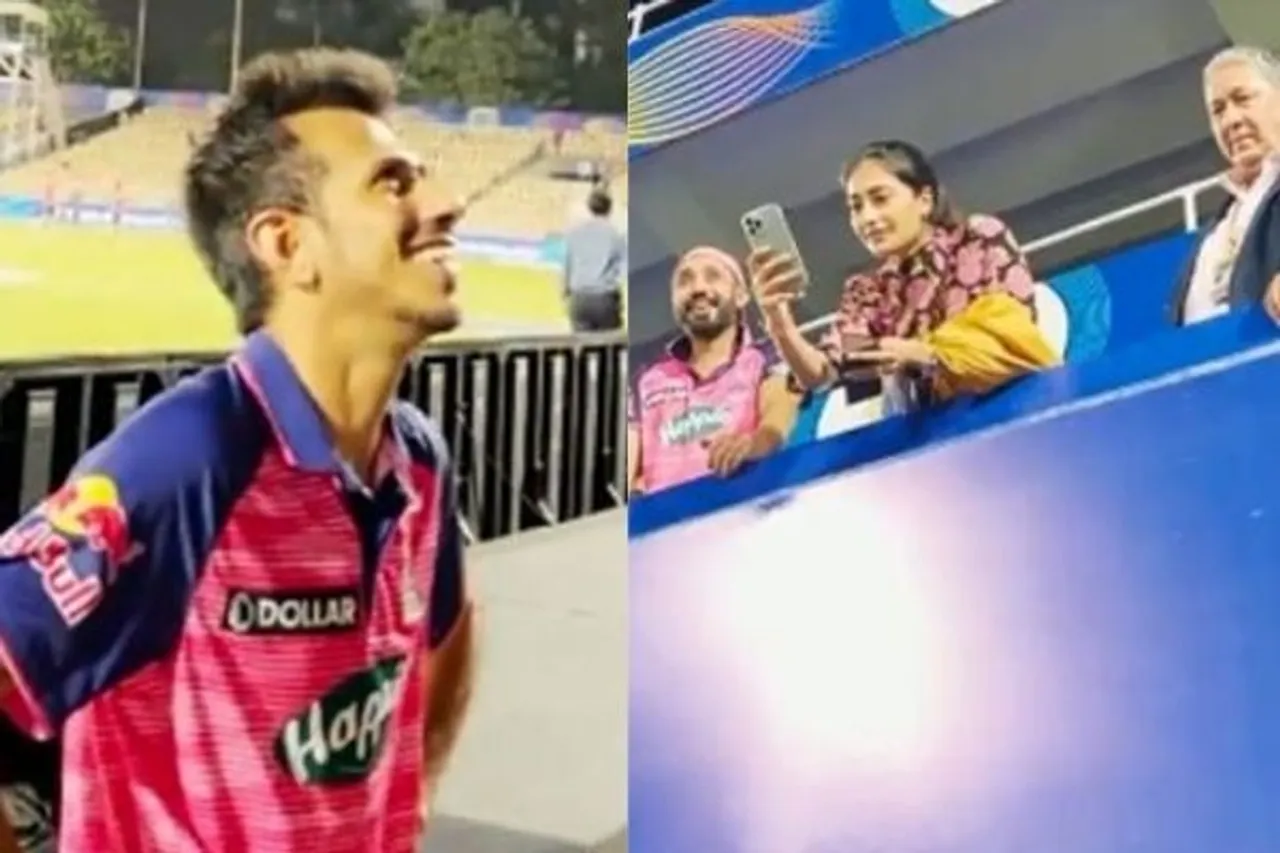 The on-field presence of male cricketer's wives has received varied feedback from the fans of the game over the years. As the cricketer hits a six or scores a four, the camera tilts towards his wife and the audience sees what joy it brought to the spouse of the man on the field. While the success of the cricketer results in the wife's joy, his defeat results in her trolling.
Actor Anushka Sharma has faced the bitter side of the deal whenever her husband and ace cricketer Virat Kohli has failed on the field. However, the backlash has hardly stopped Sharma or any other wives of cricketers from supporting their husbands. The wives are still cheering from the stands, celebrating their spouses.
Yuzi and Dhanashree viral video
In a recent display of pure joy, Dhanashree, a dancer and cricketer Yuzvendra Chahal's wife was seen conversing with him after he scored his first hat-trick in the current edition of the Indian Premier League match. Chahal impressed the fans by taking three back to back wickets in the 17th over of the match between Rajasthan Royals and Kolkata Knight Riders on April 18 at the Brahourne Stadium in Mumbai. During KKR's chase, Chahal took five wickets by just giving 40 runs. He turned the match around and was declared the Player of the Match.
After his innings, the cricketer was seen talking to his wife. Dhanashree was seen filming Chahal from the stands. She asked him, "How do you feel I'm out of the bubble?", to which Chahal replies, "It's a great feeling." Yuzi is then asked by his wife, "Itna khush hai ki hat-trick leliya" You're so happy that I'm out of the bubble that you took a hat-trick? Yuzi is then seen blushing in front of his wife and says, "Yeah first hat-trick".
---
Suggested Reading: Control Husbands; Dominate Wives. Why Is Relationship A Fight For Dominance?
---
The sweet exchange between the couple was posted by the Rajasthan Royals twitter page. The caption read, "Yuzi khush, Bhabhi khush aur hum bhi khush. Truly a "hat-trick day". Yuzi happy, sister-in-law happy, we are also happy. Chahal was seen smiling wide at his wife who stood in the stands looking the same way at him.
The video is going viral for all the right reasons. We all need our loved ones near us when we achieve massive victories or crushing defeats. The trolling and blaming women partners of players for the latter's performance on the field is meaningless. It has also never stopped the women from supporting the men on the field.
Views expressed by the author are their own.