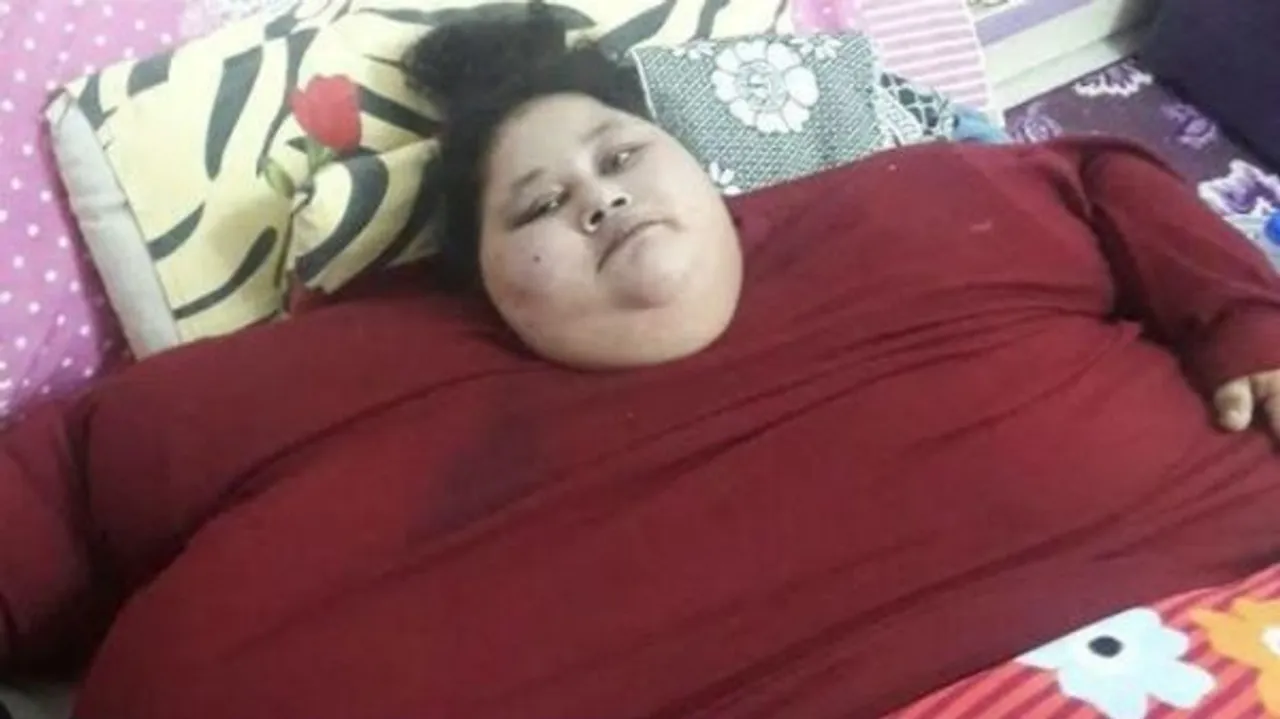 The world's heaviest woman, Eman Ahmed, from Egypt today landed in Mumbai for her weight reduction treatment at Saifee Hospital.
If you have been following up the story, you'd know this 36-year-old Egyptian weighs 500 kg and is incapable of moving or walking due to a paralytic situation in her right leg and right arm. Eman was brought in on an Egypt Air cargo plane from Alexandria. She had to be lifted by a crane along with her bed. Now she and her bed -- a specially crafted bed by Egyptian artists -- are cautiously placed in a prudent passage next to the main hospital building.
World's heaviest woman Eman Ahmed from Egypt arrives in Mumbai's Saifee Hospital for treatment pic.twitter.com/KmCS0ZJoPL

— ANI (@ANI) February 11, 2017
Eman stopped stepping out of her house 25 years ago. Since the last few months, she has been in the news for being the heaviest woman in the world. According to doctors, she is going to be under observation for a month now, and if after checking her condition, she shows normality, then only they'll go ahead with the surgery.
Eman is being prepared for her bariatric surgery, which is having a knife cut through her stomach for the shrinking procedure. A specially constructed room with special intensive care unit in Saifee Hospital will be her room for the next few months till Eman sheds the excess weight.
World's heaviest woman, Eman Ahmed reached Mumbai on Saturday from Alexendria by a special flight. https://t.co/z0gXSIGin5 @satishmalavade pic.twitter.com/zfFbF5sIZj

— TOI Plus (@TOIPlus) February 11, 2017
"There is always a risk involved when transporting a patient like Eman, who weighs about 500 kg and has not moved or left the house for the past 25 years. We have taken all necessary precautions possible to ensure that Eman's journey to India is accomplished without a hassle. Special arrangements have been made for her ground and air transport in India and in Egypt. Dr Aparna Govil and Dr Kamlesh Bohra will be travelling with Eman to ensure that she is in stable condition and comfortable throughout the journey," said her doctor Muffazal Lakdawala, PTI reports.
EgyptAir did a great job with the special bed/cot that ensured Eman's safety while travelling.
#Mumbai surgeon visits world's heaviest woman in #Egypt https://t.co/YNpLcESjkE pic.twitter.com/dVYq4Do5XN

— HTMumbai (@HTMumbai) January 23, 2017
The bed was also equipped with required things, including portable ventilator, portable defibrillator, oxygen cylinders, intubating laryngoscope and other safety drugs in case of an emergency.
World's heaviest woman #EmanAhmadAbdulati arrives in #Mumbai https://t.co/lPHJqwkr8o#middaynews @pencilpusher24 @pencilpusher24 pic.twitter.com/nB5vvHemZn

— Mid Day (@mid_day) February 11, 2017
Eman travelled with her sister Shaimaa Ahmed in the over seven-hour flight. At Chhatrapati Shivaji International Airport, she was lifted by a crane, arranged by the same airline, and placed in a special mini truck procured by Saifee hospital. The truck then aided her to Saifee Hospital.
Race to save 'world's heaviest woman' https://t.co/EOP7pTWZUV pic.twitter.com/RWPxrbJYcg

— The National (@TheNationalNews) January 26, 2017
@DrMuffi visited the home of the world's heaviest woman in Egypt, work has begun to remove the window so she can be taken out from there. pic.twitter.com/Lel7z00MiL

— Lata Mishra (@lata_MIRROR) January 23, 2017
Feature Image Credit:  en.southlive.in
Also Read: Egypt's women's volleyball team competes in hijabs; loses match, wins fans
Join Us on https://www.facebook.com/SheThePeoplePage
Follow Us on https://twitter.com/SheThePeopleTV