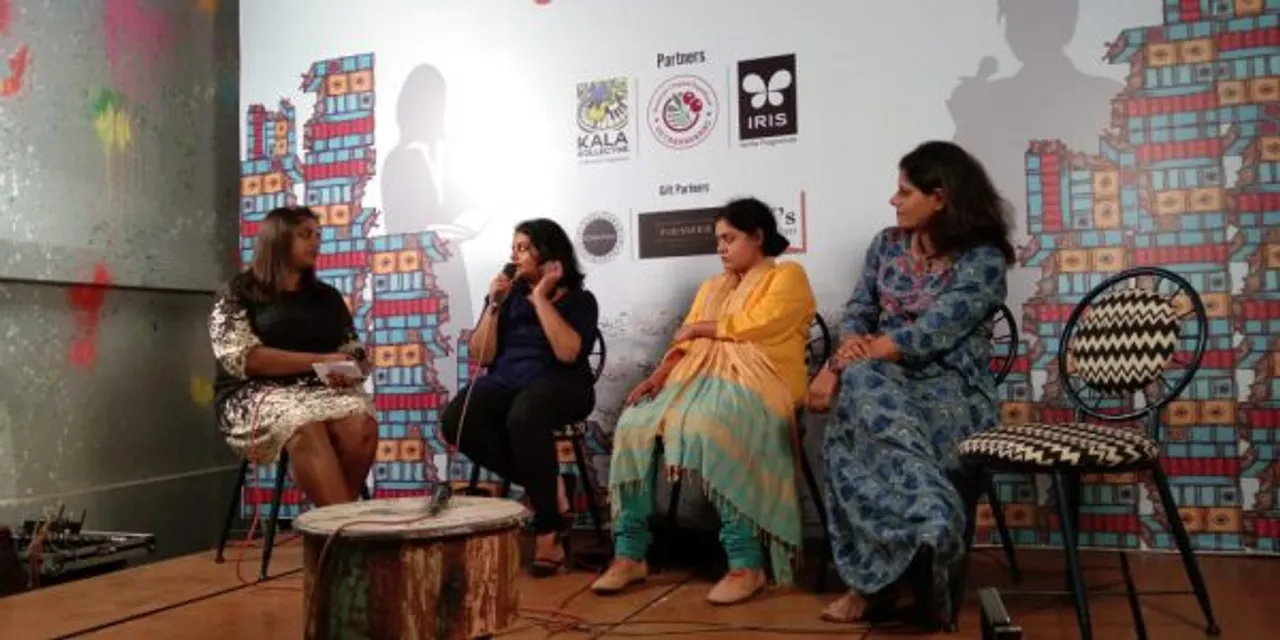 At the Women Writers' Fest, the session on 'Writing Through The Gender Lens' offered some great insights into distinctive writing, for books, media, journalism and theatre.
RJ Smita moderated the session. Journalist Lalitha Suhasini, actor-filmmaker Vibhawari Deshpande and writer Sowmya Rajendran formed the panel, sharing perspectives from their respective field of work.
The need to break out
Smita discussed with the speakers about the need for women to come out of their shells and speak their mind fearlessly. Sowmya, who has grown up reading many women writers, feels these writers have hugely impacted her. "There has been a strong legacy of women writers that I've followed over the years. I've benefited from their perspectives and realised that the more you think as a woman and are not afraid to breakout from stigmas, the better it is going to be," she said. 
Lalitha believes situations have changed for the better in the past five years. She cited the example of a woman being the editor at her workplace. "I haven't faced difficulties in writing my mind because things have gradually changed with time. However, there is no denying that there still are certain pre-conceived notions when it comes to women adapting certain roles at the workplace," she explained.
Vibhawari grew up in an atmosphere which was as liberal for women as for men. "I've grown up watching some very powerful women around me. My mother, grandmother, and other women in my life, have always had a say in matters. This enabled me to pursue what I like, on my own terms," she added. Vibhawari feels women now are more empowered in being able to write about whatever they want to and speak their mind. 
Women writers do face a certain dilemma, to some extent, when it comes to expression of thoughts and reality. Sowmya explained how women writers are always expected to write in a certain way and tell stories of a certain kind. "Women writers do think at a point as to what will people think of them. They're always daunted by moralistic judgements and therefore tend to centre themselves," she said.
She also mentioned how people raise objections on issues that are not commonly mentioned in books. "We need to continue pushing boundaries without fears and encourage young, budding writers, paving a path for them," she added.
Vibhawari shared how as a director, too, she carved out a way for herself to tell stories that matter to her, without any hindrance. She narrated empowering incidents where women have been in-charge of creating plays, films and writings in their own sense of style and understanding. 
Lalitha has not faced the extent censorship in work. She, however, has come across situations where she has been mansplained. "Sure, I have been told as to why I need to write about women most of the time. People see feminism as a bad term. There have been a bunch of men standing around me, talking through me; I, however, have always showed the worth of subjects through my writing," she elaborated.
Lalitha Suhasini at #WomenWritersFest in #Pune - I am often asked why everything I write needs to have a touch of feminism. pic.twitter.com/lrB2f9dwWA

— SheThePeople (@SheThePeopleTV) September 8, 2018
Trolling and unnecessary feedback
Vibhawari enlightened us about the workings of theatre and revealed how theatre is a more crafted space where one is able to express ideas and emotions completely. "Now, I feel people want women to write more. There are stories which people, in the creative industry, demand women writers to write and offer a different perspective to. This is an improved and constructive change," she opined. 
Sowmya, who is also a film reviewer, shed light on her experiences of handling negative and unnecessary feedback when it came to reviewing female characters in films. "Nobody feels it's important to talk about women in films. When I point that out in my reviews, plenty of men tell me I am wrong, and why so. I, however, don't let feedback stop me from writing what I feel," she asserted. 
Lalitha's way of handling trolls is to laugh them off. "I laugh at these trolls, especially when they bring gender into it. There's no reason to entertain them," she said.
.@Vibhawari at #WomenWritersFest in #Pune - A woman who writes her mind intimidates men. pic.twitter.com/zMnxPzVnXn

— SheThePeople (@SheThePeopleTV) September 8, 2018
The panelists strongly voiced their opinions highlighting the fact that women must continue writing and speaking their mind without letting judgements affect their body of work.
Also: From Leaving A Scene At A Kiss, Women Writers Now Bare It All